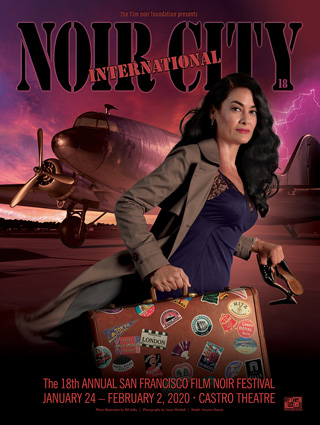 NOIR CITY Returns to Its City by the Bay
Join us for NOIR CITY: INTERNATIONAL II, January 24 through February 2, 2020, at San Francisco's historic Castro Theatre!
America doesn't have a monopoly on swaggering gangsters, larcenous lovers, surly ex-cons, corrupt cops, and scheming femmes fatales. FNF president Eddie Muller will be presenting an array of classic films from around the globe, a wide-ranging, thematically cohesive immersion in a sordid world of sinister and sexy affairs—including the world premieres of two new restorations funded by the FNF: La bestia debe morir (The Beast Must Die) and El vampiro negro (The Black Vampire).
The 10-day excursion travels through hot-blooded nightclubs of the Mexican cabareteras, neon-streaked alleys of Japanese yakuza thrillers, the stylish Parisian underworld, Italian palazzos hiding crimes of every social strata and a Kafkaesque Prague as envisioned by the Czech New Wave. Tour guides include some of the world's most revered filmmakers: Michelangelo Antonioni, Andzrej Wajda, Julien Duvivier, Jean-Pierre Melville, Roberto Gavaldón, Jirí Weiss, Robert Siodmak and Masahiro Shinoda.
Schedule, passports (all-access passes) and tickets for individual screenings for the 18th edition of NOIR CITY are now available at NoirCity.com.
NOIR CITY 18 Accomodations

If you're an out-of-towner looking for lodging near the Castro Theatre, our friends at Beck's Motor Lodge are offering discounted room rates for festival guests during NOIR CITY 18. Beginning January 23 through February 2, 2020, you can get a room with a Queen bed for $169 plus tax, and for a room with 2 beds the cost is $189 plus tax.
Located at 2222 Market near the intersection of 15th and Sanchez, Beck's Motor Lodge is walking distance to the Castro Theatre. While the exterior of the iconic mid-century motel (built in 1958) hasn't changed much over the years, the interior rooms have all been totally refurbished with new furniture and bathrooms, 32" flat screen televisions, refrigerators and coffee makers. Parking is still free, as is access to wi-fi.
Call Beck's Motor Lodge at 415-621-8212 or email them at info@BecksMotorLodge.com to make your reservation. Important: Make sure you tell Beck's you're calling for the NOIR CITY 18 festival rate.
Trapped Restoration Now Available on Blu-ray/DVD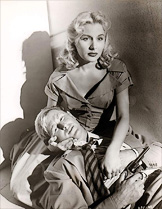 You can now own your own copy of the FNF funded restoration on Trapped (1949), available from Flicker Alley in a Blu-ray/DVD combo. In Richard Fleischer's 1949 noir, T-Men investigating a flood of phony $20s spring convicted counterfeiter Tris Stewart (Lloyd Bridges) from the joint to use as an undercover operative. But Tris is only stringing the Feds along until he makes a score and scoots to Mexico with his red-hot squeeze, Meg (Barbara Payton). The double- and triple-crosses come fast and furious, as no one's sure who's a crook and who's a copper. A hasty and hard-edged B with exceptional camerawork by DP Guy Roe.
The preservation of this nearly lost classic noir has been accomplished through the long-standing partnership of the FNF and UCLA Film & Television Archive. Additional funding assistance for Trapped was provided through a grant from the Hollywood Foreign Press Association's Charitable Trust (The HFPA Trust).
Trapped Blu-Ray/DVD bonus materials include:
✽ "Freeing Trapped" — A documentary on the film's creation and history, featuring interviews with Eddie Muller, Donna Lethal, and others.
✽ "A Sedulous Cinderella: Richard Fleischer Remembered" — A remembrance of the man, the director, and the father, by his son Mark Fleischer.
✽ Audio Commentary Track — Featuring author and FNF board member Alan K. Rode and film historian Julie Kirgo.
✽ 24-Page Souvenir Booklet — Featuring rare photographs, poster art, and commentary by FNF president Eddie Muller.
I Wake Up Streaming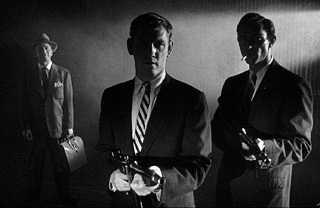 Prefer streaming to cable? We got you covered! Check out the newest edition to our website, I Wake Up Streaming—a noir streaming column written by critic Sean Axmaker. Sean is here to guide you through the labyrinth of streaming services and lead you to the best classic film noirs available. He already regularly contributes to the FNF's NOIR CITY e-magazine as well as the NOIR NOW PLAYING section of our website. Sean also writes the syndicated newspaper column Stream On Demand and the companion website.
From the Collection of
Eddie Muller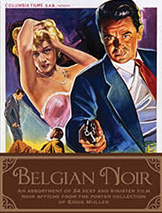 The WORLD OF FILM NOIR was created in black and white, but its intrigue and passion was sold worldwide by movie posters -- in vivid color -- that enticed audiences into this sinister and sensual demimonde. Nowhere on earth was the come-on more colorful than in Belgium, where the nation's standardly sized posters (a mere 14" x 22") virtually exploded with the danger and desire at the heart of cinema's most alluring and durable genre. Small posters from a small country--but packed with more lust and larceny than Hollywood would dare.
NOW, EXCLUSIVELY FROM BLACK POOL PRODUCTIONS—Eddie Muller, "The Czar of Noir," presents 24 glorious Belgian cinema posters from his personal collection, reproduced as 5-1/4" x 7" cards, each complete with his terse and tangy commentary highlighting what made these films—and this artwork--so magical and memorable. $20 + tax/shipping at BlackPoolProductions.com.
Don't Print the Legend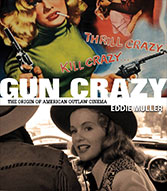 Gun Crazy caused barely a ripple in public consciousness when it hit movie screens in 1950. Yet over time it would prove to be the most innovative and provocative motion picture of its era—a simple genre film, but packed with so much cinematic bravura and timeless symbolism, its power has spanned decades, crossed oceans, and influenced countless filmmakers.
+ READ MORE

Come follow us on Tumblr to indulge your passion for noir! We'll be posting daily, celebrating all things noir with exclusive stills and images you won't see anywhere else, as well as trailers, film clips, and more.

Share our posts with your friends; your love of the art form is the Foundation's biggest asset in its mission to preserve and restore classics of the genre. We are also fully committed to present our rescued films in the way they were meant to be seen: in 35mm at our NOIR CITY festivals around the country.
FNF To Debut Two Argentine Restorations in 2020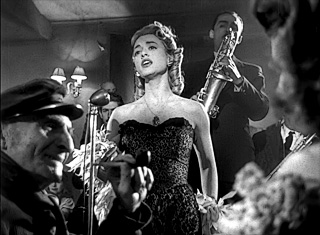 The Film Noir Foundation will premiere two new restorations at NOIR CITY 18, both little-known 1950s noir gems from Argentine director Román Viñoly Barreto: La bestia debe morir (1952) and El vampiro negro (1953). Both restorations were completed in 2019 by the FNF's preservation partner, UCLA Film & Television Archive, with support provided from the Hollywood Foreign Press Association's Charitable Trust (The HFPA Trust).
La bestia debe morir is an adaptation of Nicholas Blake's celebrated 1938 novel The Beast Must Die. Blake was actually a pseudonym of Irish poet laureate Cecil Day-Lewis, father of actor Daniel Day-Lewis. The book was noted for an unusual structure combining a first-person narrative of murderous revenge with a whodunit plot more familiar to fans of Blake's Sherlockian British detective, Nigel Strangeways. The Argentine film, adapted for the screen by Viñoly Barreto and actor Narciso Ibáñez Menta, relegates Strangeways to a bit part, moving the noir-revenge narrative front and center. Spanish-born Ibáñez Menta was renowned in the '40s and '50s for horror and fantasy films, but in this full-fledged noir he portrays a writer hell-bent on uncovering the identity of the hit-and-run driver who killed his son … and murdering him.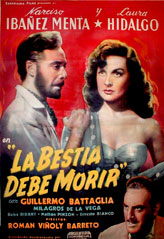 "Until this discovery, most cinephiles believed that Claude Chabrol had made the first adaptation of Blake's novel in 1969," said FNF president Eddie Muller. "But largely thanks to my colleague Fernando Martín Peña, who introduced me to the film, this version of The Beast Must Die will now be recognized as the first—and with all due respect to Chabrol—the best screen version of the novel. It certainly has all the elements of a classic noir, and Viñoly Barreto directs it with great storytelling skill and visual style."
El vampiro negro (The Black Vampire) is an inspired reimagining of Fritz Lang's classic M, transposed from Berlin to Buenos Aires. It was made by essentially the same creative team that made La bestia debe morir a year earlier, including cinematographer Alberto Etchebehere, who not only provides spectacular imagery that may surpass the nocturnal style of Lang's original and the 1951 American remake directed by Joseph Losey—but he co-wrote the script with Viñoly Barreto. Famed actress Olga Zubarry, known as the "Argentine Marilyn Monroe," stars as a cabaret performer whose child is kidnapped by the murderer (Nathán Pinzón) preying on the city's children.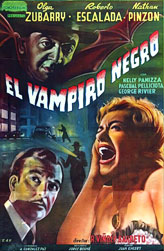 The FNF previously funded a preservation print of El vampiro negro that screened at several NOIR CITY festivals in 2014, but according to Muller, "We realized the film was so unique, and so compelling, it had to be completely restored, including fixes to the damaged original negative."
Both restorations debut opening night of NOIR CITY 18, January 24, as a double bill of lost classics from Argentina.
The restorations of La bestia debe morir and El vampiro negro will be screened nationally as part of the FNF's NOIR CITY film festival programs in 2020, as well as on the international film festival circuit.
Film Noir Fest Focuses on the Jewish Experience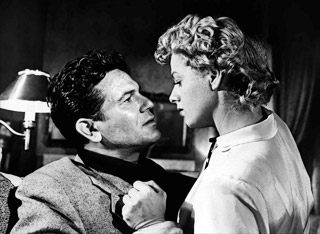 The Third Annual Dr. Saul and Dorothy Kit Film Noir Festival will return to Lenfest Center for the Arts, March 25–29, 2020. The festival will explore films about the Jewish experience during the political turmoil of post-WWII America. The programming comprises films about anti-Semitism, Edward Dmytryk's Crossfire (1947), the lasting impact of the trauma of WWII on returning veterans and their families, Fred Zinnemann's Act of Violence (1949) and Hollywood's oblique discussions of the blacklist like Alexander Mackendrick's Sweet Smell of Success (1957). The screenings will also include John Berry's He Ran All The Way (1951) starring one of the most notorious victim of the blacklist, John Garfield. The 2020 edition of Kit Noir also pays tribute to the Jewish emigre filmmakers who helped shaped the film noir genre with its inclusion of films directed by Edgar G. Ulmer and Billy Wilder. Screenings will be accompanied by discussions with film scholars Noah Isenberg, Vincent Brook, and Steven Ross. All talks will be livestreamed for those who cannot attend in person. This year's festival is guest-programmed by Ann Douglas, Professor Emerita of English and Comparative Literature at Columbia University.
The full schedule of 11 films, mostly screening in 35mm, is available on the University of Columbia School of Arts' website. Tickets will go on sale in February 2020.
Now Playing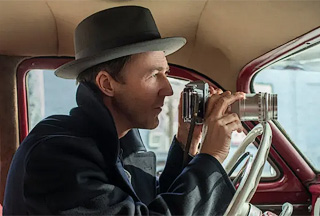 Love our film reviews in the NOIR CITY e-magazine? Get you noir-tinged movie and streaming news faster from our newly added NOW PLAYING area. Contributors include syndicated newspaper columnist Sean Axmaker; the East Bay Express' chief film reviewer Kelly Vance and Nathalie Atkinson, a columnist for The Globe and Mail and the creator and host of the popular film series Designing the Movies.

Tweets