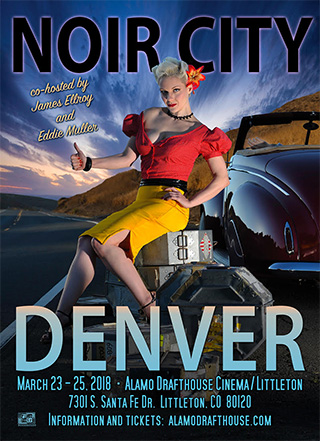 NOIR CITY Denver Debuts This Month
NOIR CITY makes its debut at the Alamo Drafthouse Denver, Littleton, March 23-25, 2018 with six classic film noirs, co-programmed and co-hosted by FNF founder and president Eddie Muller and celebrated crime fiction author and FNF Advisory Board member James Ellroy. One of Ellroy's favorite noirs kicks of the festival, Joseph Losey's The Prowler (1951), 35mm restoration funded by the FNF in conjunction with the Stanford Theatre Foundation and with an able assist from Ellroy. Don Siegel's 1959 San Francisco set noir The Line-Up featuring an unforgettable performance by Eli Wallach rounds out the night. Saturday's programming beings with Ken Hughes' Brit Noir, Wicked as they Come (1956) with Arlene Dahl. The racket-noir 711 Ocean Drive, starring Edmond O'Brien and directed by Joseph Newman follows. On the final day of the festival, Kirk Douglas squares off against Burt Lancaster and Lizabeth Scott in Byron Haskins' I Walk Alone (1947). NOIR CITY Denver closes with He Walked by Night (1948), shot by the legendary cinematographer John Alton. Individual tickets are for sale on the Alamo Drafthouse's website.
UPCOMING NOIR CITY DATES
NOIR CITY Denver: March 23-25, 2018
NOIR CITY Hollywood: April 13-22, 2018
NOIR CITY Austin: May 18-20, 2018
NOIR CITY Boston: June 8-10, 2018
NOIR CITY Chicago :August 17-23, 2018
*2018 dates for NOIR CITY Detroit and Washington D.C. TBD
Dial M for Murder Returns to the Boards in San Francisco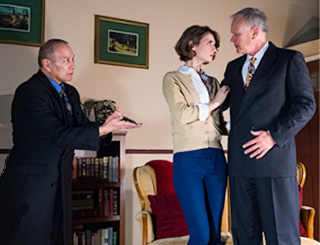 Before Alfred Hitchcock brought Dial M for Murder to the big screen in 3-D, it was a successful mystery play, written by Frederick Major Paull Knot who went on to pen another memorable theatrical thriller, Wait Until Dark. Dial M's story concerns a married couple, the wife's lover, deliciously intricate plans for murder, and a dogged police inspector. The SF City Theatre Company is reviving the play on the Clarion Music and Performing Arts Center's intimate stage, perfect for the story's living room location. The Clarion is a boutique performance space located in the heart of San Francisco's Chinatown. The play runs March 10-24, Fridays and Saturdays, 8:00 pm and Sundays, 2:00 pm. To learn more about the production and to buy tickets, visit Brown Paper Tickets or call at 650-784-5303.
Latest FNF Rescue: The Man Who Cheated Himself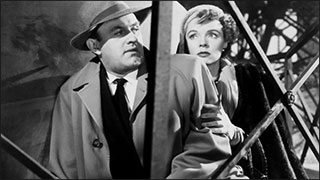 The Man Who Cheated Himself, an independently made noir thriller from 1950, is the latest preservation project of the Film Noir Foundation. The restored film had its world premiere in San Francisco at NOIR CITY 16 in January, fittingly as the film was shot in location in the City by the Bay. The Felix Feist-directed feature, which concerns a cop entangled with a cunning socialite who murders her husband, will play the NOIR CITY festival circuit throughout 2018.
20th Century–Fox, the film's original distributor, provided an original fine-grain from its vault as the essential restoration element, and UCLA's Head of Restoration, Scott Mac-Queen, oversaw the project—which for the first time includes restoration of the film's original trailer, as well. The Felix Feist-directed feature, which concerns a cop entangled with a cunning socialite who murders her husband, will play the NOIR CITY circuit in 2018.
A June 23 screening of the film on TCM's Noir Alley hosted by Muller, will be followed by Flicker Alley's release of the film on Blu-ray, with special features produced by the FNF. In addition to The Man Who Cheated Himself, NOIR CITY patrons and FNF donors have made it possible over the years for the FNF to restore Los tallos amargos (1956), Cry Danger (1951), The Prowler (1951), Try and Get Me! (1951), Repeat Performance (1947), High Tide (1947), Too Late for Tears (1949), The Guilty (1947) and Woman on the Run (1950), as well as funding our many 35mm preservations. DONATE HERE and be a film noir savior.
The 2018 Nancy Mysel Legacy Grant Winner Announced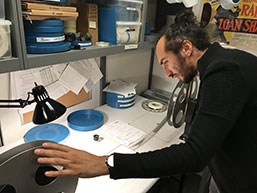 The Film Noir Foundation is proud to announce the recipient of this year's $5,000 FNF/Nancy Mysel Legacy Grant —Shahed Dowlatshahi of New York University - Masters of Arts in Moving Image Archiving and Preservation program.
A few words from Shahed, who will receive his MIAP Masters this May: "…I have felt compelled to help save what is at risk of being irrevocably lost. In an environment where the primary motivation for preservation – be it a plant, animal, or piece of communal heritage – comes from potential economic benefits, it is increasingly necessary to highlight alternative priorities and find other avenues of funding to continue the preservation of what otherwise might perish. The importance and value of programs such as the (FNF) Nancy Mysel Grant award, the National Film Preservation Foundation, and the countless other philanthropic institutions in various fields, that enable the preservation of life, culture, art, and history for their intrinsic value and for the sake of future generations, is undeniable and irreplaceable."
The FNF's charitable grant, funded by the Mysel family in honor of the late film preservationist Nancy Mysel who supervised FNF restorations of The Prowler and Cry Danger, grants funding to students enrolled in film restoration and preservation studies. The 2018 grant announcement was made Saturday night, February 3, at NOIR CITY 16 by festival host Eddie Muller, with a heart-felt acceptance video by Mr. Dowlatshahi screened for the San Francisco audience. The numerous grant applications received this year were impressive! The FNF encourages all students who weren't selected to reapply this upcoming December for the $5,000 FNF/Nancy Mysel Legacy Grant to be awarded in January 2019.
Michael Curtiz Retrospective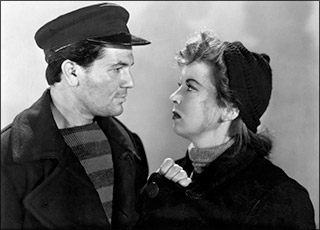 In conjunction with his recently published biography, Michael Curtiz: A Life in Film, author and FNF board member Alan K. Rode has been hosting a retrospective of Curtiz' films co-programmed with UCLA Film & Television Archive. The series includes some of the prolific director's most renowned and seldom-shown titles. The final screening of the series on March 24 will be The Sea Wolf (1941), which has been restored to its original running time. In this gripping yarn based on a Jack London story, shipwrecked fugitives (John Garfield and Ida Lupino) try to escape a brutal sea captain who's losing his mind (Edward G. Robinson in a powerhouse performance). Individual tickets are now available for the Curtiz program online from UCLA Film & Television Archive.
From the Collection of
Eddie Muller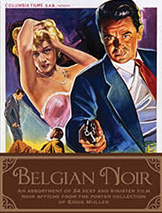 The WORLD OF FILM NOIR was created in black and white, but its intrigue and passion was sold worldwide by movie posters -- in vivid color -- that enticed audiences into this sinister and sensual demimonde. Nowhere on earth was the come-on more colorful than in Belgium, where the nation's standardly sized posters (a mere 14" x 22") virtually exploded with the danger and desire at the heart of cinema's most alluring and durable genre. Small posters from a small country--but packed with more lust and larceny than Hollywood would dare.
NOW, EXCLUSIVELY FROM BLACK POOL PRODUCTIONS—Eddie Muller, "The Czar of Noir," presents 24 glorious Belgian cinema posters from his personal collection, reproduced as 5-1/4" x 7" cards, each complete with his terse and tangy commentary highlighting what made these films—and this artwork--so magical and memorable. $20 + tax/shipping at BlackPoolProductions.com.
Don't Print the Legend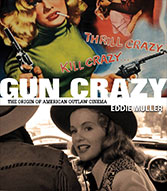 Gun Crazy caused barely a ripple in public consciousness when it hit movie screens in 1950. Yet over time it would prove to be the most innovative and provocative motion picture of its era—a simple genre film, but packed with so much cinematic bravura and timeless symbolism, its power has spanned decades, crossed oceans, and influenced countless filmmakers.
+ READ MORE

Come follow us on Tumblr to indulge your passion for noir! We'll be posting daily, celebrating all things noir with exclusive stills and images you won't see anywhere else, as well as trailers, film clips, and more.

Share our posts with your friends; your love of the art form is the Foundation's biggest asset in its mission to preserve and restore classics of the genre. We are also fully committed to present our rescued films in the way they were meant to be seen: in 35mm at our NOIR CITY festivals around the country.
Alan K. Rode at the AFI Silver and on TCM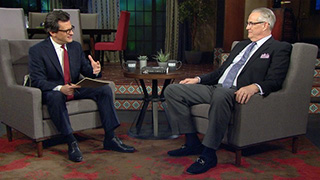 This Spring, both the AFI Silver Theatre and Cultural Center (Silver Spring, MD) and Turner Classic Movies will be saluting the talented and prolific Hollywood director Michael Curtiz.
The former will be mounting an 11-film retrospective March 17–25; the later will be screening 53 Curtiz-helmed films during the month of April. FNF board member and Michael Curtiz: A Life in Film author Alan K. Rode will be taking part in both tributes. At the AFI Silver, Rode participated in a panel discussion with historian Meredith Hindley and professor and film historian Noah Isenberg, moderated by writer Margaret Talbot after a screening of Casablanca (1942) on Saturday, March 17. Rode will also be introducing The Breaking Point (1950), The Sea Wolf (1941), and The Adventures of Robin Hood (1938) during the series, and signing his book at specific screenings.
For full series details and to purchase tickets for the event, please visit the AFI Silver's website. And during April, Rode will be co-hosting four Wednesday night prime time Curtiz showcases on TCM with Ben Mankiewicz, including screenings of the exceptional noirs Mildred Pierce (1945) and The Breaking Point.
Columbia University Launches Film Noir Festival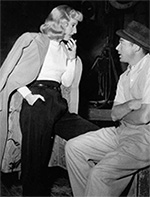 On March 21–25, the Columbia University School of the Arts will present The Inaugural Dr. Saul and Dorothy Kit Film Noir Festival: The Stuff That Dreams Are Made Of: Paris 1946 and American Film Noir (view trailer). Programmed by film historian Rob King, the festival will feature eight films noirs that played in Paris in 1946 after the Nazi's embargo on American films was lifted in France with the end of World War II. At that time, French critics saw a definite change in the style of Hollywood crime films and the term film noir was coined. French critics Raymond Borde and Étienne Chaumeton in their 1955 book Panorama du film noir américain 1941–1953 (A Panorama of American Film Noir) attempted to identify and define what film noir was. The debate still rages.
The festival begins, appropriately, with John Huston's The Maltese Falcon (1941) which kick started the genre in the U.S. market. Other films in the festival include Billy Wilder's Double Indemnity (1944) and Fritz Lang's Scarlet Street (1945). Talks featuring film scholars James Naremor, University of Indiana, and Thomas Elsaesser and Annette Insdorf, Film and Media Studies, Columbia and film director Paul Schrader will accompany the screenings. Most of the films will be presented in 35mm. Full program notes, showtimes and tickets are available here.
The American Dream Gone Wrong at the Roxie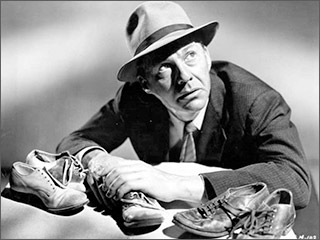 Six double bills will explore the underbelly of American culture in the upcoming film series The Dark Side of the Dream: Subversive Cinema for Subversive Times: 1933 – 1964, playing Friday, March 23 – Monday, March 26 at San Francisco's Roxie Theatre. Not surprisingly, film noir plays a large part in the screenings. Cy Endfield's tale of economic disenfranchisement and mob violence Try and Get Me! (1951) opens the series. Saturday's matinée features two films by Joseph Losey, made prior to his fleeing to Europe to evade a HUAC subpoena: The Lawless (1950) and his remake of M (1951). Saturday night's women fight back double feature includes Sam Fuller's still shocking The Naked Kiss (1964). The series ends with a double feature honoring John Garfield whose career and life was shortened by the Hollywood Blacklist: Robert Rossen's Body & Soul (1947) and John Huston's rarely screened We Were Strangers (1949).
The series is co-produced by two Roxie favorites, Elliot Lavine (I Wake Up Dreaming) and Don Malcom (Midcentury Productions). Lavine and Malcom will be in attendance at the Roxie for all four nights of this series. Full series information, tickets and passes available on the Roxie's website.
NEW EPISODE OF NOIR TALK
Censorship, Noir, And Rock & Roll, with Steve Kronenberg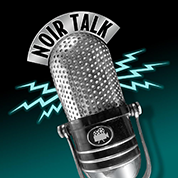 Co-managing editor of NOIR CITY E--Mag Steve Kronenberg joins NOIR TALK producer/host Haggai Elitzur. Steve shares how he started writing for NOIR CITY alongside his brother and NOIR CITY Art Director/Designer Michael Kronenberg. The brothers had previously worked together on the classic horror magazine "Monsters from the Vault" for a number of years. Kronenberg and Elitzur also chat about noir-themed lyrics in songs from the classic rock era, one of noir's most accomplished cinematographers, Nicholas Musuraca and the history of EC Comics. All topics that Kronenberg explored in the pages of NOIR CITY. You can listen either on SoundCloud or on iTunes.

Tweets