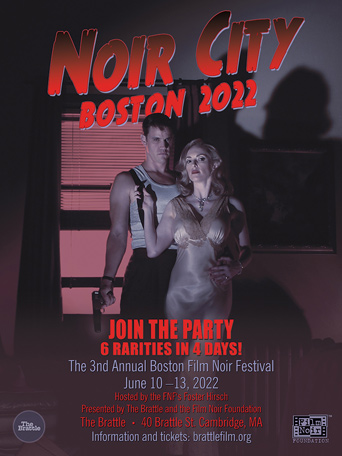 Upcoming Festival
NOIR CITY: Boston returns June 10-13 to The Brattle on Harvard Square. The Cambridge theater's creative director, Ned Hinkle, has created a unique program for this year's festival — Spotlight on the Film Noir Foundation. The films include two FNF restorations — Too Late for Tears (1949) and Woman on the Run (1950) and four films fostered and screened by the Film Noir Foundation from new studio prints Naked Alibi (1954), Alias Nick Beal (1949), Night Has 1,000 Eyes (1948), and The Great Gatsby (1949).
Author, film scholar, and professor Foster Hirsch will host the late afternoon and evening shows of the four-day event This year's festival is showing four of the six titles with multiple showtimes and two films on multiple days.
Please visit brattlefilm.org for details and tickets.
UPCOMING NOIR CITY DATES
NOIR CITY: Boston: Jun 10-13
NOIR CITY: Chicago: Aug 26-Sep 1
NOIR CITY: Detroit: Sep 23-25
NOIR CITY: D.C.: Oct 14-27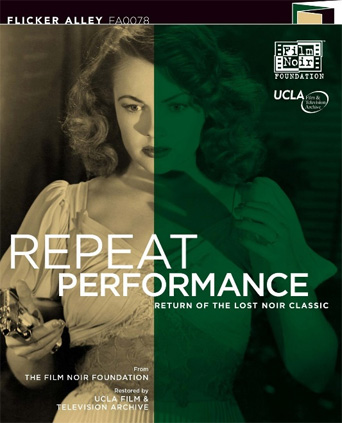 Repeat Performance Now Available
The FNF's restoration of Repeat Performance (1947) has been released in a beautiful Blu-ray/DVD combo set that includes extensive special features. Order your copy now from Flicker Alley. An amazingly original hybrid of film noir, supernatural fantasy, and backstage melodrama, the film stars Joan Leslie as a Broadway actress who magically relives the previous year of her life, but can she alter the fateful mistakes and misjudgments that led to a New Year's Eve tragedy? Think of it as film noir's answer to It's a Wonderful Life or a full-length precursor to The Twilight Zone. + READ MORE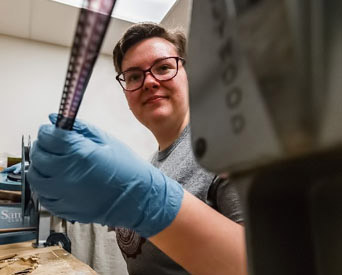 2022 Grant Recipient
The Film Noir Foundation is proud to announce the recipient of this year's $5,000 FNF/Nancy Mysel Legacy Grant—Katie Higley. A McNair Scholar and student archival assistant at Central Michigan University, Katie Higley is the current student head of the CMU Clarke Historical Library's film project. In this capacity, she has processed film and created an encoded finding aid for the library's largest film collection, Channel 9&10 News. It was her work on this project that led Katie to apply for the McNair Scholars Program. + READ MORE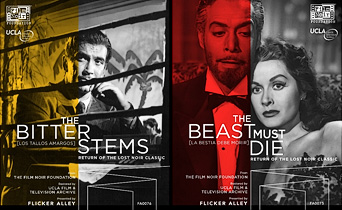 Two FNF Argentine Restorations Available on Blu-ray/DVD
We are proud to announce the release of two FNF restorations as Blu-ray/DVD combos from Flicker Alley: The Bitter Stems and The Beast Must Die, two classics of Argentine noir.. → READ MORE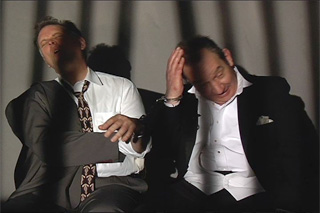 Bill Arney
Eddie Muller Remembers the Voice of NOIR CITY
The NOIR CITY film festival has lost a bit of its soul. WILLIAM P. ARNEY aka "The Voice of NOIR CITY," died on Monday, September 27. He'd been battling an assortment of maladies over the past few months, but none that seemed lethal. In fact, Bill called me the day before he died and he sounded the same as always—charming and avuncular, with that gruff voice straight out of a 1940s film noir. An undetected virus in his lungs dropped him for the count the following day.
Bill and I had been friends from the moment we met, March 19, 2005. It was an event celebrating the American Library Association's declaration of landmark status for 891 Post St. in San Francisco. That's where Dashiell Hammett lived when he wrote The Maltese Falcon.→ READ MORE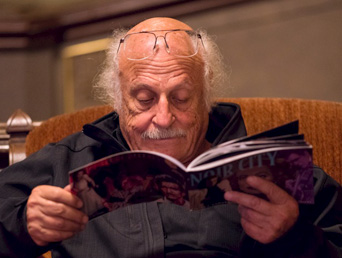 Yoram Kahana
Remembering Our Champion
Yoram Kahana was one of the Film Noir Foundation's greatest allies. His association with us even pre-dates the FNF's creation. Our first meeting was at one of the earliest noir festivals at the Egyptian Theatre in Hollywood, presented in conjunction with the American Cinematheque. At the end of the evening Yoram approached me, the first time I'd ever seen what would become a familiar visage: the wil d tangle of white hair, the light-colored, lightweight, lived-in outfit (complete with photojourvalist vest) suggesting a war correspondent in some humid, hostile outpost (nah, just Hollywood). The bemused, crooked smile—and, of course, the gruff, almost indecipherable accent that prevented me from really knowing his name until I looked it up online. → READ MORE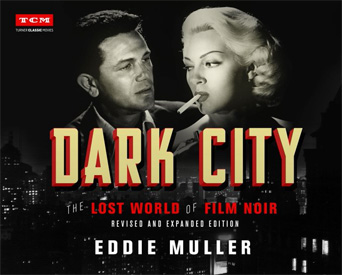 Czar of Noir's DARK CITY available now!
The revised and expanded edition of FNF prez and Noir Alley host Eddie Muller's Dark City: The Lost World of Film Noir is now available for purchase from the TCM Shop or your favorite bookseller.
Presented by Turner Classic Movies, Muller's film noir lover's bible takes readers on a tour of the urban landscape of the grim and gritty genre in a definitive, highly illustrated volume. Dark City expands with new chapters and a fresh collection of restored photos that illustrate the mythic landscape of the imagination. It's a place where the men and women who created film noir often find themselves dangling from the same sinister heights as the silver-screen characters to whom they gave life.
Muller guides fans on a spellbinding trip through treacherous terrain: Hollywood in the post-WWII years, where art, politics, scandal, style—and brilliant craftsmanship—produced a new approach to moviemaking, and a new type of cultural lore. This journey hits all the finer neighborhoods: Shamus Flats, Vixenville, Blind Alley, Losers' Lane—with stops at The Precinct, The Psych Ward, The Big House, and other dank corners, with shady protagonists ready to spill their bitter life story before retreating to the shadows.
Don't Print the Legend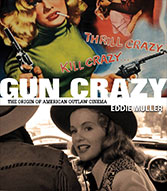 Gun Crazy caused barely a ripple in public consciousness when it hit movie screens in 1950. Yet over time it would prove to be the most innovative and provocative motion picture of its era—a simple genre film, but packed with so much cinematic bravura and timeless symbolism, its power has spanned decades, crossed oceans, and influenced countless filmmakers.
+ READ MORE

Come follow us on Tumblr to indulge your passion for noir! We'll be posting daily, celebrating all things noir with exclusive stills and images you won't see anywhere else, as well as trailers, film clips, and more.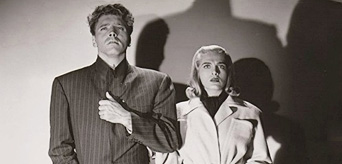 Share our posts with your friends; your love of the art form is the Foundation's biggest asset in its mission to preserve and restore classics of the genre. We are also fully committed to present our rescued films in the way they were meant to be seen: in 35mm at our NOIR CITY festivals around the country.

Ask Eddie Anything!
Did you know that The Film Noir Foundation has livestreams each month on our Facebook page in which Eddie Muller answers questions submitted by our e‑mail subscribers? All previous broadcasts are available on our YouTube broadcast archives page.
→ Subscribe to our mailing list, so you can get your question answered next month.
UPCOMING BROADCASTS
ASK EDDIE returns May 12 at 7 PM on Facebook and replays the following day on our YouTube channel.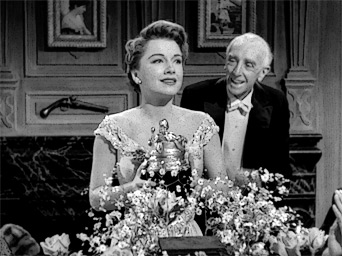 And the winner is...
We are proud to announce the winners of the Film Noir Foundation's NOIR CITY Magazine #34 donation drive held May 6-14, 2022
❋ The winner of the Flicker Alley Blu-ray/DVD release of the FNF's restoration of Woman on the Run (1950): William Schutte, Chicago, IL
❋ The winner of the two films with San Francisco settings - Flicker Alley Blu-ray/DVD releases of FNF's restoration of The Man Who Cheated Himself (1950) and the Warner Archive DVD of Race Street (1948): Thomas Jablonsky, Greenfield, WI
❋ The winner of 5 FNF restorations on Blu-ray/DVD from Flicker Alley — Repeat Performance (1947), Los tallos amargos (Argentina 1956), La bestia debe morir (Argentina 1952), Woman on the Run (1950), and Too Late for Tears (1949): Cindy Slezak, El Sobrante, CA
❋ The new-subscriber winner of Warner Archive's DVD release of Stranger on the Third Floor: David Ricci, Ocean Springs, MS
❋ The new-subscriber winner of Flicker Alley's Blu-ray/DVD release of the FNF's restoration of The Man Who Cheated Himself and the graphic novel from Fantagraphics Books Fog Over Tolbiac Bridge: Hans Kobelt, Rumson, NJ
Thank you to everyone who contributed to the Film Noir Foundation! A reminder that anyone who contributes $20 or more to the FNF and signs up our mailing list always receives a free year's subscription to NOIR CITY e-magazine. Contributors may receive additional FNF thank you gifts depending on the amount of the donation.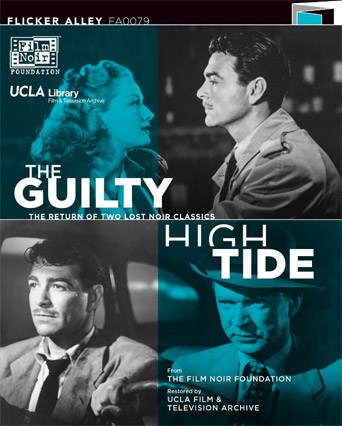 Two FNF Restoration Set
The FNF funded restorations of two 1947 film noirs, The Guilty and High Tide are now available for pre-order in a beautiful Blu-ray/DVD combo set that includes extensive special features from Flicker Alley. John Reinhardt's The Guilty centers on war veterans Mike Carr (Don Castle) and Johnny Dixon (Wally Cassell), roommates in a low-rent tenement. They are romantically entangled with twin sisters Estelle and Linda Mitchell (Bonita Granville, in a dual role). When one sister turns up dead, the boys are hounded by a suspicious police inspector (Regis Toomey). Working on only three sets, with a shoestring budget, Reinhardt and director of photography Henry Sharp evoke the dreadful, dead-of-night ambiance that was the domain of the era's most prolific noir scribe, Cornell Woolrich. The rarely seen noir has been restored from a 35mm nitrate composite fine-grain master by UCLA Film & Television Archive and is now presented in this world-premiere edition.
High Tide was the second of two crime thrillers independently produced in 1947 by Texas oil tycoon Jack Wrather. It carries over from The Guilty the same screenwriter and cameraman, the same protagonist in actor Don Castle, and the same director, John Reinhardt, whose playful inventiveness enlivened several post-WW II films noir. The action gets rolling with one of the greatest framing gimmicks in noir: a speeding car crashes onto a rocky shoreline and its occupants, newspaper editor Hugh Fresney (Lee Tracy) and private eye Tim Slade (Don Castle) recount the plot as the rising tide threatens to drown them. In flashback, we learn that Slade was brought in by muckraking editor Fresney as protection against a mobster (Anthony Warde) his paper is investigating. Things quickly get complicated as Fresney's boss has a wife (Julia Bishop) eager to resume a smoldering romance with Slade. This forgotten noir was rescued with the combined efforts of the FNF, UCLA Film & Television Archive, and the British Film Institute. Restoration funding was provided by the FNF in conjunction with the Packard Humanities Institute.
AVAILABLE FOR PRE-ORDER ONLY • RELEASE DATE: MAY 24, 2022

Tweets