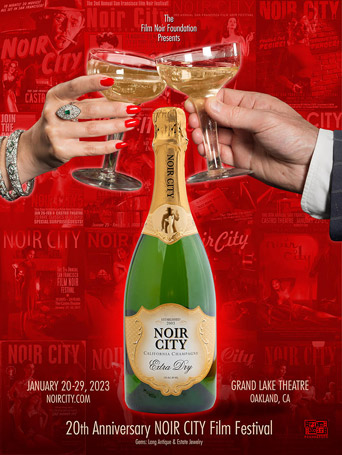 Happy 20
th

Anniversary!

SAVE THE DATE NOIR CITY returns to Oakland's Grand Lake Theatre January 20 - 29, 2023, celebrating 20 years of the Film Noir Foundation's flagship festival! Festival program and details to be announced mid-December.

AVAILABLE NOW — NOIR CITY 20 PASSPORTS (10‑day/24-film festival passes) are available at Brown Paper TIckets for $200. The NOIR CITY 20 Passports will also be available for sale at the FNF's merchandise table at NOIR CITY Xmas.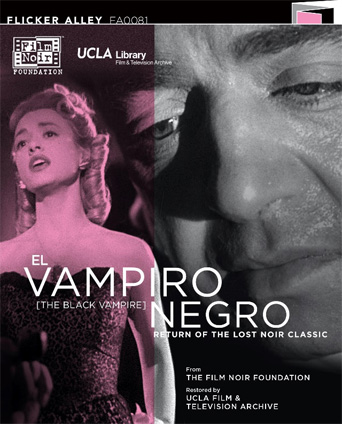 New Blu-ray/DVD of FNF Restoration Available for Pre-Order
Argentine director Román Viñoly Barreto's El vampiro negro (The Black Vampire) will be released by Flicker Alley on November 1 in a deluxe Blu-ray/DVD edition. A virtually unknown remake of Fritz Lang's seminal 1931 thriller M, this 1953 Argentine noir is a female-centered take on the tale. Olga Zubarry stars as a cabaret performer trying to protect her young daughter (Gogó) from a mysterious murderer while parrying the advances of the prosecutor (Roberto Escalada) pursuing the killer. Nathán Pinzón, who also appeared in Viñoly Barreto's The Beast Must Die (La bestia debe morir) a year earlier, gives an impressive against-type performance as the disturbed pedophile hiding in plain sight.
Thanks to the diligent efforts of the Film Noir Foundation and the Hollywood Foreign Press Association's Charitable Trust, a stunning restoration of the film was created by UCLA Film & Television Archive and is being presented in its first-ever U.S. home-video release – with special thanks to Fernando Martín Peña and Argentina Sono Film.
Bonus materials include:
✽ Introduction to El vampiro negro – by author, film historian and "noirchaeologist" Eddie Muller
✽ The 3 Faces of "M" – a critical comparison of the three versions of M, produced by Steven C. Smith and writer/film historian Alan K. Rode, and featuring interviews with writer/film historian Imogen Sara Smith, biographer Patrick McGilligan, biographer Stephen Youngkin, film critic Beth Accomando, Eddie Muller, and Alan K. Rode
✽ Art in the Blood – an interview with visual artist Daniel Viñoly, son of visionary director Román Viñoly Barreto
✽ Audio Commentary – by Argentina's leading film archivist and cinema historian Fernando Martín Peña
✽ Souvenir Booklet – featuring an essay by Imogen Sara Smith, with rare original photographs, posters, and ephemera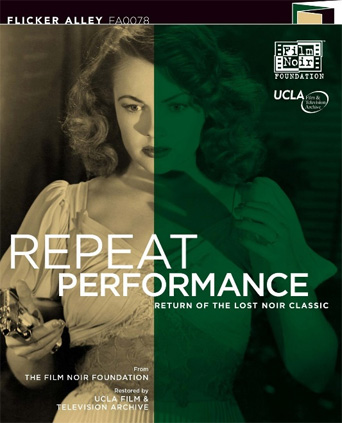 Repeat Performance Now Available
The FNF's restoration of Repeat Performance (1947) has been released in a beautiful Blu-ray/DVD combo set that includes extensive special features. Order your copy now from Flicker Alley. An amazingly original hybrid of film noir, supernatural fantasy, and backstage melodrama, the film stars Joan Leslie as a Broadway actress who magically relives the previous year of her life, but can she alter the fateful mistakes and misjudgments that led to a New Year's Eve tragedy? Think of it as film noir's answer to It's a Wonderful Life or a full-length precursor to The Twilight Zone. + READ MORE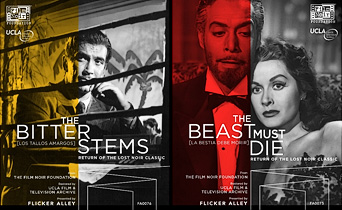 Two FNF Argentine Restorations Available on Blu-ray/DVD
We are proud to announce the release of two FNF restorations as Blu-ray/DVD combos from Flicker Alley: The Bitter Stems and The Beast Must Die, two classics of Argentine noir.. → READ MORE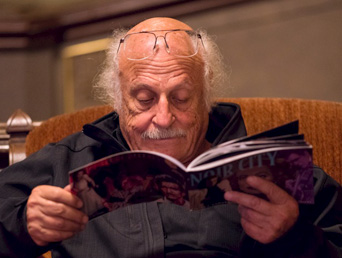 Yoram Kahana
Remembering Our Champion
Yoram Kahana was one of the Film Noir Foundation's greatest allies. His association with us even pre-dates the FNF's creation. Our first meeting was at one of the earliest noir festivals at the Egyptian Theatre in Hollywood, presented in conjunction with the American Cinematheque. At the end of the evening Yoram approached me, the first time I'd ever seen what would become a familiar visage: the wil d tangle of white hair, the light-colored, lightweight, lived-in outfit (complete with photojourvalist vest) suggesting a war correspondent in some humid, hostile outpost (nah, just Hollywood). The bemused, crooked smile—and, of course, the gruff, almost indecipherable accent that prevented me from really knowing his name until I looked it up online. → READ MORE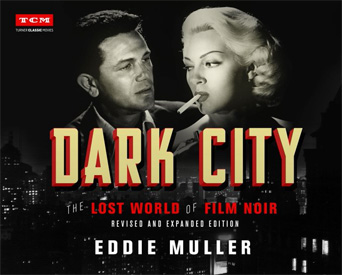 Czar of Noir's DARK CITY available now!
The revised and expanded edition of FNF prez and Noir Alley host Eddie Muller's Dark City: The Lost World of Film Noir is now available for purchase from the TCM Shop or your favorite bookseller.
Presented by Turner Classic Movies, Muller's film noir lover's bible takes readers on a tour of the urban landscape of the grim and gritty genre in a definitive, highly illustrated volume. Dark City expands with new chapters and a fresh collection of restored photos that illustrate the mythic landscape of the imagination. It's a place where the men and women who created film noir often find themselves dangling from the same sinister heights as the silver-screen characters to whom they gave life.
Muller guides fans on a spellbinding trip through treacherous terrain: Hollywood in the post-WWII years, where art, politics, scandal, style—and brilliant craftsmanship—produced a new approach to moviemaking, and a new type of cultural lore. This journey hits all the finer neighborhoods: Shamus Flats, Vixenville, Blind Alley, Losers' Lane—with stops at The Precinct, The Psych Ward, The Big House, and other dank corners, with shady protagonists ready to spill their bitter life story before retreating to the shadows.
Don't Print the Legend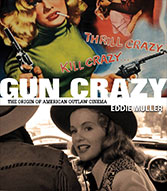 Gun Crazy caused barely a ripple in public consciousness when it hit movie screens in 1950. Yet over time it would prove to be the most innovative and provocative motion picture of its era—a simple genre film, but packed with so much cinematic bravura and timeless symbolism, its power has spanned decades, crossed oceans, and influenced countless filmmakers.
+ READ MORE

Come follow us on Tumblr to indulge your passion for noir! We'll be posting daily, celebrating all things noir with exclusive stills and images you won't see anywhere else, as well as trailers, film clips, and more.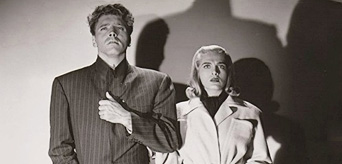 Share our posts with your friends; your love of the art form is the Foundation's biggest asset in its mission to preserve and restore classics of the genre. We are also fully committed to present our rescued films in the way they were meant to be seen: in 35mm at our NOIR CITY festivals around the country.

Ask Eddie Anything!
Did you know that The Film Noir Foundation livestreams every two weeks on our Facebook page in which Eddie Muller answers questions submitted by our e‑mail subscribers? All previous broadcasts are available on our YouTube broadcast archives page.
→ Subscribe to our mailing list, so you can get your question answered.
BROADCAST SCHEDULE
The latest ASK EDDIE premiered on Facebook on November 10 and on YouTube the following day.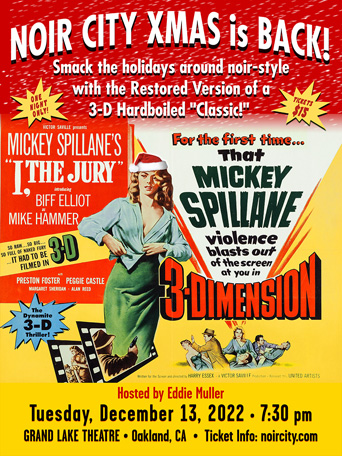 NOIR CITY Xmas at the Grand Lake
Join host Eddie Muller on Tuesday, December 13, 7:30 p.m., at Oakland's historic Grand Lake Theatre for the return of NOIR CITY XMAS! The Film Noir Foundation presents Mickey Spillane's I, the Jury in 3-D to darken your yuletide spirit. The 1953 black & white film, featuring cinematography by the legendary John Alton, was recently restored by UCLA Film & Television Archive and stars Biff Elliot, Peggie Castle, and Preston Foster.
The evening will also feature the unveiling of the program (and poster!) for NOIR CITY 20, the 20th anniversary of the world's most popular film noir festival, coming to the Grand Lake Theatre January 20-29, 2023.
Tickets for NOIR CITY Xmas are now available online for $15 from Brown Paper Tickets and can also be purchased at the theatre box office on the day of the show. Doors will open at 6:30 p.m. 3-D glasses will be provided!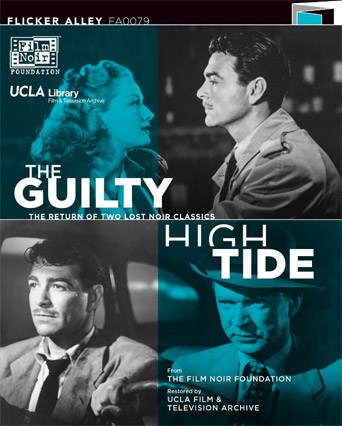 Two FNF Restoration Set
The FNF funded restorations of two 1947 film noirs, The Guilty and High Tide are now available for pre-order in a beautiful Blu-ray/DVD combo set that includes extensive special features from Flicker Alley. John Reinhardt's The Guilty centers on war veterans Mike Carr (Don Castle) and Johnny Dixon (Wally Cassell), roommates in a low-rent tenement. They are romantically entangled with twin sisters Estelle and Linda Mitchell (Bonita Granville, in a dual role). When one sister turns up dead, the boys are hounded by a suspicious police inspector (Regis Toomey). Working on only three sets, with a shoestring budget, Reinhardt and director of photography Henry Sharp evoke the dreadful, dead-of-night ambiance that was the domain of the era's most prolific noir scribe, Cornell Woolrich. The rarely seen noir has been restored from a 35mm nitrate composite fine-grain master by UCLA Film & Television Archive and is now presented in this world-premiere edition.
High Tide was the second of two crime thrillers independently produced in 1947 by Texas oil tycoon Jack Wrather. It carries over from The Guilty the same screenwriter and cameraman, the same protagonist in actor Don Castle, and the same director, John Reinhardt, whose playful inventiveness enlivened several post-WW II films noir. The action gets rolling with one of the greatest framing gimmicks in noir: a speeding car crashes onto a rocky shoreline and its occupants, newspaper editor Hugh Fresney (Lee Tracy) and private eye Tim Slade (Don Castle) recount the plot as the rising tide threatens to drown them. In flashback, we learn that Slade was brought in by muckraking editor Fresney as protection against a mobster (Anthony Warde) his paper is investigating. Things quickly get complicated as Fresney's boss has a wife (Julia Bishop) eager to resume a smoldering romance with Slade. This forgotten noir was rescued with the combined efforts of the FNF, UCLA Film & Television Archive, and the British Film Institute. Restoration funding was provided by the FNF in conjunction with the Packard Humanities Institute.

Tweets