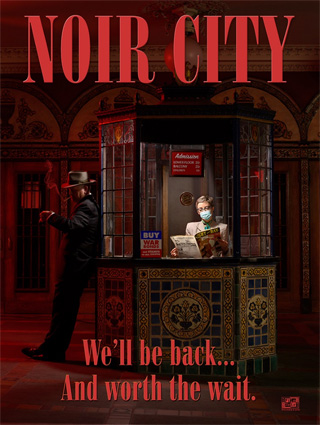 2021 Nancy Mysel Grant Recipient Announced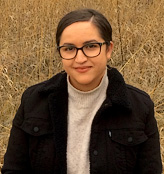 The Film Noir Foundation is proud to announce the recipient of this year's $5,000 FNF/Nancy Mysel Legacy Grant—Ari Negovschi.
Ari Negovschi is the Media Preservation Graduate Assistant for the Rare Book and Manuscript Library at the University of Illinois at Urbana-Champaign. She is overseeing the preservation of the Perry Miller Adato film collection. (Ms. Adato was the first female director to receive an award from the Director's Guild of America for her 1978 film Georgia O'Keefe and whose subjects included Gertrude Stein and Pablo Picasso.)
She has worked at the Autry Museum as an Exhibition Media Production Assistant for the award-winning Floral Journey: Native North American Beadwork, the 52nd Chicago International Film Festival, and as an Audio/Video Transfer Specialist at a Chicago-based digitization firm. As a transfer specialist, she developed a passion for hidden collections while digitizing historically significant personal, industrial, and cultural films. Inspired by her time working on the Adato collection, Ari hopes to continue canonizing work by female directors through film preservation.
The FNF's charitable grant, funded by the Mysel family in honor of the late film preservationist Nancy Mysel who supervised FNF restorations of The Prowler and Cry Danger, grants funding to students enrolled in film restoration and preservation studies. The FNF congratulates Ari on her grant award!
LIMITED TIME OFFER
NOIR CITY T-shirts
Our unique t‑shirts are still available. Shirts are black, short-sleeved, 100% cotton with silkscreened graphic on front. What's more appropriate than a NOIR CITY t‑shirt with the tagline "What could possibly go wrong?"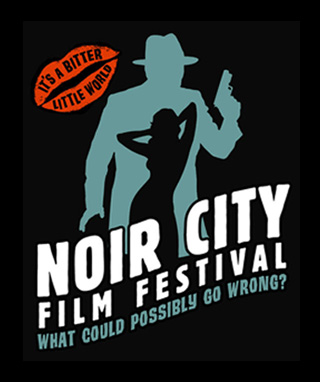 $20 + shipping • Sizes available: S - M - L - XL *February orders ship by March 1.
→ ORDER ON THE FNF's SHOP PAGE
UPCOMING NOIR CITY DATES
NOIR CITY (San Francisco): TBD
NOIR CITY: Seattle: TBD
NOIR CITY: Hollywood: TBD
NOIR CITY: Austin: TBD
NOIR CITY: Boston: TBD
NOIR CITY: Chicago: TBD
NOIR CITY: Detroit: TBD
NOIR CITY: D.C.: TBD
FNF Debuts Two Argentine Restorations in 2020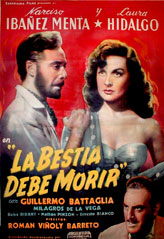 The Film Noir Foundation will premiere two new restorations at NOIR CITY 18, both little-known 1950s noir gems from Argentine director Román Viñoly Barreto: La bestia debe morir (1952) and El vampiro negro (1953). Both restorations were completed in 2019 by the FNF's preservation partner, UCLA Film & Television Archive, with support provided from the Hollywood Foreign Press Association's Charitable Trust (The HFPA Trust).
La bestia debe morir is an adaptation of Nicholas Blake's celebrated 1938 novel The Beast Must Die. Blake was actually a pseudonym of Irish poet laureate Cecil Day-Lewis, father of actor Daniel Day-Lewis. The book was noted for an unusual structure combining a first-person narrative of murderous revenge with a whodunit plot more familiar to fans of Blake's Sherlockian British detective, Nigel Strangeways.

The Argentine film, adapted for the screen by Viñoly Barreto and actor Narciso Ibáñez Menta, relegates Strangeways to a bit part, moving the noir-revenge narrative front and center. Spanish-born Ibáñez Menta was renowned in the '40s and '50s for horror and fantasy films, but in this full-fledged noir he portrays a writer hell-bent on uncovering the identity of the hit-and-run driver who killed his son … and murdering him.
"Until this discovery, most cinephiles believed that Claude Chabrol had made the first adaptation of Blake's novel in 1969," said FNF president Eddie Muller. "But largely thanks to my colleague Fernando Martín Peña, who introduced me to the film, this version of The Beast Must Die will now be recognized as the first—and with all due respect to Chabrol—the best screen version of the novel. It certainly has all the elements of a classic noir, and Viñoly Barreto directs it with great storytelling skill and visual style."
El vampiro negro (The Black Vampire) is an inspired reimagining of Fritz Lang's classic M, transposed from Berlin to Buenos Aires. It was made by essentially the same creative team that made La bestia debe morir a year earlier, including cinematographer Alberto Etchebehere, who not only provides spectacular imagery that may surpass the nocturnal style of Lang's original and the 1951 American remake directed by Joseph Losey—but he co-wrote the script with Viñoly Barreto. Famed actress Olga Zubarry, known as the "Argentine Marilyn Monroe," stars as a cabaret performer whose child is kidnapped by the murderer (Nathán Pinzón) preying on the city's children.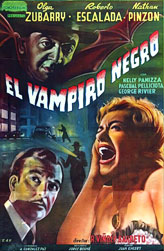 The FNF previously funded a preservation print of El vampiro negro that screened at several NOIR CITY festivals in 2014, but according to Muller, "We realized the film was so unique, and so compelling, it had to be completely restored, including fixes to the damaged original negative."
Both restorations debut opening night of NOIR CITY 18, January 24, as a double bill of lost classics from Argentina.
The restorations of La bestia debe morir and El vampiro negro will be screened nationally as part of the FNF's NOIR CITY film festival programs in 2020, as well as on the international film festival circuit.
Trapped Restoration Now Available on Blu-ray/DVD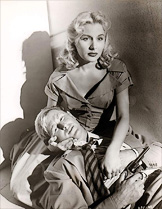 You can now own your own copy of the FNF funded restoration on Trapped (1949), available from Flicker Alley in a Blu-ray/DVD combo. In Richard Fleischer's 1949 noir, T-Men investigating a flood of phony $20s spring convicted counterfeiter Tris Stewart (Lloyd Bridges) from the joint to use as an undercover operative. But Tris is only stringing the Feds along until he makes a score and scoots to Mexico with his red-hot squeeze, Meg (Barbara Payton). The double- and triple-crosses come fast and furious, as no one's sure who's a crook and who's a copper. A hasty and hard-edged B with exceptional camerawork by DP Guy Roe.
The preservation of this nearly lost classic noir has been accomplished through the long-standing partnership of the FNF and UCLA Film & Television Archive. Additional funding assistance for Trapped was provided through a grant from the Hollywood Foreign Press Association's Charitable Trust (The HFPA Trust).
Trapped Blu-Ray/DVD bonus materials include:
✽ "Freeing Trapped" — A documentary on the film's creation and history, featuring interviews with Eddie Muller, Donna Lethal, and others.
✽ "A Sedulous Cinderella: Richard Fleischer Remembered" — A remembrance of the man, the director, and the father, by his son Mark Fleischer.
✽ Audio Commentary Track — Featuring author and FNF board member Alan K. Rode and film historian Julie Kirgo.
✽ 24-Page Souvenir Booklet — Featuring rare photographs, poster art, and commentary by FNF president Eddie Muller.
From the Collection of
Eddie Muller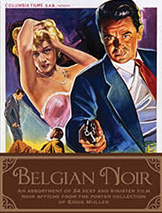 The WORLD OF FILM NOIR was created in black and white, but its intrigue and passion was sold worldwide by movie posters -- in vivid color -- that enticed audiences into this sinister and sensual demimonde. Nowhere on earth was the come-on more colorful than in Belgium, where the nation's standardly sized posters (a mere 14" x 22") virtually exploded with the danger and desire at the heart of cinema's most alluring and durable genre. Small posters from a small country--but packed with more lust and larceny than Hollywood would dare.
NOW, EXCLUSIVELY FROM BLACK POOL PRODUCTIONS—Eddie Muller, "The Czar of Noir," presents 24 glorious Belgian cinema posters from his personal collection, reproduced as 5-1/4" x 7" cards, each complete with his terse and tangy commentary highlighting what made these films—and this artwork--so magical and memorable. $20 + tax/shipping at BlackPoolProductions.com.
Don't Print the Legend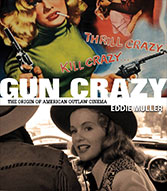 Gun Crazy caused barely a ripple in public consciousness when it hit movie screens in 1950. Yet over time it would prove to be the most innovative and provocative motion picture of its era—a simple genre film, but packed with so much cinematic bravura and timeless symbolism, its power has spanned decades, crossed oceans, and influenced countless filmmakers.
+ READ MORE

Come follow us on Tumblr to indulge your passion for noir! We'll be posting daily, celebrating all things noir with exclusive stills and images you won't see anywhere else, as well as trailers, film clips, and more.

Share our posts with your friends; your love of the art form is the Foundation's biggest asset in its mission to preserve and restore classics of the genre. We are also fully committed to present our rescued films in the way they were meant to be seen: in 35mm at our NOIR CITY festivals around the country.

Ask Eddie Anything!
The Film Noir Foundation has launched a monthly live stream on our Facebook page in which Eddie answers questions submitted by our e‑mail subscribers.
UPDATE The February 25 broadcast can be viewed here. All previous broadcasts are available as well on our YouTube broadcast archives page.
→ Subscribe to our mailing list, so you can get your question answered next month.
ASK EDDIE will next broadcast on
Thursday, March 11 at 7:00 pm.
Kit Noir Festival Makes Virtual Return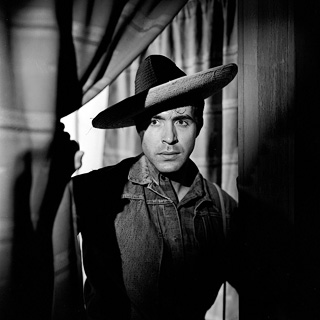 The abridged, virtual 2021 Dr. Saul and Dorothy Kit Film Noir Festival will stream free of charge between March 11-21, 2021. This year's edition, Border Incidents: The US-Mexico Border in Film Noir, comprises three films set at the US-Mexico border: Anthony Mann's Border Incident (1949), John Farrow's Where Danger Lives (1950), and Orson Welles' Touch of Evil (1958). Each film takes a distinct view on the darker reasons for crossing the border: economic need and exploitation, personal escape from criminal prosecution and police corruption.
The festival will culminate in a roundtable discussion with film scholar Jonathan Auerbach, postcolonial theorist Homi Bhabha, Artes de México editor Margarita de Orellana, and Jonathan Ryan, the Executive Director of RAICES (the Refugee and Immigrant Center for Education and Legal Services).
Presented by Columbia University's School of the Arts. Programmed by Rob King, Film & Media Studies. Managed by Soheil Rezayazdi, Columbia Film. This festival is funded by a generous gift from alumnus Gordon Kit '76 (Columbia College), in honor of his parents. Schedule, program notes and screening details are available here.
Film Festival Updates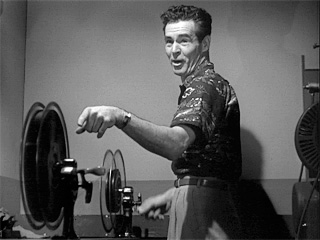 The 2021 TCM Classic Film Festival will be presented as a virtual experience. Additional dates and details to be announced.
The Arthur Lyons' Film Noir Festival in Palm Springs was cancelled for 2020 "due to the challenges of producing the festival during the COVID pandemic." The organizers are hoping to return in May of 2021.
The San Francisco Silent Film Festival "is moving forward with celebrating our 25th anniversary in our regular festival slot—May 5–9, 2021. With a year to plan, and hopefully on the other side of this health crisis, we promise a brilliant celebration!"
Midcentury Productions' events in Los Angeles and San Francisco were delayed in 2020 due to COVID. "Here is what's likely to occur in San Francisco as soon as it's possible to return. Our Georges Simenon series will be restructured. Our special Jean Gabin event will be revamped and rescheduled. We expect to have several all-day weekend events as well, to preview our approach for the 2021 edition of THE FRENCH HAD A NAME FOR IT, which will combine past festival favorites with more unseen rarities from "the lost continent" of French noir."
Noir Now Streaming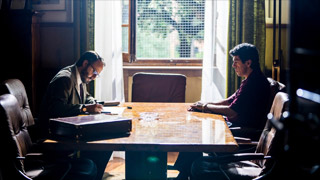 Love our film reviews in the NOIR CITY e-magazine? Get your noir-tinged movie and streaming news faster from our NOIR NOW STREAMING area. Contributors include syndicated newspaper columnist Sean Axmaker; the East Bay Express' chief film reviewer Kelly Vance and Nathalie Atkinson, a columnist for The Globe and Mail and the creator and host of the popular film series Designing the Movies.

Tweets