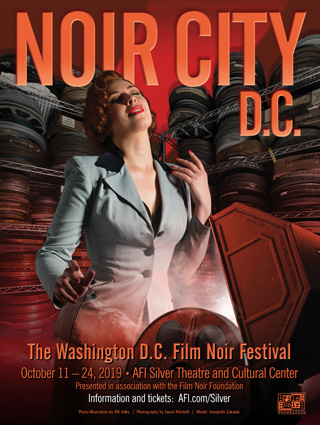 Mr. Muller Goes to Washington
NOIR CITY D.C. returns to its home at the AFI Silver Theatre and Cultural Center October 11-24, 2019. This year's edition includes a selection of titles featured earlier this year at NOIR CITY's flagship festival in San Francisco—including a free screening of the FNF's most recent restoration project, Richard Fleischer's Trapped (1949) on Sunday, October 13. Another FNF funded restoration will screen for free on Sunday, October 20, Norman Foster's Woman on the Run (1950). Five iconic noirs—The Woman in the Window, Laura, Murder, My Sweet, Phantom Lady and Double Indemnity—will screen in celebration of their 75th anniversaries. In addition to these iconic films that helped French film critic Nino Frank to coin the term film noir, a selection of rarities will also play including The City That Never Sleeps, Murder by Contract, Private Hell 36 and The Scarlet Hour.
FNF board member and film historian Foster Hirsch will introduce the films screening during the first weekend of the festival, October 11-13. FNF president Eddie Muller will introduce the second weekend's screenings, October 18-20. Passes, tickets and the full line-up are available on the AFI Silver's website.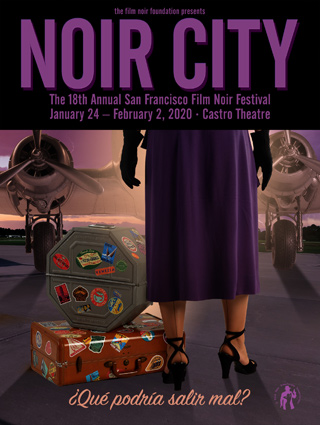 Destination: NOIR CITY 2020
Save the date! NOIR CITY returns to its home at San Francisco's historic Castro Theatre for its 18th edition, January 24–February 2, 2020. The full line-up will be announced at our NOIR CITY Xmas show, December 18 at the Castro.
Can't make it to the Castro for NOIR CITY Xmas? Don't shout, don't cry—the schedule, program notes, and both single tickets and Passports (all access festival passes) will all be available the same night on NoirCity.com.
NOIR CITY Passports will go on sale prior to NOIR CITY Xmas. They will be available on this site for purchase starting November 1. This all-access festival pass grants the bearer: entry to all films during NOIR CITY 18's 10-day run; separate passport holders' queue for early admittance to the theatre for all shows; and the opening night passholders' reception (Castro Theatre mezzanine) beginning at 6 pm on January 24, 2020.

NOIR CITY 18 Accomodations
If you're an out-of-towner looking for lodging near the Castro Theatre, our friends at Beck's Motor Lodge are offering discounted room rates for festival guests during NOIR CITY 18. Beginning January 23 through February 2, 2020, you can get a room with a Queen bed for $169 plus tax, and for a room with 2 beds the cost is $189 plus tax.
Located at 2222 Market near the intersection of 15th and Sanchez, Beck's Motor Lodge is walking distance to the Castro Theatre. While the exterior of the iconic mid-century motel (built in 1958) hasn't changed much over the years, the interior rooms have all been totally refurbished with new furniture and bathrooms, 32" flat screen televisions, refrigerators and coffee makers. Parking is still free, as is access to wi-fi.
Call Beck's Motor Lodge at 415-621-8212 or email them at info@BecksMotorLodge.com to make your reservation. Important: Make sure you tell Beck's you're calling for the NOIR CITY 18 festival rate.
Trapped Restored and Released by FNF, UCLA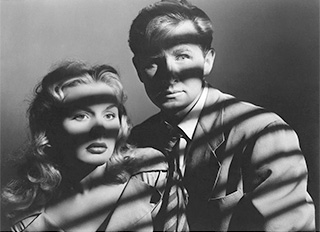 Trapped, a 1949 film noir produced by short-lived Eagle-Lion Pictures, is the latest restoration project of the Film Noir Foundation. The restored film had its world premiere in San Francisco on Friday, January 25, kicking off the 17th annual NOIR CITY festival, at the Castro Theatre. The preservation has been accomplished through the long-standing partnership of the Film Noir Foundation and UCLA Film & Television Archive. Additional funding assistance for Trapped was provided through a grant from the Hollywood Foreign Press Association's Charitable Trust. + READ MORE
From the Collection of
Eddie Muller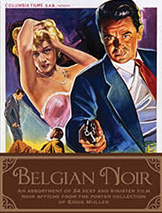 The WORLD OF FILM NOIR was created in black and white, but its intrigue and passion was sold worldwide by movie posters -- in vivid color -- that enticed audiences into this sinister and sensual demimonde. Nowhere on earth was the come-on more colorful than in Belgium, where the nation's standardly sized posters (a mere 14" x 22") virtually exploded with the danger and desire at the heart of cinema's most alluring and durable genre. Small posters from a small country--but packed with more lust and larceny than Hollywood would dare.
NOW, EXCLUSIVELY FROM BLACK POOL PRODUCTIONS—Eddie Muller, "The Czar of Noir," presents 24 glorious Belgian cinema posters from his personal collection, reproduced as 5-1/4" x 7" cards, each complete with his terse and tangy commentary highlighting what made these films—and this artwork--so magical and memorable. $20 + tax/shipping at BlackPoolProductions.com.
Don't Print the Legend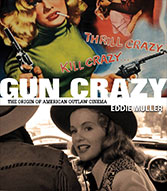 Gun Crazy caused barely a ripple in public consciousness when it hit movie screens in 1950. Yet over time it would prove to be the most innovative and provocative motion picture of its era—a simple genre film, but packed with so much cinematic bravura and timeless symbolism, its power has spanned decades, crossed oceans, and influenced countless filmmakers.
+ READ MORE

Come follow us on Tumblr to indulge your passion for noir! We'll be posting daily, celebrating all things noir with exclusive stills and images you won't see anywhere else, as well as trailers, film clips, and more.

Share our posts with your friends; your love of the art form is the Foundation's biggest asset in its mission to preserve and restore classics of the genre. We are also fully committed to present our rescued films in the way they were meant to be seen: in 35mm at our NOIR CITY festivals around the country.
Now Playing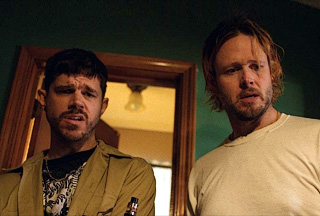 Love our film reviews in the NOIR CITY e-magazine? Get you noir-tinged movie and streaming news faster from our newly added NOW PLAYING area. Contributors include syndicated newspaper columnist Sean Axmaker; the East Bay Express' chief film reviewer Kelly Vance and Nathalie Atkinson, a columnist for The Globe and Mail and the creator and host of the popular film series Designing the Movies.
Demon Dog Joins Czar for S.F. Screening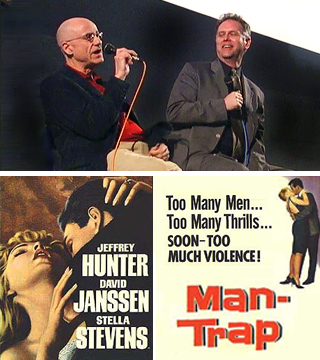 James Ellroy, the reigning king of American crime fiction, will join the FNF's Czar of Noir, Eddie Muller, for a special event at the Alamo Drafthouse in San Francisco, Thursday, November 7, at 7:30 p.m.! The dynamic duo will be introducing the 1961 film Man­Trap, shot in both San Francisco and Los Angeles. They'll also engage in an onstage conversation virtually guaranteed to run off the rails. Ellroy will be signing copies of his latest L.A. noir opus This Storm.
The Alamo website is also set up to accept donations for the FNF, which are greatly appreciated. Seating is limited to 100. Buy your tickets early!
Heads Up for Bay Area Noir Heads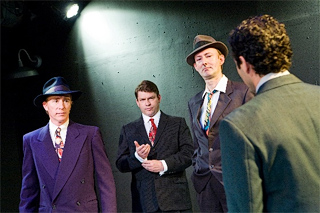 L.A. OR S.F.?: Who's more noir? The Impro Theatre from Los Angeles will battle with the company that spawned it, San Francisco-based BATS Improv, to answer that question with a salute to two of California's hardboiled giants, Raymond Chandler and Dashiell Hammett. The California Noir-Off is a two-night festival of unscripted noir at the Presidio Theatre on the Post, Friday, November 8 and Saturday, November 9. Friday night, the San Francisco team fashions a spontaneous homage to Hammett and L.A. improvises in the style of Chandler. They'll combine forces on Saturday night for an improvised noir musical directed by J. Raoul Brody. Tickets available on the Presidio Theatre's website.
I Wake Up Streaming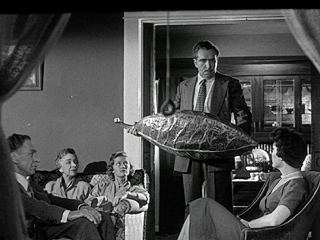 Prefer streaming to cable? We got you covered! Check out the newest edition to our website, I Wake Up Streaming—a monthly noir streaming column written by critic Sean Axmaker. Sean is here to guide you through the labyrinth of streaming services and lead you to the best classic film noirs available. He already regularly contributes to the FNF's NOIR CITY e-magazine as well as the NOIR NOW PLAYING section of our website. Sean also writes the syndicated newspaper column Stream On Demand and the companion website.
FNF To Debut Two Argentine Restorations in 2020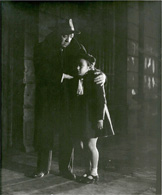 The FNF will premiere two new restorations in 2020, both little-known 1950s noir gems from Argentine director Román Viñoly Barreto. The FNF's preservation partner, UCLA Film & Television Archive, recently completed work on La bestia debe morir (1952), an adaptation of Nicholas Blake's celebrated 1938 novel The Beast Must Die. The book was adapted for the screen by Barreto and actor Narciso Ibáñez Menta. Spanish-born Ibáñez Menta was renowned in the '40s and '50s for horror and fantasy films, but in this full-fledged noir he portrays a writer hell-bent on uncovering the identity of the hit-and-run driver who killed his son … and murdering him.
Viñoly Barreto also directed the FNF's other 2020 restoration premiere, El vampiro negro (1953), which is currently being restored through UCLA. The FNF previously funded a preservation print of the film that screened at several 2014 NOIR CITY festivals; according to FNF prez Eddie Muller, "We realized the film was so unique, and so compelling, it had to be completely restored, including fixes to the damaged original negative." El vampiro negro is an inspired reimaging of Fritz Lang's classic M, transposed from Berlin to Buenos Aires. Both restorations are expected to premiere at the NOIR CITY festival in San Francisco, which begins January 24, 2020.

Tweets