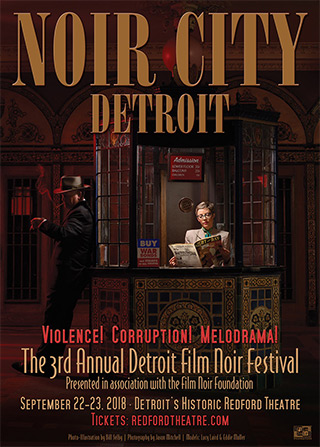 NOIR CITY Returns to the Motor City!
NOIR CITY Detroit returns to its home at the historic Redford Theatre September 22-23 with all the violence, corruption, and melodrama that Detroiters have come to expect from the annual film noir festival. The 2-day festival kicks off on Saturday night with a double bill of Fred Zinnemann's revenge tale Act of Violence (1949) and Stanley Kubrick's heist film The Killing (1956). Saturday night closes with a midnight screening of Martin Scorsese's ultra-violent neo-noir Taxi Driver (1976).
Sunday afternoon brings a double bill of big-city corruption––Abraham Polonsky's exposé of the New York numbers racket in Force of Evil (1948) and Fred Sears' independent crime feature Inside Detroit (1956) shot entirely on location in the Motor City! On Sunday evening, the festival wraps up with two star-studded noir melodramas: a new digital restoration of Byron Haskin's I Walk Alone (1948)—starring Burt Lancaster, Kirk Douglas and Lizabeth Scott—and Mitchell Leisen's No Man of Her Own (1950) starring Barbara Stanwyck and based on a story by Cornell Woolrich.
FNF founder and president Eddie Muller will introduce all the screenings. The $30 NOIR CITY All Movie Pass grants access to all the screenings plus entry to an exclusive reception with Eddie on Saturday, September 22, from 6:00 p.m. to 7:30 p.m., prior to the evening screenings. Schedule and links to purchase tickets and passes are now available on the Redford's website.
UPCOMING NOIR CITY DATES
NOIR CITY Detroit: September 22-23, 2018
NOIR CITY D.C: October 12-25, 2018
NOIR CITY XMAS (San Francisco): Dec. 19,2018
NOIR CITY 17 (San Francisco): Jan.25-Feb 3, 2019
FNF Launches
Now Playing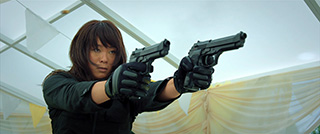 Love our film reviews in the NOIR CITY e-magazine? Get you noir-tinged movie and streaming news faster from our newly added NOW PLAYING area.
Contributors include syndicated newspaper columnist Sean Axmaker; the East Bay Express' chief film reviewer Kelly Vance and Nathalie Atkinson, a columnist for The Globe and Mail and the creator and host of the popular film series Designing the Movies.
Mr. Muller and Mr. Rode
Go to Washington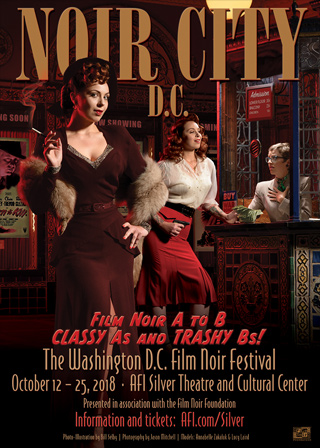 NOIR CITY returns to the AFI Silver Theatre and Cultural Center in Silver Spring, MD, October 12-25. Taking attendees back to the golden age of film noir, NOIR CITY will present this year's films as they were experienced upon original release––pairing a top-tier studio "A" with a shorter, low-budget second feature or "B" film. In addition, there will also be a teaming of both versions of The Killers: Robert Siodmak's 1946 classic with Burt Lancaster and Ava Gardner, playing with Don Siegel's 1964 reimagining with John Cassavetes and Angie Dickinson, which puts more emphasis on the killers, played by Lee Marvin and Clu Gulager. The FNF's latest restoration, The Man Who Cheated Himself (1950), shot on location in San Francisco, will screen along with Paramount's new digital restoration of Byron Haskin's I Walk Alone (1948), featuring a trio of powerhouse players: Burt Lancaster, Kirk Douglas, and Lizabeth Scott.
Opening weekend screenings, Friday, October 12 – Sunday, October 14, will be introduced by author and FNF board member Alan K. Rode. Eddie Muller will take over hosting duties Friday, October 19–Sunday, October 21. The full NOIR CITY: D.C. schedule and tickets––plus the all-access NOIR CITY Pass––are available on the AFI Silver's website.
Latest FNF Rescue: The Man Who Cheated Himself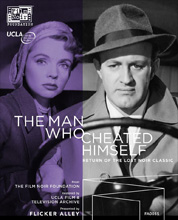 The FNF-funded restoration of Felix E. Feist's independently made noir thriller The Man Who Cheated Himself, (1950) is now available for pre-order from Flicker Alley. The Blu-ray/DVD dual-format edition is loaded with special features:
The Man Who Cheated Himself Revisited: Produced by TVP Enterprises and FNF, this mini-documentary offers a behind-the-scenes examination of the film's original production.
The Man Who Cheated Himself Locations Then and Now: City Sleuth (aka Brian Hollins) leads a virtual tour around San Francisco hunting down the many locations used during the film's production.
Restored Theatrical Trailer. View
Souvenir Booklet: Featuring rare photographs, poster art, original lobby cards, and an essay by the "Czar of Noir" Eddie Muller.
20th Century–Fox, the film's original distributor, provided an original fine-grain from its vault as the essential restoration element. The UCLA Film & Television Archive's Head of Restoration, Scott MacQueen, oversaw the project.
In addition to The Man Who Cheated Himself, NOIR CITY patrons and FNF donors have made it possible over the years for the FNF to restore Los tallos amargos (1956), Cry Danger (1951), The Prowler (1951), Try and Get Me! (1951), Repeat Performance (1947), High Tide (1947), Too Late for Tears (1949), The Guilty (1947) and Woman on the Run (1950), as well as funding our many 35mm preservations. DONATE HERE and be a film noir savior.
From Photography to Film Noir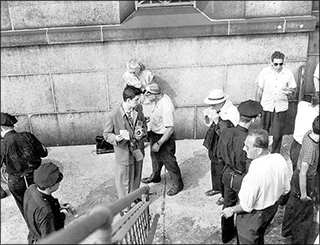 In conjunction with their current exhibition, Through a Different Lens: Stanley Kubrick Photographs, the Public Programs Department at the Museum of the City of New York explores Kubrick's pre-film career as a photographer. He started his career as a professional photographer when he sold Look magazine one of his photos at the tender age of 17. The exhibit features more than 120 photographs by Kubrick from the museum's Look archive, an unparalleled collection that includes 129 photography assignments and more than 12,000 negatives from his five years as a staff photographer. The museum will also be offering a special Halloween treat on October 26, a film noir themed cocktail party inspired by Kubrick's work which includes music and dancing, film trivia, signature cocktails, and a guided gallery tour. Halloween, film noir, or Kubrick-inspired costumes encouraged. Prizes will be awarded to the best dressed. You can purchase tickets for Night of Noir: A Kubrick Halloween online. [Photo:Stanley Kubrick on the set of Jules Dassin's Naked City for Look Magazine, 1948]
From the Collection of
Eddie Muller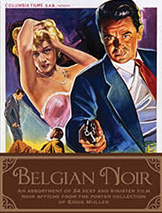 The WORLD OF FILM NOIR was created in black and white, but its intrigue and passion was sold worldwide by movie posters -- in vivid color -- that enticed audiences into this sinister and sensual demimonde. Nowhere on earth was the come-on more colorful than in Belgium, where the nation's standardly sized posters (a mere 14" x 22") virtually exploded with the danger and desire at the heart of cinema's most alluring and durable genre. Small posters from a small country--but packed with more lust and larceny than Hollywood would dare.
NOW, EXCLUSIVELY FROM BLACK POOL PRODUCTIONS—Eddie Muller, "The Czar of Noir," presents 24 glorious Belgian cinema posters from his personal collection, reproduced as 5-1/4" x 7" cards, each complete with his terse and tangy commentary highlighting what made these films—and this artwork--so magical and memorable. $20 + tax/shipping at BlackPoolProductions.com.
Don't Print the Legend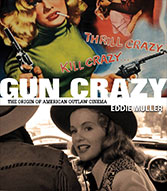 Gun Crazy caused barely a ripple in public consciousness when it hit movie screens in 1950. Yet over time it would prove to be the most innovative and provocative motion picture of its era—a simple genre film, but packed with so much cinematic bravura and timeless symbolism, its power has spanned decades, crossed oceans, and influenced countless filmmakers.
+ READ MORE

Come follow us on Tumblr to indulge your passion for noir! We'll be posting daily, celebrating all things noir with exclusive stills and images you won't see anywhere else, as well as trailers, film clips, and more.

Share our posts with your friends; your love of the art form is the Foundation's biggest asset in its mission to preserve and restore classics of the genre. We are also fully committed to present our rescued films in the way they were meant to be seen: in 35mm at our NOIR CITY festivals around the country.
One Night Only! Czar of Noir in Ann Arbor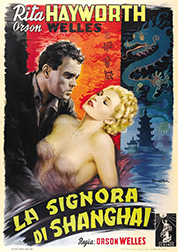 FNF prez Eddie Muller will be the Michigan Theater's special guest for their screening of Orson Welles' The Lady from Shanghai (1947), Friday, Sept. 21 at 7:00 PM. Eddie will introduce the classic noir and lead a post-film discussion. In Welles' noir masterpiece, an Irish sailor (Orson Welles) gets caught between a corrupt tycoon (Everett Sloane) and his voluptuous wife (Rita Hayworth) and their plans to eliminate one another in this wonderfully convoluted noir. This special evening opens the Fatally Yours: A Film Noir Series which continues every Monday night from September 24 through October 15.Tickets are available now on the Michigan's website.
Oldest U.S. Film Noir Festival Returns to Seattle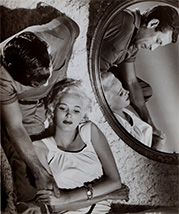 The Seattle Art Museum's film noir festival returns for its 41st edition on September 27. This year's line-up, entitled Night Heat, ranges from well-known classics like Charles Laughton's The Night of the Hunter (1955) starring film noir stalwart Robert Mitchum to lesser known gems like Hugo Haas' Wicked Woman, starring the incomparable film noir Amazon Beverly Michaels. A Top Pot Doughnuts post-film party follows the opening night screening of Raoul Walsh's White Heat (1949), showcasing James Cagney as a psychotic, mother-obsessed gangster. The last two weeks of the festival include a late-era noir Robert Rossen's Lilith (1964) and Michael Mann's high-octane heist flick Heat (1995). Films screen every Thursday night through December 6 except for Thanksgiving Day. Full series pass ($78) available on SAM's website. A limited number of single-film tickets may be available on a first-come, first-served basis the day of the show, at 7:25 p.m., at the auditorium entrance for $9 (cash/check only).
FNF Receives HFPA Grant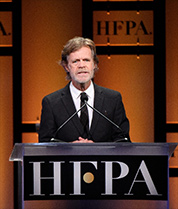 For the sixth consecutive year, the Film Noir Foundation has been awarded a grant from the Hollywood Foreign Press Association's Charitable Trust. This year's $50,000 grant will be used to help fund a 35mm film restoration the FNF will premiere next year at NOIR CITY 17 in San Francisco. HFPA's mission is to foster education, diversity, and creative expression in art and film through a variety of programs and special grants. For more than 25 years, the Hollywood Foreign Press has donated over $33 million to entertainment-related charities, scholarship programs, and humanitarian efforts.
This year's grants banquet was held Thursday, August 9, at Hollywood's Beverly Hilton Hotel with FNF promotional director and grants manager Daryl Sparks in attendance. The evening's festivities were hosted by William H. Macy and highlighted by award presentations from Hollywood celebrities, including Charlize Theron, Steve Carell, Alfonso Cuarón, Alfre Woodard, Jennifer Garner, Jason Bateman, and Dakota Fanning.
Coen Brothers Retrospective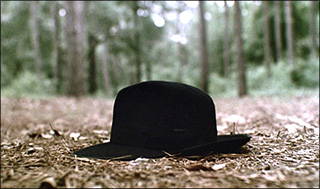 Dipson Theatres and Noir Essentials have teamed up to present The Coen Brothers Bible of America, a monthly retrospective of Joel and Ethan Coen's neo-noir films, August 22-December 12 at the Dipson Eastern Hills Cinema in Buffalo. Host Alex Weinstein will take audiences on a journey, both geographic and cinematic, through five modern classics from the filmmaking team: Texas (Blood Simple, No Country for Old Men); North Dakota (Fargo); post-War California (The Man Who Wasn't There), and an unnamed Prohibition-era gangster infested city (Miller's Crossing). The films also cover a journey through crime fiction writing from golden age pulp—The Man Who Wasn't There was inspired by James M. Cain's writing, especially The Postman Always Rings Twice and Miller's Crossing is an uncredited reworking of Dashiell Hammett's The Glass Key—to the work of a modern literary master, Cormac McCarthy, author of No Country. Tickets are available at DipsonTheatres.com or in person at the Eastern Hills Cinema box office.
Queen Joan at the British
Film Institute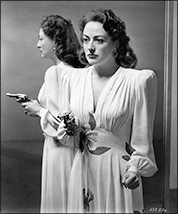 The British Film Institute is celebrating Joan Crawford's decades long career with a focus on her remarkable ability to change with the times and keep herself both employed and relevant. Fierce: The Untameable Joan Crawford runs now through October 4 and includes selections from her film noir cannon. In David Miller's Sudden Fear (1952), Crawford plays a society playwright who marries a much younger actor with murderous results. Crawford won her Best Actress Oscar for Mildred Pierce (1945), the Michael Curtiz helmed big screen adaptation of James M. Cain's novel. In Jean Negulesco's noirish romance Humoresque (1946), Crawford gives a powerhouse performance as a complicated and ultimately tragic, wealthy alcoholic. Crawford was nominated for an Oscar for her role as a nurse driven to a mental breakdown by her obsession with a self-centered architect (Van Heflin) in Curtis Bernhardt's Possessed (1947). Season programmer Anna Bogutskaya will introduce the October 2 screening of Sudden Fear. Visit the BFI website for the full series schedule as well as for details on their screenings of Mildred Pierce and The Women in select UK cinemas as well.
NOIR TALK
"Now Playing" Movies + Streaming Guide and Noir on Blu-Ray, with Kelly Vance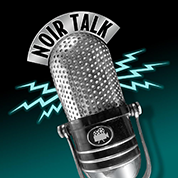 East Bay Express chief film reviewer Kelly Vance joins NOIR TALK producer/host Haggai Elitzur to chat about our website's newly added "Now Playing" area, a guide to noir-tinged movie and streaming news. (You can also enjoy Kelly's films reviews in NOIR CITY e-magazine.)
The pair also discuss a number of recent classic film noir releases on Blu-ray from specialty outlets like KL Studio Classics, Olive Films, VCI, ClassicFlix, Cohen Film Collection, Twilight Time, and Warner Archive. Flicker Alley's fully loaded dual Blu-ray/DVD editions of the FNF-funded restorations of Too Late for Tears (1949) and Woman on the Run (1950) as well as their upcoming release of our latest restoration project, The Man who Cheated Himself (1950) are included in the conversation.You can listen either on SoundCloud or on iTunes.

Tweets