NOIR ALLEY
Saturday, November 30, 9:15 PM Sunday, December 1, 7:00 AM
FNF Prez Eddie Muller presents
THE MASK OF DIMITRIOS (1944): The eternal noir duo of Sydney Greenstreet and Peter Lorre star in this film adaptation of the Eric Ambler novel which also features Zachary Scott in his film debut. Novelist Cornelius Leyden (Lorre) investigates the mysterious death of international criminal Dimitrios Makopoulus (Scott) after Dimitrios' body is discovered in Istanbul. The mysterious Peters (Greenstreet) encourages Leyden and promises him a financial reward. But what is Peters' motivation for the investigation? The always wonderful character actress Fay Emerson plays a supporting role as a lover formerly fleeced by Dimitrios. Dir. Jean Negulesco
Sunday, December 1, 9:00 AM
LADY IN THE LAKE (1947): A lady editor (Audrey Totter) hires Phillip Marlowe to investigate the disappearance of her boss' wife. First time director Robert Montgomery, who also starred as Marlowe, chose to shoot the entire film from Marlowe's POV using a subjective camera in order to replicate visually Raymond Chandler's first person narrative from the novel. Dir. Robert Montgomery
Sunday, December 1, 1:15 PM
Tuesday, December 24, 3:15 PM

HOLIDAY AFFAIR (1949): Big bad Bob Mitchum is on the run from one of his RKO noir thrillers when he gets a job as house dick at a department store and busts adorable Janet Leigh, who's spying for the competition. Okay, it's not noir. It's a warm and witty romantic Christmas movie minus all the sappy sentiment. Hey, a little love never killed anybody! Dir. Don Hartman
Tuesday, December 3, 5:00 PM
HUMORESQUE (1946): Noirish romance about an equally talented and narcissistic classical musician (John Garfield) from the New York slums who falls in love with wealthy neurotic (Joan Crawford) with expectedly problematic results. Crawford's performance as a self-destructive alcoholic raises the level of the film beyond its melodramatic script. Dir. Jean Negulesco
Thursday, Dec 5,6:45 AM – 12:00 PM
Gangster Noir Triple Bill
6:45 AM
BLACK HAND (1950): In this period noir, set in turn-of-the-century New York, Johnny Columbo (Gene Kelly) seeks vengeance on the mobsters who killed his father—a lawyer who tried to expose extortion ring to the police. Dir. Richard Thorpe
8:30 AM
WHITE HEAT (1949): "Top of the world, Ma!" a G-man (Edmond O'Brien) infiltrates a gang run by a mother-fixated psychotic, James Cagney in a stand out performance. This film marks the cinematic movement away from the traditional Warner Brothers' portrayal of the gangster to the more cynical and psychological film noir interpretation. Virginia Kellogg garnered an Oscar nomination for Best Writing, Motion Picture Story for the film. Pointless trivia: Naked Gun 33 1/3 borrowed the plot. Dir. Raoul Walsh
10:30 AM
RACE STREET (1948): An ex-bookie (George Raft) tries to go straight by opening a nightclub, but soon finds himself seeking vengeance against a protection racket syndicate after they kill his friend. Dir. Edwin L. Marin
NOIR ALLEY
Saturday, December 7, 9:15 PM
Sunday, December 8, 7:00 AM
FNF Prez Eddie Muller presents
BERLIN EXPRESS (1948): A multinational group of travelers find themselves thrown together to thwart the assassination of a prominent pacifist scientist by defiant Nazis bent on destabilizing post-war Germany. This improbable but intelligent thriller is a true rarity: a shot-on-location look at the resistance Allied powers faced reorganizing the vanquished German citizenry in the aftermath of WWII. Robert Ryan (the laconic American) and Merle Oberon (trying a sketchy French accent) head a cast comprising representatives of each Allied Zone: Britain, France, the Soviet Union and the United States. Although spiced with shadowy noir dramatics (lensed by Oberon's husband, Lucien Ballard), the film's most fascinating aspect is its time capsule view of global geopolitics in the rapidly closing window between the Marshall Plan and the building of the Berlin Wall. Dir. Jacques Tourneur
Saturday, December 14, 3:00 AM
NIGHT MUST FALL (1937): Young and charming Danny (Robert Montgomery) worms his way into elderly and wealthy Mrs. Bramosn's (Dame May Whitty) household. Her sexually repressed niece (Rosalind Russell) suspects him of larceny and possibly a local murder while being strongly attracted to him. What's in that hatbox? Dir. Richard Thorpe
NOIR ALLEY
Saturday, December 14, 9:00 PM
Sunday, December 15, 7:00 AM
FNF Prez Eddie Muller presents
CRISS CROSS (1949): A lovelorn loner (Burt Lancaster) returns to Los Angeles and quickly falls under the spell of his one-time flame (Yvonne De Carlo), who is now in thrall to a sinister gangster (Dan Duryea). A daring armored car robbery becomes the fulcrum of their dangerous triangle as the two men play each other while vying for the dame's loyalty. Siodmak creates one of the most seductive and spellbinding tales of l'amour fou in the entire noir canon—a complex and elegantly told tale of desire, desperation and sudden death. Dir. Robert Siodmak
Sunday, December 15, 1:00 AM
STAKEOUT ON DOPE STREET (1958): Three teens (Yale Wexler, Morris Miller, Jonathon Haze) get into the drug business when they discover heroin in a stolen briefcase, things end badly. Dir. Irving Kershner
Sunday, Dec 15, 9:00 AM – 9:00 PM
Christmas in Noir Land
Noir stars take a turn down Christmas lane
9:00 AM
LADY ON A TRAIN (1945): Nikki Collins (Deanna Durbin) witnesses a murder while waiting for a train, but can't get the police to believe her when no corpse is discovered. While they dismiss her as daft, she enlists the help of a mystery writer to sleuth out the culprits on her own. Based on a story by veteran mystery writer Leslie Charteris (The Saint), this is a wildly entertaining mix of comedy, musical, and suspense, rendered in evocative noir style by cameraman Woody Bredell (Phantom Lady, Christmas Holiday, The Killers), and featuring a superb cast of sinister and suspicious supporting players swirling ominously around "America's Sweetheart, including noir stalwart Dan Duryea. Dir. Charles David
7:00 PM
REMEMBER THE NIGHT (1940): Preston Sturges wrote this Christmas tale which features his unique blend of comedy, romance and pathos. Assistant DA Fred MacMurray brings suspected shoplifter Barbara Stanwyck home for the holidays, so she doesn't have to spend them in jail. This was the first of the four big screen pairings of the incendiary on-screen couple. Three guesses as to how it turns out for them. Dir. Mitchell Leisen
Tuesday, December 17, 9:15 AM
THIS WOMAN IS DANGEROUS (1952): After pulling off a daring heist in New Orleans, a lady gangster (Joan Crawford) leaves her lover and partner in crime behind and checks into an Indianapolis hospital to undergo experimental surgery to save her failing eyesight. When she falls for her handsome doctor (Dennis Morgan), will she change her ways and will her lover let her go without a fight? Dir. Felix Feist
Tuesday, December 17, 3:15 PM
OUT OF THE PAST (1947): In this quintessential film noir, small town gas station owner Jeff Bailey's (Robert Mitchum) past catches up with him when a stranger passing through town recognizes him. He tells his girlfriend Ann Miller (Virginia Huston) about his previous via flashback, of course. Jeff was a private eye falls for the gangster's moll (Jane Greer) that he's supposed to find for her lover Whit Sterling (Kirk Douglas). She's allegedly stolen $40,000 from Whit and he wants her and the dough back. As in all good noirs, nothing is really as it seems. Watch for future noir siren Rhonda Fleming as a duplicitous secretary. Based on Geoffrey Homes' excellent pulp novel Build My Gallows High and shot by legendary cinematographer Nicholas Musuraca. Dir. Jacques Tourneur
Wednesday, December 18, 12:00 PM
THE NAKED CITY (1948): A step-by-step look at a murder investigation on the streets of New York. Barry Fitzgerald plays the compassionate cop on the trail of a murder in this groundbreaking police procedural. Watch for noir regular and radio's Sam Spade, Howard Duff as the murdered girl's sleazy boyfriend. William H. Daniels won the Oscar for Best Cinematography, Black-and-White and Paul Weatherwax won for Best Film Editing. Malvin Wald was also nominated for Best Writing, Motion Picture Story. Dir. Jules Dassin
Wednesday, December 18, 3:15 PM
BRUTE FORCE In this brutal film noir, a convict (Burt Lancaster) plans a daring and violent escape from a sadistic prison. Gritty noir photography provided by Oscar winner William Daniels. Dir. Jules Dassin
Thursday, Dec 19, 3:00 AM – 6:45 AM
Noir Double Bill
3:00 AM
I CONFESS (1953): In Quebec, a priest (Montgomery Clift) hears the confession of a murderer and then finds himself accused of the crime. He can't break the sanctity of the confessional and must find another way to clear himself. To complicate matters his ex-sweetheart (Anne Baxter), who still loves him, was being blackmailed by the victim. Dir. Alfred Hitchcock
5:00 AM
VICTIM (1961): Brit noir meets social consciousness in this fine drama. Closeted and married barrister Melville Farr (Dirk Bogarde) risks both his career and personal life to expose the blackmailers who prey on gay men afraid of England's criminal prosecution of homosexuals and who drove his friend to suicide. Dir. Basil Dearden
NOIR ALLEY
Saturday, December 21, 9:00 PM
Sunday, December 22, 7:00 AM
FNF Prez Eddie Muller presents
CASH ON DEMA ND (1961): In this stunningly suspenseful noir take on A Christmas Carol, Peter Cushing (in perhaps the finest performance of his long career) plays a Scrooge-like bank manager caught in a deadly game of cat-and-mouse with a charming and merciless thief (an equally great Andre Morell) who's devised a devious plan for a holiday heist. Known mainly for its horror films, this is one of the greatest movies ever produced by Britain's legendary Hammer Films. The perfect antidote to Yuletide schmaltz! Dir. Quentin Lawrence
Monday, Dec 23, 3:00 AM - 5:00 PM
Film Noir Originals and Remakes
3:00 AM
THE LETTER (1929): The first big screen telling of Somerset Maugham's story of a married woman (Jeanne Eagels) claiming self-defense in the murder of a fellow Britisher on her husband's (Reginald Owen) rubber plantation in Malay. Ironically, the victim and secret lover of the wife is played by Herbert Marshall who went onto to play the cuckolded husband in William Wyler's 1940 remake. Dir. Jean De Limur
4:30 AM
THE LETTER (1940): Bette Davis gives a masterful performance as a married woman claiming self-defense in the murder of a fellow Britisher on her husband's rubber plantation in Malay. This succeeds both as a film noir and an incisive look into colonialism. Herbert Marshall gives a deeply empathetic performance as the loving husband. Watch for Victor Sen Yung as a solicitous lawyer's clerk. Based on a play by Somerset Maugham, dramatized from his own short story. Nominated for seven Oscars: Best Picture; Best Actress in a Leading Role, Bette Davis; Best Actor in a Supporting Role, James Stephenson; Best Director, William Wyler; Best Cinematography, Black-and-White,Tony Gaudio; Best Film Editing, Warren Low; Best Music, Original Score, Max Steiner. Dir. William Wyler
6:30 AM
THE MALTESE FALCON (1931): The first adaptation of the legendary pulp novel, made the year after Dashiell Hammett's landmark novel was published. This pre-Code adaptation flaunts a much sexier tone than John Huston's more famous 1941 version. It also features the best interpretation of Spade's secretary Effie, finely played by Una Merkel. Ricardo Cortez and Bebe Daniels star as Spade and Brigid. Dir. Roy Del Ruth
8:00 AM
THE MALTESE FALCON (1941): How do I love this movie, let me count the ways… In arguably the first, and greatest, film noir, hard-boiled detective Sam Spade (Humphrey Bogart) gets caught up in the deadly search for a priceless statue. Along the way he tangles with a murderous liar (Mary Astor), a foppish thug (Peter Lorre) and an obese mastermind (Sydney Greenstreet). Director John Huston brilliantly adapted it from the Dashiell Hammett novel and earned an Oscar nomination for Best Writing, Screenplay. The film also garnered nominations for Best Picture and for Sydney Greenstreet, in his film debut, Best Actor in a Supporting Role. Dir. John Huston
10:00 AM
GASLIGHT (1940): This is the first and franker big screen adaption of Patrick Hamilton's play Angel Street about a newlywed (Diana Wynyard) fears she's going mad when strange things start happening at the family mansion where her aunt was murdered ten years earlier. Anton Walbrook plays the seemingly devoted husband. Dir. Thorold Dickinson
11:30 AM
GASLIGHT (1944): A newlywed (Ingrid Bergman) fears she's going mad when strange things start happening at the family mansion where her aunt was murdered ten years earlier. Joseph Cotten stars as the handsome stranger who aids her. Charles Boyer stars as the handsome husband who terrorizes her. Angela Lansbury plays the pretty maid who may be in league with Boyer. Based on Patrick Hamilton's Angel Street. The film won two Oscars, Best Actress in a Leading Role for Ingrid Bergman and Best Art Direction-Interior Decoration, Black-and-White for Cedric Gibbons, William Ferrari, Edwin B. Willis, Paul Huldschinsky, and earned five more nominations. Dir. George Cukor
1:30 PM
THE ASPHALT JUNGLE (1950): A hoodlum and ex-con (Sterling Hayden) hopes for one last big score that will enable him to go home to his farm in Kentucky. He falls in with a gang of small time crooks plotting an elaborate jewel heist. Of course, you can never go home again. A young Marilyn Monroe plays a small but juicy part. The film was nominated for four Oscars including a Best Supporting Actor nod for Sam Jaffe as the mastermind undone by his passion for beautiful girls. Based on the novel by W. R. Burnett, Dir. John Huston
3:30 PM
THE BADLANDERS (1958): In this Western remake of John Huston's The Asphalt Jungle (1950), outlaws Alan Ladd, Ernest Borgnine and Kent Smith among others, join forces for a daring gold robbery. Katy Jurado co-stars as Anita, a woman who unintentionally throws a spanner into the works. As with the original, things go badly. Dir. Delmer Daves
Wednesday, December 25, 9:00 AM
O. HENRY'S FULL HOUSE 1952): This anthology of short stories by America's master of the ironic twist is as entertaining as it is star-studded, featuring juicy roles for Richard Widmark, Anne Baxter, Farley Granger, Marilyn Monroe, Charles Laughton, Jean Peters, and many more. 20th Century-Fox employed several of its most renowned directors, including Henry Hathaway, Henry King, Howard Hawks, Henry Koster, and Jean Negulesco, to bring to life such famous O. Henry tales as "The Last Leaf," "The Clarion Call," and the Christmas classic "The Gift of the Magi." Each segment introduced by John Steinbeck! Dir. Henry Hathaway, Henry King, Howard Hawks, Henry Koster, and Jean Negulesco
Wednesday, December 25, 5:00 PM
THE THIN MAN (1934): Dashiell Hammett's urbane but fun loving sleuths Nick and Nora Charles, along with their pup Asta, investigate the disappearance of an inventor in this classic blend of laughs and suspense. Shot in just two weeks by director Woody "One-Shot'' Van Dyke and cinematographer James Wong Howe, this gem set the gold standard for the sophisticated comedy—inspiring five sequels as well as countless inferior imitations. Van Dyke previously directed Myrna Loy and William Powell in Manhattan Melodrama and spotted the terrific chemistry of their off screen banter between takes. He insisted on casting the pair as Hammett's hard-drinking super-couple and the glamorous pair became one of the movies' great romantic teams. Shot by the legendary cinematographer James Wong Howe. The film garnered four Oscar nominations, Best Picture, Best Actor in a Leading Role for Powell, Best Director for W.S. Van Dyke Best Writing, Adaptation for Frances Goodrich and Albert Hackett. Dir. Woody Van Dyke
Friday, December 27, 6:30 AM
BACKGROUND TO DANGER (1943): An American (George Raft) gets caught up in wartime action in Turkey. Sydney Greenstreet and Peter Lorre add to the fun. A little piece of trivia, Raft had an earlier chance to act with that duo; he turned down first dibs on John Huston's The Maltese Falcon (1939) and Michael Curtiz's Casablanca (1942). He also turned down an earlier chance to work with director Raoul Walsh on High Sierra (1941). What might have happened? Dir. Raoul Walsh
Friday, December 27, 1:30 PM
CONFLICT (1945): A seemingly happily married man, (Humphrey Bogart) murders his wife so he can be free to marry her sister (Alexis Smith) who unfortunately does not return his affection. His friend and neighbor, a kindly psychologist (Sydney Greenstreet) starts to suspect something. Dir. Curtis Bernhardt
Saturday, December 28, 5:26 AM
FOLLOW ME QUIETLY (1949): A plucky crime writer (Dorothy Patrick) and a tough cop (William Lundigan) hunt for The Judge, a mysterious serial killer who only strikes when it's raining. Legendary noir director Anthony Mann wrote it and worked (un-credited) as a director on it. Dir. Richard O. Fleischer
NOIR ALLEY
Saturday, December 21, 9:00 PM
Sunday, December 22, 7:00 AM
FNF Prez Eddie Muller presents
REPEAT PERFORMANCE (1947): Consider it the noir version of It's a Wonderful Life. Broadway actress Sheila Page (Joan Leslie) rings in the New Year by shooting her husband (Louis Hayward) to death. She blurts out a confession to her friend, the poet William Williams (Richard Basehart), but as she leads him to the crime scene . . . the preceding year begins again! Will Sheila be able to correct what went so dreadfully wrong, or will Fate demand a . . . Repeat Performance? Back-stabbing backstage melodrama is crossed with The Twilight Zone. This rarely seen fantasy-noir hybrid was recently restored by the UCLA Film & Television Archive, funded in part by the Film Noir Foundation. Dir. Alfred L. Werker
Tue, December 31, 12:45 AM – 4:15 AM
Noir Remakes Triple Bill
12:45 AM
HIGH SIERRA (1941): Humphrey Bogart plays Roy Earle, a hardened criminal with a heart of gold, who finds love, redemption and a not so happy ending with the lovely and vulnerable Ida Lupino in this noir classic. This was one of three roles that George Raft refused that Bogart accepted, ironically the three roles that shot him into stardom after years of playing second bananas at Warner Brothers to among others, George Raft. Dir. Raoul Walsh
2:30 AM
COLORADO TERRITORY (1949): Raoul Walsh remade his own film High Sierra as a Western, this time with Joel McCrea in the Humphrey Bogart role and Virginia Mayo takes Ida Lupino's part with a significant change, this time the character is half Native American. Dir. Raoul Walsh
4:15 AM
I DIED A THOUSAND TIMES (1955): Gangster Big Mac (Lon Chaney, Jr.) pulls strings to get a lifer, Roy (Jack Palance), out of prison. In return, Roy had to pull a big jewelry heist. Big Mac saddles him with incompetent henchmen and things go badly. Especially when they pick up a taxi dancer (Shelley Winters) who causes considerable tension and then falls in love with Roy. W.R. Burnett based his screenplay on his own novel High Sierra, previously adapted by John Huston and Burnett in 1941 for Raoul Walsh's film starring Humphrey Bogart and Ida Lupino. Dir. Stuart Heisler
Tuesday, Dec 31, 6:15 AM - 5:00 PM
TCM's Annual Thin Man Marathon
Happy New Year!
6:15 AM
THE THIN MAN (1934): Dashiell Hammett's urbane but fun loving sleuths Nick and Nora Charles, along with their pup Asta, investigate the disappearance of an inventor in this classic blend of laughs and suspense. Shot in just two weeks by director Woody "One-Shot'' Van Dyke and cinematographer James Wong Howe, this gem set the gold standard for the sophisticated comedy—inspiring five sequels as well as countless inferior imitations. Van Dyke previously directed Myrna Loy and William Powell in Manhattan Melodrama and spotted the terrific chemistry of their off screen banter between takes. He insisted on casting the pair as Hammett's hard-drinking super-couple and the glamorous pair became one of the movies' great romantic teams. Shot by the legendary cinematographer James Wong Howe. The film garnered four Oscar nominations, Best Picture, Best Actor in a Leading Role for Powell, Best Director for W.S. Van Dyke Best Writing, Adaptation for Frances Goodrich and Albert Hackett. Dir. Woody Van Dyke
8:00 AM
AFTER THE THIN MAN (1936): In this delightful follow up to The Thin Man, Nick (William Powell) and Nora (Myrna Loy) return to their home in San Francisco determined to rest up from their previous New York adventures, but Nora's snooty family unintentionally embroils them in a murder mystery. Joseph Calleia, Sam Levene, George Zucco and a young Jimmy Stewart add to the fun. Dir. W. S. Van Dyke
10:00 AM
ANOTHER THIN MAN (1939): Another fun outing with hard drinking husband and wife team Nick and Nora Charles (William Powell and Myrna Loy) and their faithful companion Asta. This time their son Nicky, Jr. is along for the ride. In this third installment of the series, Nick and Nora venture out to Long Island to aid Nora's former business manager Colonel MacFay (C. Aubrey Smith). An old enemy of the Colonel's, the mysterious Mr. Church (Sheldon Leonard), claims that he's seen MacFay die in a dream and has come to watch his premonition come true. It does and the police quickly suspect him of McFey's murder. However, the Charleses soon find McFey was surrounded by quite a few people who benefited from his death. Based loosely on one of Dashiell Hammett's Continental Op stories, "The Farewell Murder". Dir. W S Van Dyke II.
11:45 AM
SHADOW OF THE THIN MAN (1941): Dashiell Hammett's hard drinking power couple Nick and Nora Charles (William Powell and Myrna Loy) return for their fourth outing in MGM's sophisticated and witty whodunit series. This time, the pair investigates a murder at a racetrack with the help of their son Nick, Jr. and faithful wirehaired terrier Asta. Dir. W. S. Van Dyke II
1:30 PM
THE THIN MAN GOES HOME (1945): Nick Charles (William Powell) takes Nora (Myrna Loy) and Asta to his hometown of Sycamore Springs to visit his parents and celebrate his birthday. A murder and espionage soon disrupt their holiday and Nora's plans to buy Nick the perfect gift. Dir. Richard Thorpe
3:15 PM
SONG OF THE THIN MAN (1947): This was the last outing for Nick (William Powell), Nora (Myrna Loy) and Asta Charles, they investigate the shooting of a band leader in New York. Gloria Grahame plays a sultry jazz singer whose romantic missteps lead to death, another foreshadowing of her career in noir. Dir. Edward Buzzell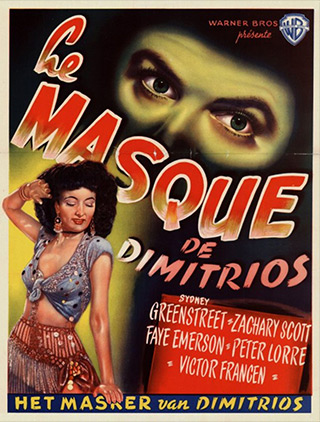 Eddie Muller presents The Mask of Dimitrios starring Zachary Scott on the November 30 and December 1 edition of NOIR ALLEY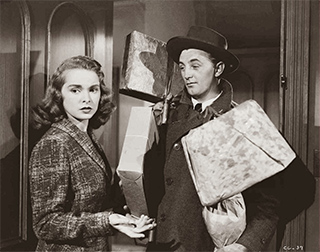 Janet Leight and Robert Mitchum in Holiday Affair screens December 1 and 24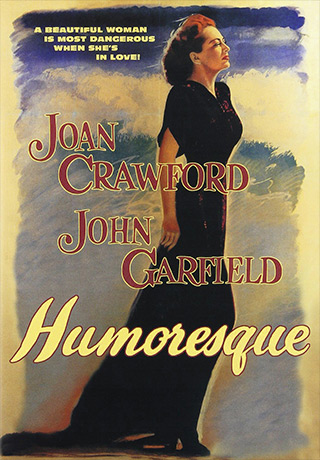 Joan Crawford stars in Humoresque on December 3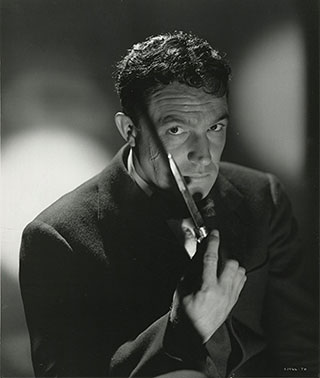 Gene Kelly stars in Black Hand on December 5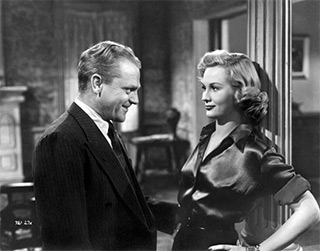 James Cagney and Virginia Mayo in White Heat on December 5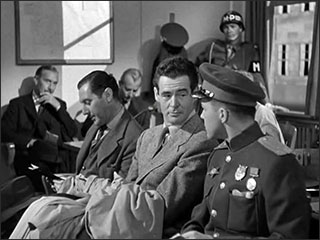 Eddie Muller presents Berlin Express on NOIR ALLEY December 7 and 8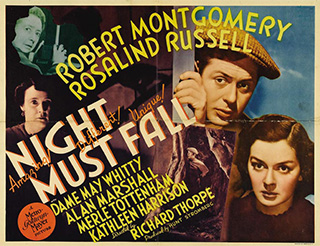 Night Must Fall screens December 14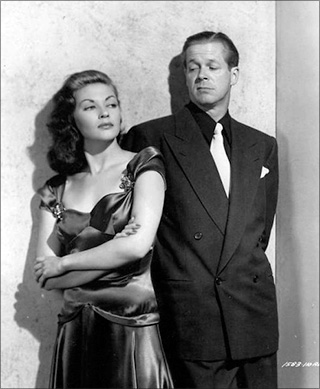 Yvonne De Carlo and Dan Duryea in Criss Cross presented by Eddie Muller on NOIR ALLEY December 14 and 15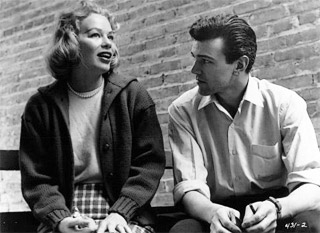 Stakeout on Dope Street screens December 15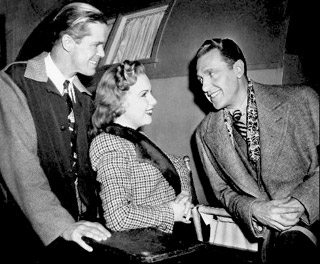 Dan Duryea and Deanna Durbin in Lady on a Train on December 15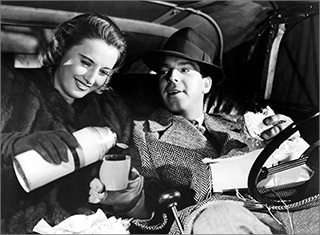 Barbara Stanwyck and Fred MacMurray in Preston Sturges- scripted Remember the Night on December 15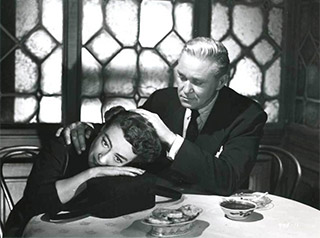 Joan Crawford stars in Woman Is Dangerous on December 17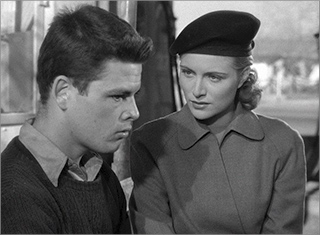 Virgina Huston asks Dickie Moore a pivotal question in Out of the Past on December 17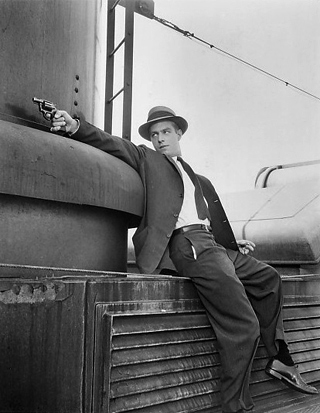 James Franciscus in The Naked City on December 18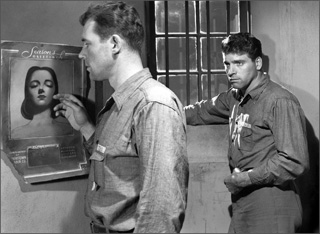 Howard Duff and Burt Lancaster in Brute Force on December 18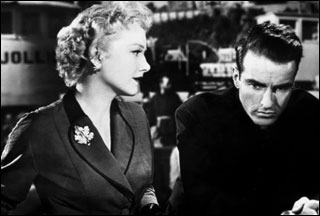 Anne Baxter and Montgomery Cliff in Hitchcock's I Confess on December 19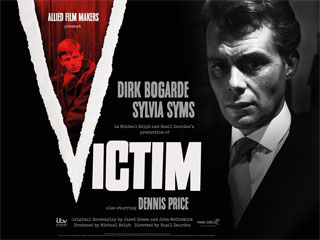 Dirk Bogarde stars in Victim on December 19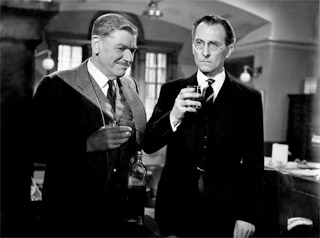 Eddie Muller presents Cash on Demand on NOIR ALLEY December 21 and 22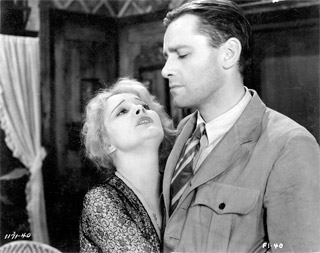 Jeanne Eagels and Herbert Marshall in the 1929 version of The Letter screening December 23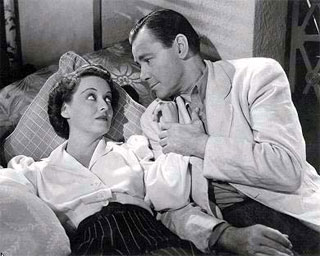 Bette Davis and Herbert Marshall in the 1940 version of The Letter on December 23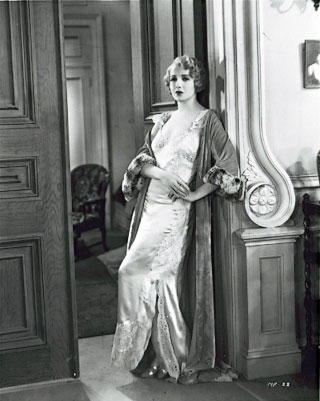 Bebe Daniels in the 1931 version of The Maltese Falcon on December 23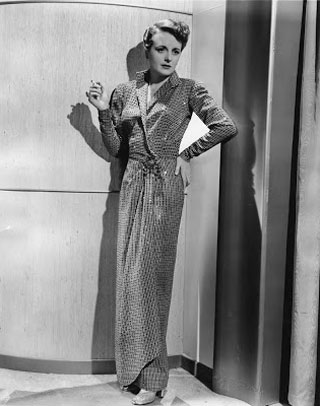 Mary Astor in the 1941 version of The Maltese Falcon on December 23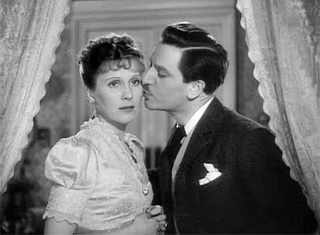 Diana Wynyard and Anton Walbrook in the 1940 version of Gaslight on December 23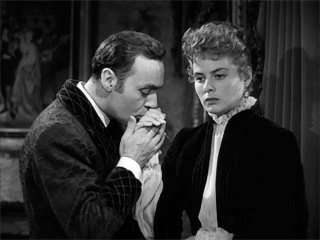 Charles Boyer and Ingrid Bergman in the 1944 version of Gaslight on December 23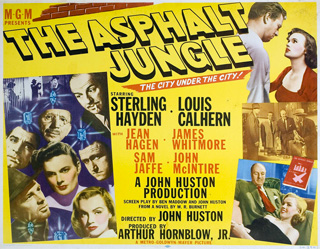 John Huston's The Asphalt Jungle screens December 23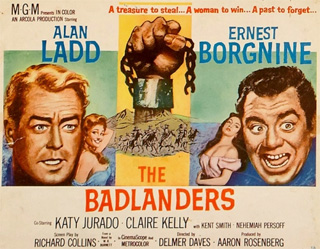 The Badlanders, the 1958 remake of The Asphalt Jungle on December 23
Jeanne Crain and Farley Granger in O'Henry's Full House on Christmas Day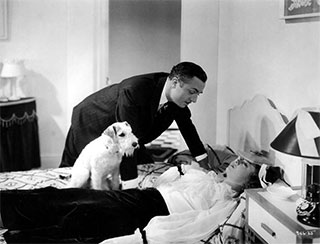 William Powell and Myrna Loy in The Thin Man on Christmas Day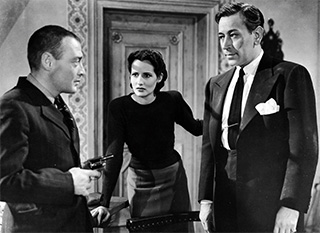 George Raft stars in Background to Danger screens December 27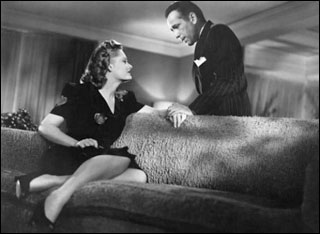 Alexis Smith and Humphrey Bogart in Conflict on December 27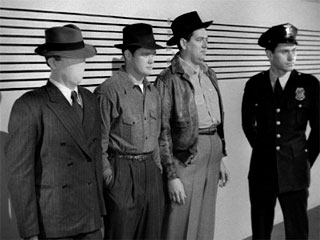 Follow Me Quietly screens December 28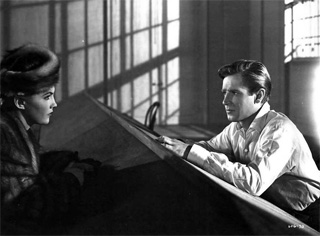 Eddie Muller presents Repeat Performance on NOIR ALLEY December 21 and 22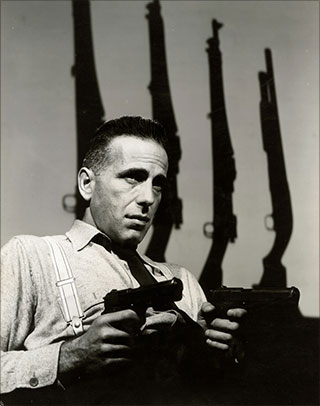 Humphrey Bogart stars in High Sierra on December 31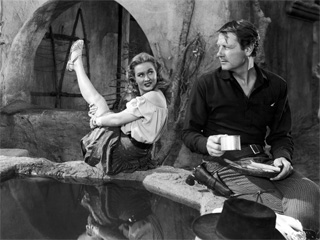 Raoul Walsh remakes High Sierra as a western, Colorado Territory, screening December 31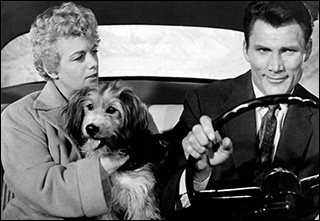 Shelley Winters and Jack Palance in I Died a Thousand Times on December 31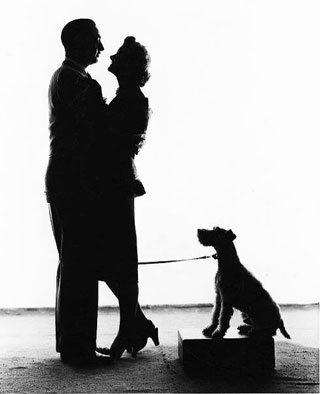 The Thin Man screens New Year's Eve starring William Powell, Myrna Loy and Asta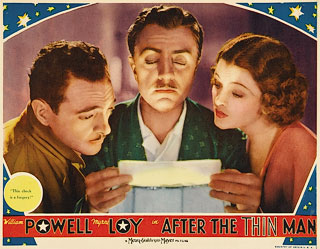 After the Thin Man on New Year's Eve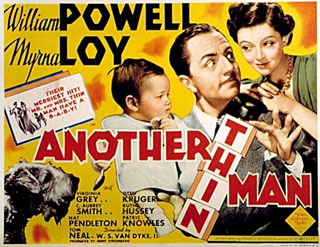 Another Thin Man on New Year's Eve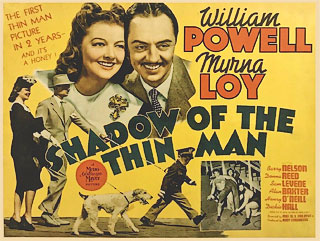 Shadow of the Thin Man on New Year's Eve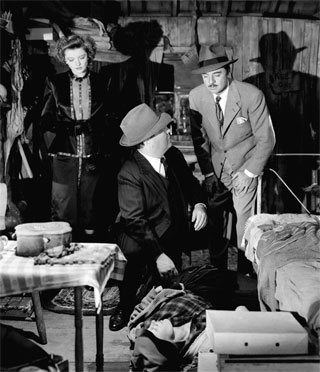 The Thin Man Goes Home on New Year's Eve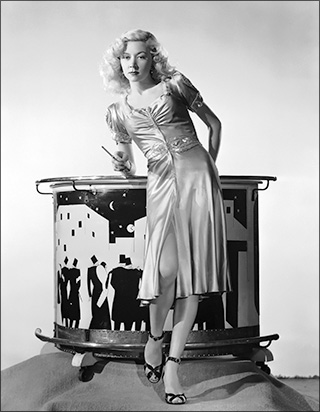 Gloria Grahame in Song of the Thin Man wraps up this year's Thin Man Marathon