Friday, April 1, 12:45 AM -
Saturday, May 1, 2:30 AM
Hammer Films Goes Noir
11:15 PM
MANIAC (1963): American painter Jeff is stranded by his girlfriend in a small French village. He hits on a teenage waitress Anette who shares the story of her tragic past with him. His interest quickly turns to her stepmother Eve. Eve seduces him and then embroils him in a plot to spring her husband from an insane asylum. Written by a cornerstone of Hammer Studios' golden age, Jimmy Sangster. Dir. Michael Carreras
12:45 AM
STOP ME BEFORE I KILL (1961); This odd little noir from Hammer studios takes follows the story of a racecar driver suffering from brain trauma from after a racing accident. He and his wife take a trip to the Côte D'Azur to help him fully recover. He keeps fantasizing about killing her. They meet a psychiatrist during their travels who offers to help. This is a noir and he is a psychiatrist, so you probably know where this is going to go.
NOIR ALLEY
Saturday, May 2, 9:00 PM &
Sunday May 3, 7:00 AM
FNF Prez Eddie Muller presents
FALLEN ANGEL (1945): Dana Andrews stars as a charismatic grifter who courts and weds a sheltered spinster, Alice Faye in a warmly wonderful performance, in order to obtain enough money to win his real object of desire, the local floozy (Linda Darnell). His plans go awry when the floozy turns up murdered. Dir: Otto Preminger
Sunday May 3, 5:00 AM
AFTER THE THIN MAN (1936): In this delightful follow up to The Thin Man, Nick (William Powell) and Nora (Myrna Loy) return to their home in San Francisco determined to rest up from their previous New York adventures, but Nora's snooty family unintentionally embroils them in a murder mystery. Joseph Calleia, Sam Levene, George Zucco and a young Jimmy Stewart add to the fun. Dir. W. S. Van Dyke
Wednesday, May 6, 11:00 PM
THE LETTER (1940): Bette Davis gives a masterful performance as a married woman claiming self-defense in the murder of a fellow Britisher on her husband's rubber plantation in Malay. This succeeds both as a film noir and an incisive look into colonialism. Herbert Marshall gives a deeply empathetic performance as the loving husband. Watch for Victor Sen Yung as a solicitous lawyer's clerk. Based on a play by Somerset Maugham, dramatized from his own short story. Nominated for seven Oscars: Best Picture; Best Actress in a Leading Role, Bette Davis; Best Actor in a Supporting Role, James Stephenson; Best Director, William Wyler; Best Cinematography, Black-and-White,Tony Gaudio; Best Film Editing, Warren Low; Best Music, Original Score, Max Steiner. Dir. William Wyler
Thursday, May 7, 3:00 AM – 4:30 PM
TCM Salutes Director Basil Dearden
Here are the noirs...
4:45 AM
THE LEAGUE OF GENTLEMEN (1960): Time for a proper British heist, what? We meet Lieutenant Colonel Hyde climbing out of a sewer in a tuxedo. Chapped at being cashiered from the service, he's decided to rob a bank using a pulp novel as his manual and a band of stiff-upper-lip miscreants adrift after World War II as his crew. A who's who of beloved UK character actors, including Jack Hawkins, Roger Livesey, Richard Attenborough, (and screenwriter Forbes in an acting role), take their marching orders from Ealing Studios veteran Basil Dearden, for whom this was a career high point. Dir. Basil Dearden
8:30 AM
VICTIM (1961): Brit noir meets social consciousness in this fine drama. Closeted and married barrister Melville Farr (Dirk Bogarde) risks both his career and personal life to expose the blackmailers who prey on gay men afraid of England's criminal prosecution of homosexuals and who drove his friend to suicide. Dir. Basil Dearden
10:30 AM
ALL NIGHT LONG (1962) A retelling of William Shakespeare's Othello set in the word of the 1960's British jazz scene. Jealousy driven drummer Johnny Cousins (Patrick McGoohan) tries to manipulate black jazz pianist (Paul Harris) into murdering his white wife (Betsy Blair) by faking evidence of infidelity. McGoohan steals the film as the Iago to Harris' Othello. Look for jazz greats Dave Brubeck. and Charles Mingus. Dir. Basil Dearden
Thursday, May 7, 8:00 PM – 1:30 PM
Edward G. Robinson Double Feature
8:00 PM
THE SEA WOLF (1941): In this gripping yarn based on a Jack London story, shipwrecked fugitives (John Garfield and Ida Lupino) try to escape a brutal sea captain who's losing his mind, Edward G. Robinson in a powerhouse performance. The film earned an Oscar nomination for Best Effects, Special Effects. Dir. Michael Curtiz
9:30 PM
KEY LARGO (1948): A returning veteran (Humphrey Bogart) tangles with a ruthless gangster (Edward G. Robinson) during a hurricane while falling for his dead war buddy's widow (Lauren Bacall). Claire Trevor steals the film with her Oscar winning performance as the gangster's alcoholic and emotionally abused girlfriend. Dir. John Huston
Friday, May 8, 5:00 AM
THE MAN I LOVE (1947): In this rather soapy noir, singer Petey Brown (Ida Lupino) lands a job at small-time-hood Nicky Toresca's (Robert Alda) nightclub while visiting her two sisters and brother, all of whom are in a rather remarkable amount of trouble, romantic and otherwise. While evading Toresca's unwanted advances, she falls for an ex-jazz pianist San Thomas (Bruce Bennett), who still carries a torch for his ex-wife. Will Sand start a new life with the songbird or run off to sea? Dir. Raoul Walsh
Friday, May 8, 5:00 AM
SHOOT THE PIANO PLAYER [Tirez sur le pianiste] (1960): A former concert pianist, eking out a living in a cheap bar as a piano player, finds himself embroiled with gangsters, and possibly worse, his family, after his brothers turn to him for help. Based on the David Goodis novel. Dir. François Truffaut
Saturday, May 9, 9:00 AM – 12:45PM
Film Noir Double Bill
9:00 AM
THE THIRD MAN (1949): This fantastic film about a naive American, Joseph Cotten, investigating the death of his friend, Orson Welles, in post-World War II Vienna never loses its impact no matter how many times you watch it. "Like the fella says, in Italy for 30 years under the Borgias they had warfare, terror, murder, and bloodshed, but they produced Michelangelo, Leonardo da Vinci, and the Renaissance. In Switzerland they had brotherly love - they had 500 years of democracy and peace, and what did that produce? The cuckoo clock". Director of Photography Robert Krasker won the Oscar for Best Cinematography, Black-and-White for the film. The film also garnered Oscar nominations, Carol Reed for Best Director and Oswald Hafenrichter for Best Film Editing. Dir. Carol Reed
11:00 AM
EDGE OF THE CITY (1957): A black stevedore, (Sidney Poitier) and a white army deserter, (John Cassavetes) forge a deep bond while attempting to stand up to union corruption. Jack Warden co-stars as their abusive boss. Dir. Martin Ritt
Saturday, May 9, 5:00 PM
ACE IN THE HOLE (1951): A small-town reporter (Kirk Douglas at his hammy best) milks a local disaster to get back into the big time, destroying everyone, including himself, along the way. Jan Sterling gives a tremendous performance as the trapped man's opportunistic wife. Dir. Billy Wilder
NOIR ALLEY
Saturday, May 9, 9:00 PM &
Sunday May 10, 7:00 AM
HAPPY MOTHER'S DAY!
FNF Prez Eddie Muller presents
MILDRED PIERCE (1945): Joan Crawford won an Oscar for her performance as a woman who builds herself up from grass widow to successful restaurateur in a desperate effort to win the love of the most ungrateful brat in the history of cinema, her daughter Veda, brilliantly played by Ann Blyth. A marriage of convenience, adultery and murder ensue. At least Mildred has the greatest best friend ever, a wisecracking Eve Arden. Based on the James M. Cain story. Dir. Michael Curtiz
Tuesday, May 12, 6:00 AM
UNDERCURRENT 1946): In this unusually cast noir, a sheltered woman (Katherine Hepburn) realizes that either her husband (Robert Taylor with a Walt Disneyesque moustache) or his mysterious brother, (noir stalwart Robert Mitchum) is a psychopath. Edmund Gwenn co-stars as Hepburn's father. Dir. Vincente Minnelli
Wednesday, May 13, 5:00 PM – 8:30PM
Film Noir Double Bill
5:00 PM
THE CRIMSON KIMONO (1959): Two cops, and former war buddies (Glenn Corbett and James Shigeta), investigate the shooting of a stripper in Los Angeles' Little Tokyo. Conflict arises between the two when they both fall for the same girl (Victoria Shaw), a key witness in the case. Dir. Sam Fuller
6:30 PM
HOUSE OF BAMBOO (1955): Where do I start with this luridly color and intensely homoerotic film noir? Trust me you have to see it to believe it. An Army investigator, a young, virile and handsome Robert Stack, infiltrates a Tokyo crime syndicate to solve a colleague's murder. The boss, a tightly wound Robert Ryan, becomes increasingly obsessed with his newest gang member. Dir. Sam Fuller
Friday, May 19, 11:30 AM
ODD MAN OUT (1947): In this Brit Noir, an officer in the (unnamed) IRA (James Mason) is hunted through (unnamed) Belfast after a botched robbery. Who can he trust? Can he escape? Dir. Carol Reed
Friday, May 19, 2:30 PM
NORTH BY NORTHWEST (1959): Foreign agents mistake suave and swinging advertising man Roger Thornhill (Cary Grant) for a spy. He takes it on the lam and encounters a beautiful blonde (Eva Marie Saint) who may or may not be trusted. This film earned 3 Oscar nominations: Best Art Direction-Set Decoration, Color; Best Writing, Story and Screenplay - Written Directly for the Screen; and Best Film Editing. Dir. Alfred Hitchcock
Friday, May 19, 5:00 PM – 11:00 PM
Family in Peril Triple Feature
5:00 PM
RANSOM! (1956): The father of a kidnapped boy (Glenn Ford) contends with the police, the press and his family as he struggles to find the best strategy to recover his son safely which may or may not include paying the ransom. Remade in 1996 with Mel Gibson in the lead. Dir. Alex Segal
7:00 PM
CAPE FEAR 1962): Ex-convict, sex offender, and sociopath Max Caddy (Robert Mitchum) plots to destroy Sam Bowden (Gregory Peck) the district attorney who sent him to prison. Caddy wages a ruthless game of psychological warfare on Bowden, seemingly threatening Sam's wife (Polly Bergen) and 12-year-old daughter without breaking any actual laws. Dir. J. Lee Thompson
9:00 PM
THE NIGHT HOLDS TERROR (1955): In this noir based on a real-life hostage-taking, Gene Courtier (Jack Kelly) stops to pick up hitchhiker Victor Gosset (Vince Edwards) resulting in a group of escaped convicts, led by Gosset, taking over his suburban home to evade the ongoing police manhunt. Watch for John Cassavetes as one of the escapees. Dir. Andrew Stone
Saturday, May 16, 11:15 AM
OUT OF THE PAST (1947): In this quintessential film noir, small town gas station owner Jeff Bailey's (Robert Mitchum) past catches up with him when a stranger passing through town recognizes him. He tells his girlfriend Ann Miller (Virginia Huston) about his previous via flashback, of course. Jeff was a private eye falls for the gangster's moll (Jane Greer) that he's supposed to find for her lover Whit Sterling (Kirk Douglas). She's allegedly stolen $40,000 from Whit and he wants her and the dough back. As in all good noirs, nothing is really as it seems. Watch for future noir siren Rhonda Fleming as a duplicitous secretary. Based on Geoffrey Homes' excellent pulp novel Build My Gallows High and shot by legendary cinematographer Nicholas Musuraca. Dir. Jacques Tourneur
NOIR ALLEY
Saturday, May 9, 9:00 PM &
Sunday, May 10, 7:00 AM
FNF Prez Eddie Muller presents
THE CRIMSON KIMONO (1959): Two cops, and former war buddies (Glenn Corbett and James Shigeta), investigate the shooting of a stripper in Los Angeles' Little Tokyo. Conflict arises between the two when they both fall for the same girl (Victoria Shaw), a key witness in the case. Dir. Sam Fuller
Sunday, May 17, 9:00 AM
THE NAKED CITY (1948): A step-by-step look at a murder investigation on the streets of New York. Barry Fitzgerald plays the compassionate cop on the trail of a murder in this groundbreaking police procedural. Watch for noir regular and radio's Sam Spade, Howard Duff as the murdered girl's sleazy boyfriend. William H. Daniels won the Oscar for Best Cinematography, Black-and-White and Paul Weatherwax won for Best Film Editing. Malvin Wald was also nominated for Best Writing, Motion Picture Story. Dir. Jules Dassin
Sunday, May 17, 3:15 PM
NIAGARA (1953): Despite Joseph MacDonald's Technicolor cinematography and its spectacular use of Niagara Falls, this film falls firmly into the noir category. A young couple (Jean Peters and Casey Adams) on vacation find themselves embroiled in a murderous plot involving their neighbors at the motor court. The wife (Marilyn Monroe) and her lover (Richard Allen) plot to kill her mentally unstable husband (Joseph Cotton) and things go awry. OTR greats Don Wilson and Lurene Tuttle play another vacationing married couple. Dir. Henry Hathaway
Tuesday, May 19, 6:15 AM
WHATEVER HAPPENED TO BABY JANE? (1962) A crazed, aging star (Bette Davis) torments her sister (Joan Crawford) in a decaying Hollywood mansion. This beautiful Hollywood gothic noir features a duet of superbly fearless performances by two legendary actresses. Nominated for five Oscars, but only one win, Best Costume Design, Black-and-White for Norma Koch Dir. Robert Aldrich
Thursday, May 21, 3:30 AM – 5:00 PM
TCM Salutes
Robert Montgomery
Here are the noirs...
1:00 PM
NIGHT MUST FALL (1937): Young and charming Danny (Robert Montgomery) worms his way into elderly and wealthy Mrs. Bramosn's (Dame May Whitty) household. Her sexually repressed niece (Rosalind Russell) suspects him of larceny and possibly a local murder while being strongly attracted to him. What's in that hatbox? Dir. Richard Thorpe
3:00 PM
LADY IN THE LAKE (1947): A lady editor (Audrey Totter) hires Phillip Marlowe to investigate the disappearance of her boss' wife. First time director Robert Montgomery, who also starred as Marlowe, chose to shoot the entire film from Marlowe's POV using a subjective camera in order to replicate visually Raymond Chandler's first-person narrative from the novel. Dir. Robert Montgomery
Thursday, May 21, 5:00 PM – Friday, May 22, 4:00 AM
Edward G. Robinson Triple Feature
8:30 PM
DOUBLE INDEMNITY (1944): Barbara Stanwyck—in a platinum blonde wig—plays Phyllis Dietrichson—the consummate femme fatale who lures insurance salesman and all-around chump Walter Neff (Fred McMurray) into a plot involving murder and insurance fraud. His friend, and insurance adjuster, Barton Keyes (Edward G. Robinson) smells a rat. Nominated for seven Oscars: Best Actress in a Leading Role; Best Cinematography, Black-and-White; Best Director; Best Music, Scoring of a Dramatic or Comedy Picture; Best Picture; Best Sound, Recording; and Best Writing, Screenplay. Dir. Billy Wilder
10:30 PM
THE STRANGER (1946): A small-town schoolteacher (Loretta Young) encounters a determined investigator (Edward G. Robinson) who suspects her new husband (Orson Welles) may be an escaped Nazi war criminal. Can he convince her before it's too late? Dir. Orson Welles
2:15 AM
ILLEGAL (1955): D.A. Victor Scott (Edward G. Robinson) resigns in shame after he successfully prosecutes an innocent man for a capital crime. He successfully embarks in private practice but gets mixed up with a mob boss Frank Garland (Albert Dekker). Meanwhile, his assistant Ellen (Nina Foch) tries to make him jealous by announcing she's marrying another man. Trivia: In the scene where Frank Garland shows off his art to Victor, the production employed actor Robinson's personal collection. When Dir. Lewis Allen
Friday, May 22, 4:00 AM
BLACKMAIL (1929): Alice White (Anny Ondra) blows off a date with her steady beau Detective Frank Webber (John Longden) to see a charming young artist. The artist talks her into coming up to his studio and she kills him when he attempts to rape her. The next day, Frank discovers Alice's glove at the crime scene and removes the evidence. A blackmailer (Donald Calthrop) who can place Alice at the scene of the crime then confronts the pair. Dir. Alfred Hitchcock
NOIR ALLEY
Saturday, May 23, 9:00 PM &
Sunday May 24, 7:00 AM
FNF Prez Eddie Muller presents
CORNERED (1945): Dick Powell stars as a World War II vet out to revenge the murder of his wife who died fighting for the French Resistance. He suspects the man who ordered the execution of her and her comrades faked his own death. He sets out to find him. For my two cents, Powell gives his best acting performance as the physically and psychologically wounded vet. Dir. Edward Dmytryk
Tuesday, May 26, 7:00 AM
THE LADY VANISHES (1938): A young bride-to-be Iris (Margaret Lockwood), traveling across Europe by train, meets a charming spinster Miss Froy (Dame May Whitty), who then disappears into thin air. When no believes Miss Froy even existed outside Iris' imagination, including Dr. Hartz (Paul Lukas), a brain surgeon, she turns investigator and finds herself drawn into a complex web of mystery and high adventure. A young musicologist (Michael Redgrave) helps her with her quest. Dir. Alfred Hitchcock
Thursday, May 28, 8:30 AM
TOO LATE FOR TEARS (1949): For many years, all 35mm prints of Too Late for Tears (1949) were believed lost, but through the determined efforts of the Film Noir Foundation, enough original material has been discovered to enable a restoration, performed under the auspices of the UCLA Film & Television Archive. Based on a novel by future television titan Roy Huggins, and featuring Huggins' own brilliant screenplay, the film is a neglected masterpiece of noir, awaiting rediscovery. A suburban housewife (Lizabeth Scott) decides to keep a satchel of money accidentally tossed into her convertible, against the wishes of her husband (Arthur Kennedy). Dan Duryea plays the intended recipient of the cash and he's not into sharing. The result? Mayhem and murder. You can order your own copy on DVD/Blu-ray at Flicker Alley. Dir. Byron Haskin
Thursday, May 28
Edward G. Robinson Double Feature
7:00 PM
WOMAN IN HIDING (1950): Film noir favorite Ida Lupino gives yet another superb performance as a successful career woman who marries Mr. Wrong (Steven McNally) and finds herself desperately trying to evade his plans to dispose of her and take over her family business. Howard Duff, whom Lupino who marry in real life a year later, plays the drifter who comes to her rescue, who in typical 50s fashion, at first assumes she's hysterical and in no danger at all. Dir. Michael Gordon
8:45 PM
SCARLET STREET (1945): A henpecked cashier and weekend painter, Christopher Cross (Edward G. Robinson), falls for heartless tramp Kitty (Joan Bennett) whom he meets by chance. She and her pimp/boyfriend Johnny (Dan Duryea) play the sucker for everything he has. Then Chris starts to embezzle to keep his lady love happy and things go from bad to worse. Dir. Fritz Lang
Friday, May 29, 8:00 AM – 5:00 PM
TCM Salutes Bette Davis
Here are the noirs...
7:45 AM
A STOLEN LIFE (1946): Wealthy amateur painter Kate (Bette Davis) meets lighthouse keeper Bill (Glenn Ford) an falls in love with him. Her twin sister Pat (Davis) steals him away an marries him. Kate dedicates herself to her art finds a mentor/teacher in Karnock (Dane Clark) who is, frankly, rude but honest and a good painter. When he makes a play for her, she realizes that she's still in love with Bill. Fate puts both sisters in a sailboat during a storm and Pat dies. Kate takes on Pat's identity, but things don't go as she planned. Dir. Curtis Bernhardt
9:45 AM
DECEPTION (1946): Pianist Christine Radcliffe (Bette Davis) tries to protect her refugee husband (Paul Henreid) from her rich and powerful ex-lover, composer Alexander Hollenius (Claude Rains). It gets messy, really, really messy. Dir. Irving Rapper
Friday, May 29, 5:00 PM – Saturday, May 30, 4:00 AM
TCM Salutes Jean Peters
Here are the noirs...
5:00 PM
PICKUP ON SOUTH STREET (1953): Sam Fuller's esteemed noir revolves around an amoral sneak thief, Richard Widmark, who steals a girl of ill repute's purse containing microfilm. He soon finds himself in the crossfire between the Feds and the Commies, but he's only out for himself. Thelma Ritter steals the show in an Oscar nominated performance as his friend, a small time grifter trying to make enough dough for her dream funeral. Dir. Sam Fuller
8:30 PM
NIAGARA (1953): Despite Joseph MacDonald's Technicolor cinematography and its spectacular use of Niagara Falls, this film falls firmly into the noir category. A young couple (Jean Peters and Casey Adams) on vacation find themselves embroiled in a murderous plot involving their neighbors at the motor court. The wife (Marilyn Monroe) and her lover (Richard Allen) plot to kill her mentally unstable husband (Joseph Cotton) and things go awry. OTR greats Don Wilson and Lurene Tuttle play another vacationing married couple. Dir. Henry Hathaway
NOIR ALLEY
Saturday, May 30, 9:15 PM &
Sunday, May 31, 7:00 AM
FNF Prez Eddie Muller presents
A KISS BEFORE DYING (1956): Beautiful and wealthy Ellen (Virginia Leith) falls in love with Bud Corliss, the fiancé (Robert Wagner) of her dead sister Dorie (Joanne Woodward), not realizing that he's responsible for her sister's death, an apparent suicide. Will she find out the truth before it is too late? Mary Astor gives an outstanding performance as Bud's mother. Adapted from the Edgar Award winning debut novel of Ira Levin. Dir. Gerd Oswald
Sunday, May 31, 7:00 AM
THE LETTER (1940): Bette Davis gives a masterful performance as a married woman claiming self-defense in the murder of a fellow Britisher on her husband's rubber plantation in Malay. This succeeds both as a film noir and an incisive look into colonialism. Herbert Marshall gives a deeply empathetic performance as the loving husband. Watch for Victor Sen Yung as a solicitous lawyer's clerk. Based on a play by Somerset Maugham, dramatized from his own short story. Nominated for seven Oscars: Best Picture; Best Actress in a Leading Role, Bette Davis; Best Actor in a Supporting Role, James Stephenson; Best Director, William Wyler; Best Cinematography, Black-and-White,Tony Gaudio; Best Film Editing, Warren Low; Best Music, Original Score, Max Steiner. Dir. William Wyler
Monday, June 1, 12:15 AM
THE HOUSEMAID [Hanyo] (1960): A middle-class Korean family spirals into a delirious nightmare after hiring a young housemaid. A unique mix of soap opera, noir, and horror. Underlying the sensationalism is a dissection of the Korean class system and its effects. Director Bong Joon Ho' cited this film as an influence on his Oscar winning film Parasite. Korean with English subtitles. Dir. Kim Ki-young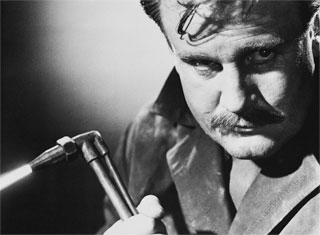 Hammer noir: Donald Houston in Maniac on May 1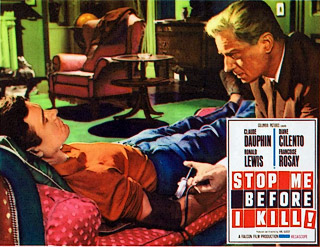 Under treatment (or not)—Stop Me before I Kill on May 1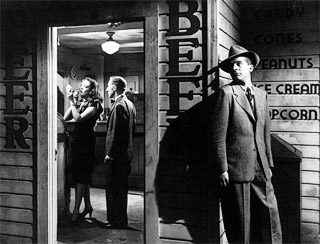 Eddie Muller presents Fallen Angel on NOIR ALLEY May 2 and 3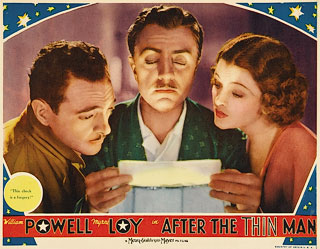 William Powell and Myrna Loy in After the Thin Man on May 3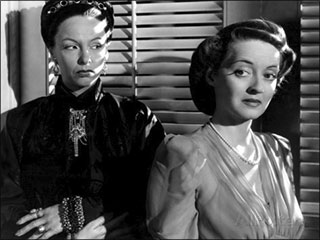 Gale Sondergaard and Bette Davis in The Letter May 6 and May 31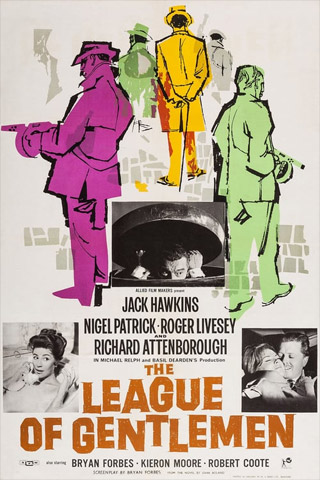 The League of Gentlemen screens May 7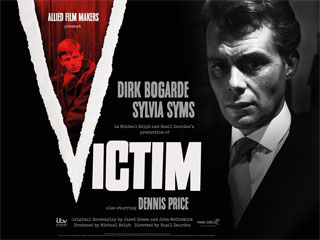 Dirk Bogarde stars in Victim on May 7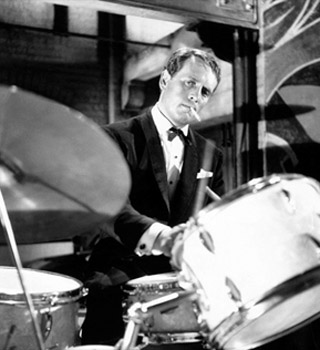 Patrick McGoohan in All Night Long May 7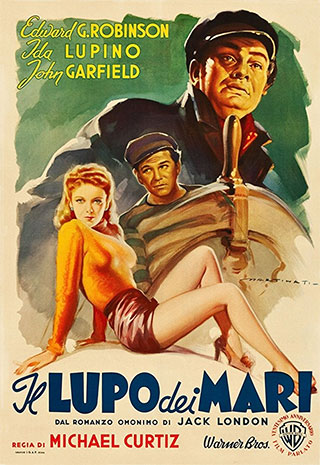 Director Michael Curtiz' The Sea Wolf on May 7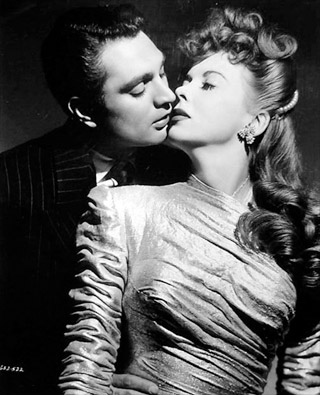 Ida Lupino stars in The Man I Love on May 8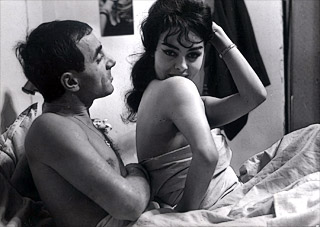 Charles Aznavour in Shoot the Piano Player on May 8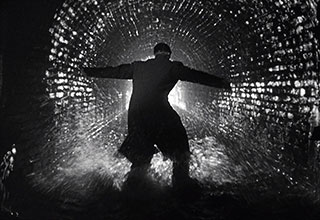 The Third Man screens May 9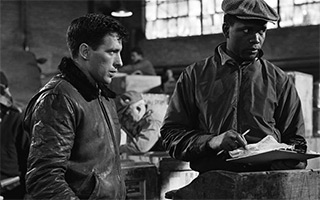 John Cassavetes and Sidney Poitier in Edge of the City May 9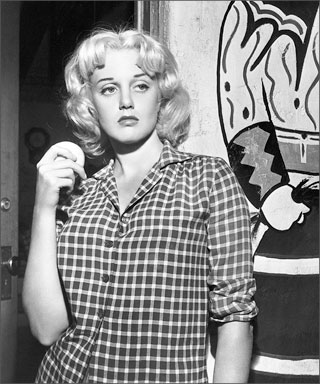 Jan Sterling in Ace in the Hole on May 9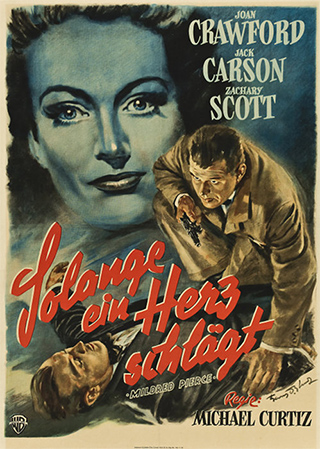 NOIR ALLEY host Eddie Muller presents Mildred Pierce on May 9 and 10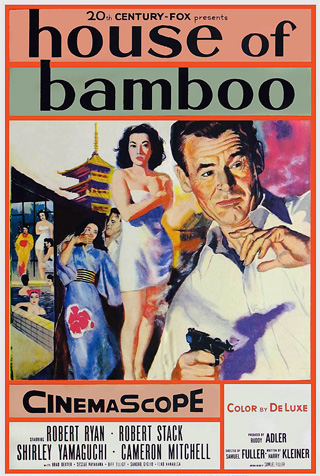 Director Sam Fuller's House of Bamboo plays May 13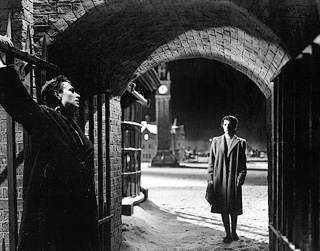 James Mason and Kathleen Ryan in Odd Man Out on May 19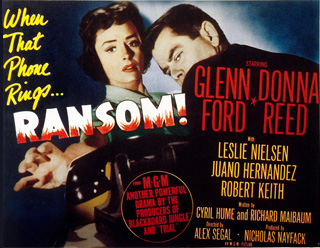 Glenn Ford and Donna Reed star in Ransom on May 19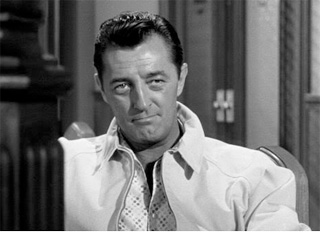 Relentless Robert Mitchum in Cape Fear on May 19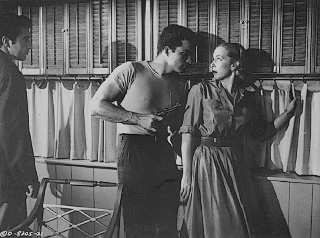 Vince Edwards threatens in The Night Holds Terror on May 19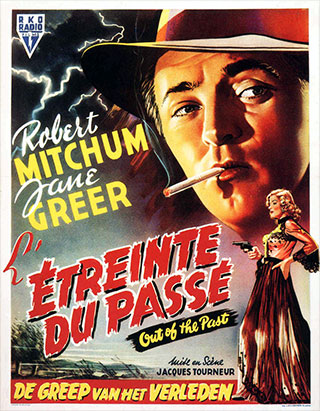 Top noir classic Out of the Past screens May 16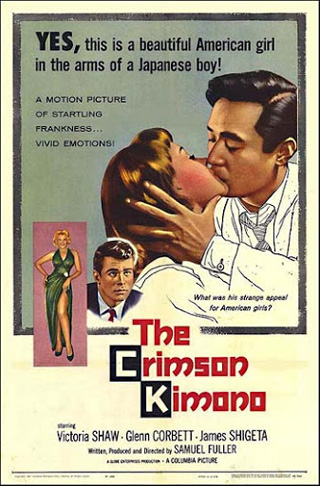 Eddie Muller presentsThe Crimson Kimono on NOIR ALLEY May 9 and 10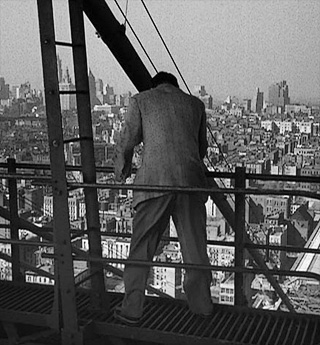 Director Jules Dassin's The Naked City screens May 17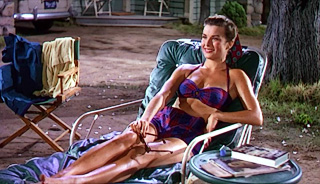 Jean Peters in Niagara on May 17 and May 30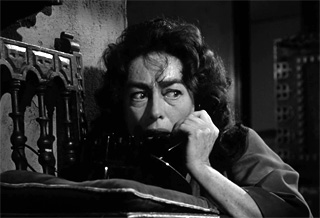 Joan Crawford gets desperate in Whatever Happened to Baby Jane on May 19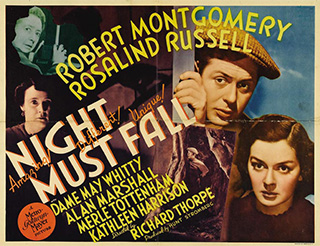 Night Must Fall screens May 19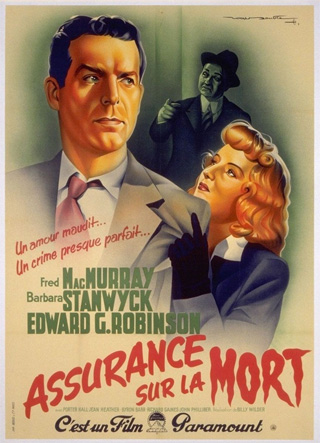 Top noir classic Double Indemnity on May 21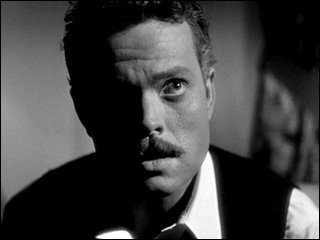 Orson Welles is The Stranger on May 19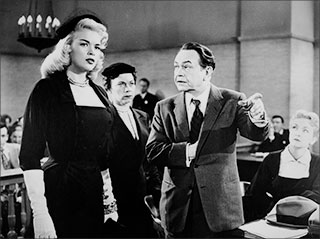 Jayne Mansfield and Edward G. Robinson in Illegal on May 20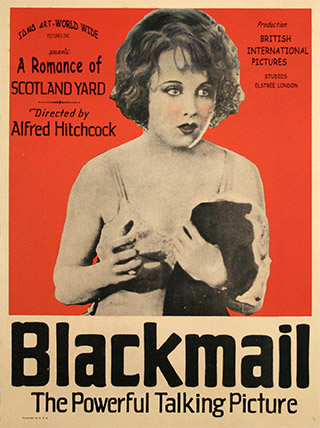 Early Hitchcock: Blackmail on May 22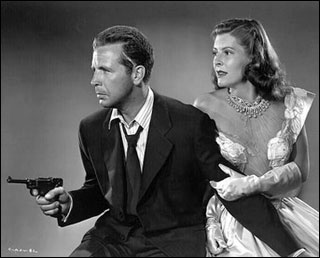 NOIR ALLEY host Eddie Muller presents Cornered on May 23 and 24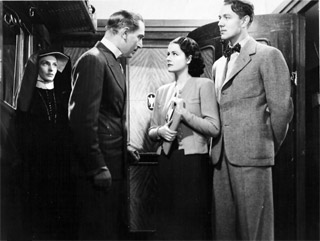 Margaret Lockwood stars in Hitchcock's The Lady Vanishes on May 26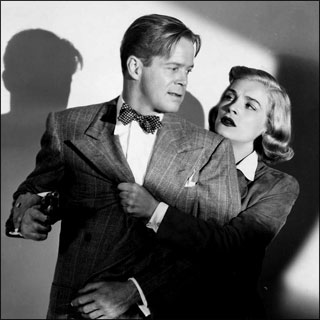 Dan Duryea and Lizabeth Scott star in Too Late for Tears on May 28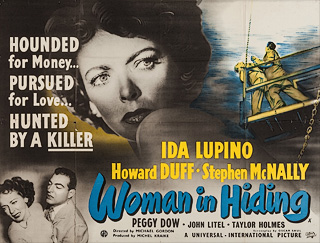 Ida Lupino, Steve McNally, and Howard Duff in Woman in Hiding on May 28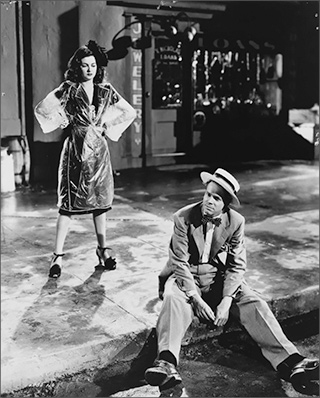 Joan Bennett and Dan Duryea in Scarlet Street on May 26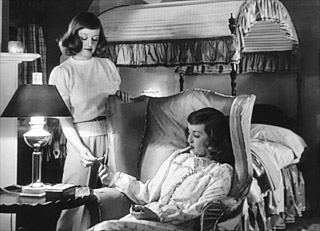 Bette Davis times two in A Stolen Life on May 29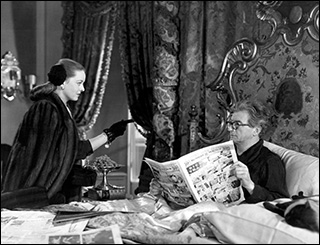 Bette Davis and Claude Rains in Deception on May 29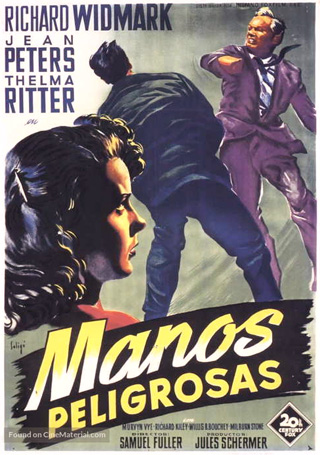 Director Sam Fuller's Pickup on South Street on May 29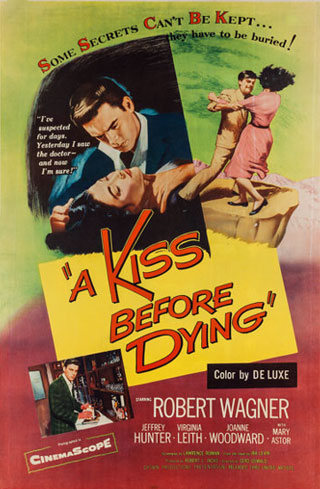 NOIR ALLEY host Eddie Muller presents A Kiss before Dying on May 30 and 31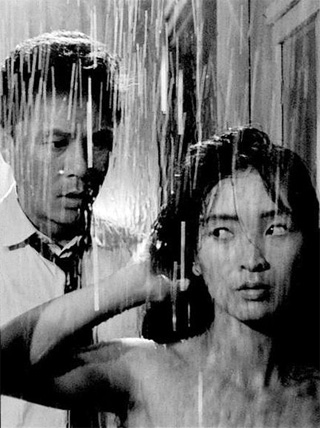 Kim Ki-young stars in The Housemaid on June 1