Saturday, September 1, 9:00 AM
DOUBLE INDEMNITY (1944): Barbara Stanwyck—in a platinum blonde wig—plays Phyllis Dietrichson—the consummate femme fatale who lures insurance salesman and all-around chump Walter Neff (Fred McMurray) into a plot involving murder and insurance fraud. His friend, and insurance adjuster, Barton Keyes (Edward G. Robinson) smells a rat. Nominated for seven Oscars: Best Actress in a Leading Role; Best Cinematography, Black-and-White; Best Director; Best Music, Scoring of a Dramatic or Comedy Picture; Best Picture; Best Sound, Recording; and Best Writing, Screenplay. Dir. Billy Wilder
NOIR ALLEY
Saturday, September 1, 9:00 PM &
Sunday, September 2, 7:00 AM
FNF Prez Eddie Muller presents
THE LOCKET (1946): Psychiatrist Dr. Blair (Brian Aherene) tries to convince a millionaire (John Willis) that his future bride (Laraine Day) is really Blair's mentally unstable ex-wife, Nancy (Laraine Day). As Blair tells his tale to the soon to be groom, he reveals that he had received a similar visit by a high-strung artist (Robert Mitchum) after his marriage to Nancy. Is Blair telling the truth or is it the paranoid delusion of a mad man? Dir. John Brahm
Monday, September 3, 8:45 AM
THE POSTMAN ALWAYS RINGS TWICE (1946): In this noir classic, illicit lovers (John Garfield and Lana Turner) plot to kill the woman's older husband. She wants to own her own restaurant, the eternal ambition of heroines created by James M. Cain, author of the original novel. The producers managed to stay quite faithful to the book while excising the sado-masochistic nature of the character's sexual relationship. Dir. Tay Garnett
Wed, September 5, 3:00 AM —5:00 PM
TCM Salutes Vincent Price
Here are the noirs ...
4:45 AM
THE BRIBE (1949): A sultry singer (Ava Gardner) tries to tempt a federal agent (Robert Taylor) from the straight-and-narrow while he investigates an arms surplus racket on a small South American island. Charles Laughton and Vincent Price menace him. Dir. Robert Z. Leonard
8:30 AM
THE LONG NIGHT (1947): Henry Fonda stars as Joe Adams in the American remake of Marcel Carné's Le jour se lève (1939). This proto-noir opens with Joe wanted for murder and trapped by the police in his apartment. The film tells in flashback how he got there. Vincent Price gives a great supporting performance as his nemesis, dog act maestro Maximilian the Great. Dir. Anatole Litvak
1:15 PM
THE LAS VEGAS STORY (1952): Newlyweds (real life buddies Jane Russell and Vincent Price) stop off in Las Vegas, the bride's old stomping grounds, against her wishes. Trouble ensues, and the pair finds themselves in the middle of a murder investigation headed by her old flame (Victor Mature). Dir. Robert Stevenson
Fri, September 7, 5:00 PM—11:00 PM
Saturday Evening Post Stories-Noir Edition
5:00 PM
THE BIG HEAT (1953): In this seminal noir, a police detective (Glenn Ford) whose wife was killed by the mob teams with a gangster's moll (Gloria Grahame) to bring down a powerful racketeer (Alexander Scourby). Lee Marvin steals the film as Grahame's abusive boyfriend and eventual object of her revenge. Dir. Fritz Lang
7:00 PM
TOO LATE FOR TEARS (1949): For many years, all 35mm prints of Too Late for Tears (1949) were believed lost, but through the determined efforts of the Film Noir Foundation, enough original material has been discovered to enable a restoration, performed under the auspices of the UCLA Film & Television Archive. Based on a novel by future television titan Roy Huggins, and featuring Huggins' own brilliant screenplay, the film is a neglected masterpiece of noir, awaiting rediscovery. A suburban housewife (Lizabeth Scott) decides to keep a satchel of money accidentally tossed into her convertible, against the wishes of her husband (Van Heflin). Dan Duryea plays the intended recipient of the cash and he's not into sharing. The result? Mayhem and murder. You can order your own copy on DVD/Blu-ray at Flicker Alley. Dir. Byron Haskin
9:00 PM
DARK PASSAGE (1947): Adapted from a story by David Goodis, this noir follows convicted wife murderer Vincent Parry's (Humphrey Bogart) escape from jail and subsequent hunt for the real killer of his wife. Sympathetic stranger Irene (Lauren Bacall) encounters him during his jail break and aids him. Agnes Moorehead steals the show as Irene's shrewish friend who knew Vincent and his wife prior to the murder. Dir. Delmer Daves
NOIR ALLEY
Saturday, September 8, 9:15 PM &
Sunday, September 9, 7:00 AM
FNF Prez Eddie Muller presents
DESPERATE (1947): An innocent trucker (Steve Brodie) takes it on the lam when he's accused of robbery. Raymond Burr co-stars as the heavy who framed him. Audrey Long plays his supportive wife. Dir. Anthony Mann
Monday, Sept 10, 11:45 AM—2:45 PM
Edmond O'Brien Double Feature
11:45 AM
A CRY IN THE NIGHT (1956): A police captain's (Edmond O'Brien) emotions get in the way when his daughter (Natalie Wood) is kidnapped by a madman (Raymond Burr who else?). Brain Donlevy co-stars as the night shift Captain who tries to find her. Dir. Frank Tuttle
1:15 PM
D.O.A. (1950): This classic and rather convoluted noir tells the tale of a notary (Edmond O'Brien) who is slipped a slow-acting poison. He determines to track down his own killer. Existential doom and great San Francisco locations abound. Dir. Rudolph Mate
Monday, September 10, 11:30 PM —
Tuesday, September 11, 3:45 AM
Déjà Vu Double Bill
11:30 PM
THIEVES LIKE US (1974): Robert Altman helmed this second adaption of Edward Anderson's novel. A young bank robber (Keith Carradine) falls for an innocent girl (Shelley Duvall) and starts planning an escape from crime and the law. The first adaptation was Nicholas Ray's They Live by Night (1949). Dir. Robert Altman
2:00 AM
THEY LIVE BY NIGHT (1949): Nicholas Ray's fiercely romantic noir about a young innocent, Farley Granger who gets mixed-up with hardened criminals and a violent escape after serving an unjust prison sentence. Cathy O'Donnell plays the girl who becomes his lover in an ill-fated romance. Based on the Edward Anderson novel Thieves Like Us. Dir. Nicholas Ray
Tuesday, September 11,11:30 AM
THE WINDOW (1949): A young boy (Bobby Driscoll) with a penchant for telling tall tales overhears a murder while sleeping alone on a fire escape. Of course, no one believes him except the murderers (Paul Stewart and Ruth Roman) who ruthlessly hunt him down. This excellent adaptation of a Cornell Woolrich story will keep you on the edge of your seat. Dir. Ted Tetzlaff
Tuesday, September 11,12:45 PM
WAIT UNTIL DARK (1967): A commercial artist unknowingly brings a stash of heroin into his home. A trio of bad guys (Richard Crenna, Jack Weston and Alan Arkin) trace the dope to him. They trick him into leaving the house, but, unfortunately, his blind wife (Audrey Hepburn) is there alone. They proceed to first try to trick and then to terrorize her while she tries to figure out how to turn the tables on her unknown assailants. Hepburn earned an Oscar nomination for Best Actress for her remarkable performance. Adapted from the Broadway hit written by Fredrick Knott and directed by Arthur Penn. Dir. Terence Young
Saturday, Sept 15, 5:00 PM—8:30 PM
Contagious Noir
5:00 PM
PANIC IN THE STREETS (1950): A policeman (Paul Douglas) and a doctor (Richard Widmark) race against time to find two gun-happy hoodlums (Zero Mostel and Jack Palance) who are somewhere in the streets of New Orleans carrying the pneumonic plague. Score by Alfred Newman and cinematography by Joseph MacDonald. Director: Elia Kazan
7:00 PM
THE KILLER THAT STALKED NEW YORK (1950): Married jewel thieves (Evelyn Keyes and Charles Korvin) struggle with infidelity, federal agents and the deadly smallpox virus. You know, like every other married couple. Dir. Earl McEvoy
NOIR ALLEY
Saturday, September 15, 9:00 PM &
Sunday, September 16, 7:00 AM
FNF Prez Eddie Muller presents
ANGEL FACE (1953): An ambulance driver (Robert Mitchum) romances a beautiful but unstable woman (Jean Simons) who gets him a job as a chauffeur and promises him the capital to open his own garage. Murder and disaster follows. Mona Freeman plays the girlfriend he dumps for better things. Her reaction to his behavior, especially when he tries to come back to her, makes her character transcend the usual thankless good girl roles in noir. Dir. Otto Preminger
Monday, September 17, 9:15 PM
TAXI DRIVER (1976): Paul Schrader wrote the script for this tale about a loner (Robert De Niro) who becomes fixated on a beautiful campaign worker (Cybill Sheperd) and befriends a teen prostitute (Jodie Foster) with violent results. Director Martin Scorsese's choices of composer, Bernard Hermann and cinematographer, Michael Chapman, added immeasurably to the film's impact. Dir. Martin Scorsese
September 18, 3:15 AM —
September 19, 5:00 PM
TCM Salutes Master Cinematographer Nicholas Musuraca
Here are the noirs...
3:15 AM
STRANGER ON THE THIRD FLOOR (1940): Peter Lorre is the Stranger, haunting a reporter (John McGuire) whose testimony sentenced a possibly innocent man (Elisha Cook Jr.) to death. Can the writer's girlfriend (Margaret Tallichet) uncover the truth in time? A revelatory burst of hallucinatory cinema, featuring a prolonged dream sequence that was the initial injection of noir expressionism into Hollywood's bloodstream. Shot by the incomparable D.P. Nicholas Musuraca. Dir. Boris Ingster
7:00 AM
THE SEVENTH VICTIM (1943): A young woman (Kim Hunter) leaves school to investigate the disappearance of her beautiful and mysterious older sister (Jean Brooks). She finds out some interesting facts, one, her sister was married and two, she was part of a satanic set. The husband (Hugh Beaumont), a poet (Erford Gage) and a psychiatrist (Tom Conway) aid her search for the truth about her sister. Produced by horror icon Val Lewton. Dir. Mark Robson
8:15 AM
OUT OF THE PAST (1947): In this quintessential film noir, small town gas station owner Jeff Bailey's (Robert Mitchum) past catches up with him when a stranger passing through town recognizes him. He tells his girlfriend Ann Miller (Virginia Huston) about his previous via flashback, of course. Jeff was a private eye falls for the gangster's moll (Jane Greer) that he's supposed to find for her lover Whit Sterling (Kirk Douglas). She's allegedly stolen $40,000 from Whit and he wants her and the dough back. As in all good noirs, nothing is really as it seems. Watch for future noir siren Rhonda Fleming as a duplicitous secretary. Based on Geoffrey Homes' excellent pulp novel Build My Gallows High and shot by legendary cinematographer Nicholas Musuraca. Dir. Jacques Tourneur
1:45 PM
BORN TO BE BAD (1950): An ambitious girl (Joan Fontaine) steals her cousin's (Joan Leslie) husband (Zachary Scott), but keeps her lover (Robert Ryan) on the side. No need to tell you that this won't end nicely. Dir. Nicholas Ray
3:30 PM
SPLIT SECOND (1953): In this tense thriller, escaped convicts hold hostages in a ghost town that's the target of a nuclear bomb test. One of the cons (Stephen McNally) falls for one of the one of the hostages (Alexis Smith) and things get even tenser. Dir. Dick Powell
Thursday, September 20, 6:15 AM
SIDE STREET (1950): A New York City mailman (Farley Granger) dreams of taking his wife (Cathy O'Donnell) to Europe. So, he steals a shipment of dirty money and soon finds himself pursued by both cops and crooks. Dir. Anthony Mann
Friday, September 21, 12:30 AM
I DIED A THOUSAND TIMES (1955) Gangster Big Mac (Lon Chaney, Jr.) pulls strings to get a lifer, Roy (Jack Palance), out of prison. In return, Roy had to pull a big jewelry heist. Big Mac saddles him with incompetent henchmen and things go badly. Especially when they pick up a taxi dancer (Shelley Winters) who causes considerable tension and then falls in love with Roy. W.R. Burnett based his screenplay on his own novel, High Sierra, previously adapted by John Huston and him in 1941 for Raoul Walsh's film starring Humphrey Bogart and Ida Lupino. Dir. Stuart Heisler
NOIR ALLEY
Saturday, September 22, 9:00 PM & Sunday, September 23, 7:00 AM
FNF Prez Eddie Muller presents
THE STRANGER (1946): A small-town schoolteacher (Loretta Young) encounters a determined investigator (Edward G. Robinson) who suspects her new husband (Orson Welles) may be an escaped Nazi war criminal. Can he convince her before it's too late? Dir. Orson Welles
Monday, September 24, 10:00 PM —
Tuesday, September 25, 3:15 AM
Deadly Couples Triple Bill
10:00 PM
BADLANDS (1973): After a charismatic James Dean wannabe (Martin Sheen) kills her dad, a baton-twirling teen (Sissy Spaceck) decides to join him on a shooting spree through Montana's Badlands. It's loosely based on the Starkweather-Fugate killings of the 1950's which also inspired Bruce Springsteen's album Nebraska and the key back story in Peter Jackson's The Frighteners (1996). Dir. Terrence Malick
12:00 AM
GUN CRAZY (1949): In this justly legendary noir, a gun obsessed reform school graduate (John Dall) meets the girl of his dreams, a circus sharp shooter (Peggy Cummins). They get married in a fever, but she gets fed up living without the finer things of life. The two go on a crime spree, but her blood lust had fatal consequences. Dir. Joseph H. Lewis
1:45 AM
THE MAN WHO CHEATED HIMSELF (1950): A veteran San Francisco homicide cop (Lee J. Cobb) spirals into a moral morass when his married socialite lover (Jane Wyatt, in a rare fatale role) "accidentally" bumps off her husband. Instead of playing it by the book (would that be noir?), he covers up the crime, only to have his younger brother (John Dall)—a rookie homicide dick—start putting together the pieces. This James M. Cain-style thriller gets maximum impact from its San Francisco locations, including a memorable climax at Fort Point.35mm restoration funded by the Film Noir Foundation and performed by the UCLA Film & Television. Archive. You can order your own DVD/Blu-ray combo from Flicker Alley. Dir. Felix Feist
Friday, Sept 28, 5:45 AM—5:00 PM
Noir Marathon
5:45 AM
CAST A DARK SHADOW (1955): A charmer (Dirk Bogarde) decides to make his fortune by marrying and murdering older women. He meets his match when he plots against his latest victim (Margaret Lockwood). Dir. Lewis Gilbert
7:15 AM
THE NAKED CITY (1948): A step-by-step look at a murder investigation on the streets of New York. Barry Fitzgerald plays the compassionate cop on the trail of a murder in this groundbreaking police procedural. Watch for noir regular and radio's Sam Spade, Howard Duff as the murdered girl's sleazy boyfriend. Dir. Jules Dassin
11:15 AM
UNDERCURRENT (1946): In this unusually cast noir, a sheltered woman (Katherine Hepburn) realizes that either her husband (Robert Taylor with a Walt Disneyesque moustache) or his mysterious brother, (noir stalwart Robert Mitchum) is a psychopath. Edmund Gwenn co-stars as Hepburn's father. Dir. Vincente Minnelli
1:15 PM
PURPLE NOON (1960): This lush adaptation of Patricia Highsmith's renowned crime novel The Talented Mr. Ripley stars a young and extremely handsome Alain Delon as the titular character. Dir. René Clément.
3:15 PM
SUSPICION (1941): A handsome gambler Johnny Aysgarth (Cary Grant) pursues the shy and wealthy Lina McLaidlaw (Joan Fontaine). He courts and marries her. After the honeymoon she discovers unsettling things about his character. She becomes increasingly suspicious of him when Johnny's friend and business partner, Beaky (Nigel Bruce) dies mysteriously. Based on Anthony Berkeley Cox's novel After the Fact. Dir. Alfred Hitchcock
Saturday, September 29, 12:00 PM
THE BIG SLEEP (1946): In Howard Hawks' clever and sophisticated adaptation of Raymond Chandler's novel, private eye Philip Marlowe's (Humphrey Bogart) investigates the involvement of an opium addled (and nymphomaniacal) society girl (Martha Vickers) in the murder of a pornographer. He also must determine if her sister (Lauren Bacall) is helping or hindering him. Dir. Howard Hawks
NOIR ALLEY
Saturday, September 29, 9:00 PM & Sunday, September 30, 7:00 AM
FNF Prez Eddie Muller presents
THE GANGSTER (1947): Based on Fuchs's novel Low Company. One of the most peculiar noirs of the 1940s stars Barry Sullivan in a riveting performance as a small-time hood who suffers a mental breakdown as his big plans begin to crumble. His night club singer-girlfriend (Belita) unwittingly fuels his paranoia. Director Wiles, normally a production designer and art director, creates an arresting visual corollary for the character's disintegrating psyche. Noir regulars Henry Morgan, John Ireland, Sheldon Leonard, Elisha Cook, Jr. and Charles McGraw give the stars an able assist. Dir. Gordon Wiles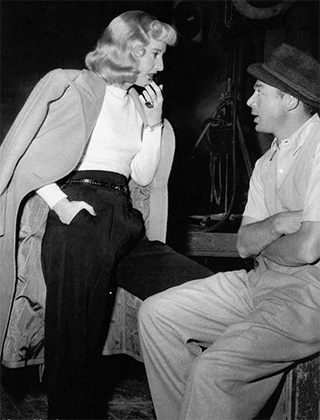 On the set of Double Indemnity screening September 1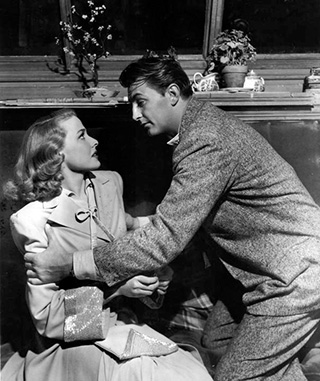 Eddie Muller presents The Locket on NOIR ALLEY September 1 and 2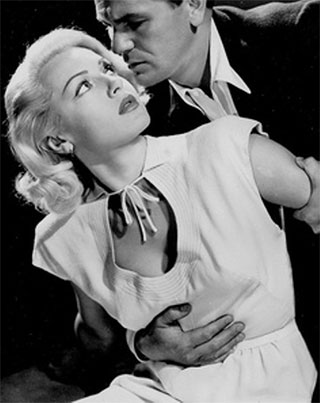 Lana Turner and John Garfield on The Postman Always Rings Twice on September 3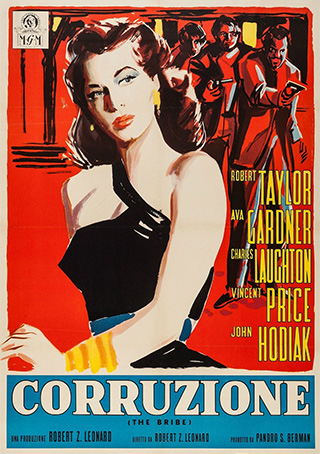 Vincent Price and Ava Gardner star in The Bribe on September 5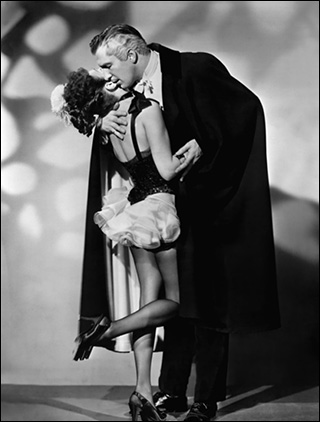 Vincent Price in The Long Night screening September 5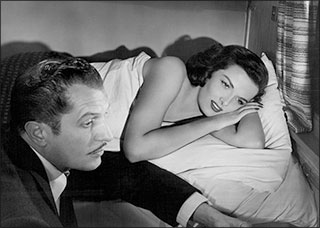 Jane Russell and Vincent Price in The Las Vegas Story on September 5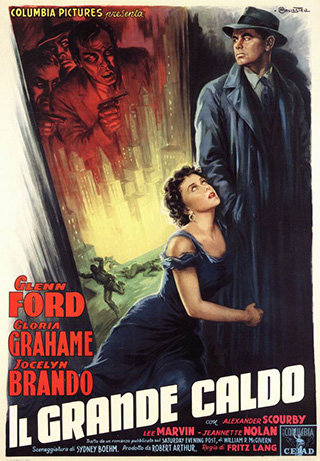 Fritz Lang's The Big Heat on September 7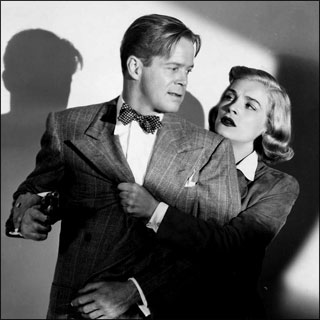 Dan Duryea and Lizabeth Scott in Too Late for Tears on September 7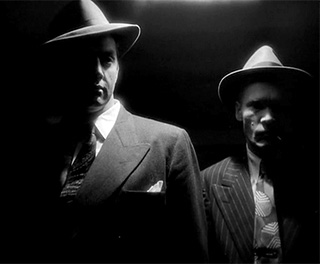 Eddie Muller presents Anthony Mann's Desperate on NOIR ALLEY September 8 and 9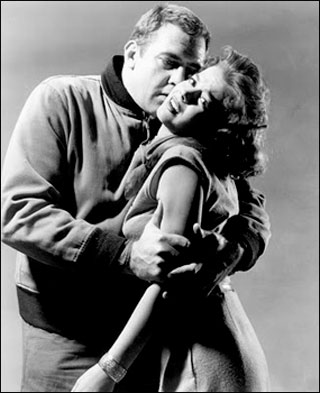 Raymond Burr and Nathalie Wood in A Cry in the Night on September 10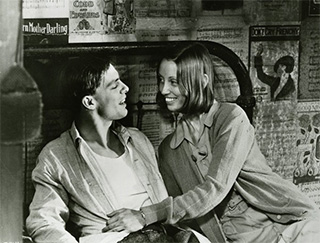 Keith Carradine and Shelley Duvall in Thieves Like Us on September 10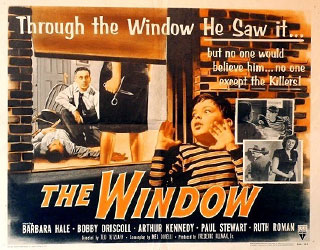 Noir classic, The Window, on September 11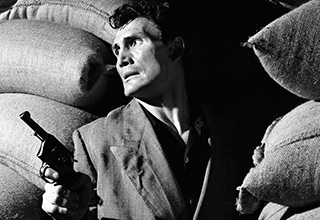 Jack Palance in Panic in the Streets on September 15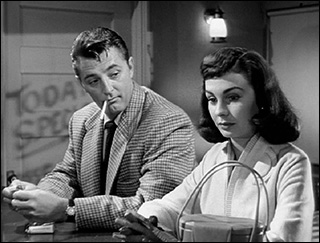 Eddie Muller presents Otto Preminger's Angel Face on NOIR ALLEY September 15 and 16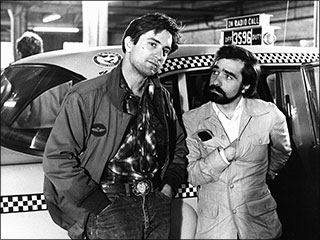 Robert De Niro stars in Taxi Driver on September 17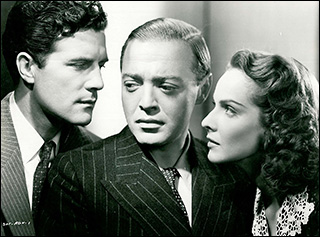 Peter Lorre in Stranger on the Third Floor on September 18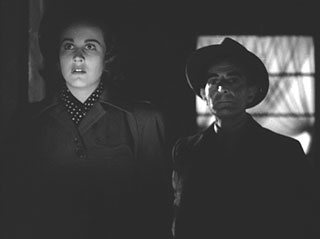 Kim Hunter in The Seventh Victim on September 18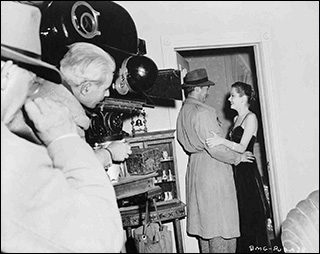 Jane Greer witih Robert Mitchum on the set of Out of the Past on September 18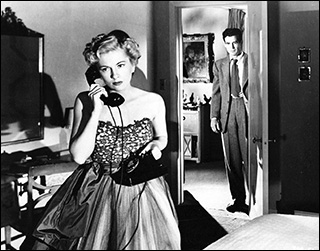 Joan Fontaine and Robert Ryan in Born To Be Bad on September 18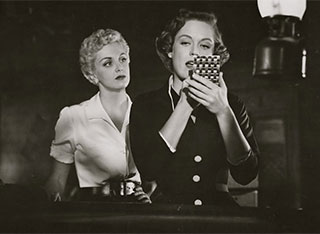 Dick Powell-directed Split Second on September 18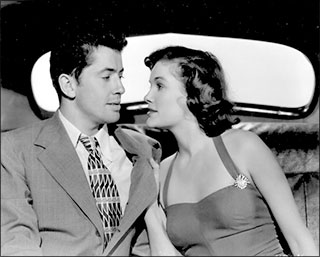 Farley Granger in Anthony Mann's Side Street on September 20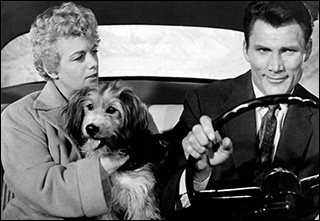 Shelley Winters and Jack Palance in I Died a Thousand Times on September 21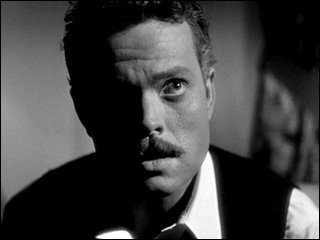 Eddie Muller presents The Stranger starring Orson Welles on NOIR ALLEY September 22 and 23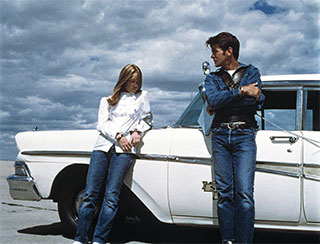 Sissy Spaceck and Martin Sheen in Badlands on September 24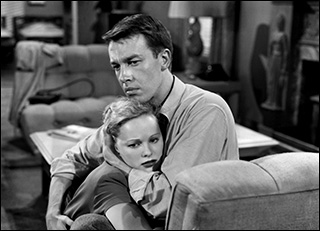 Peggy Cummins and John Dall in Gun Crazy on September 24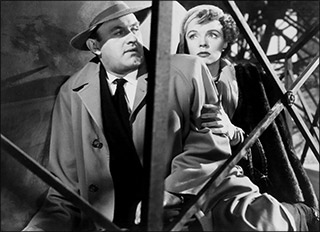 FNF-restored The Man Who Cheated Himself on September 24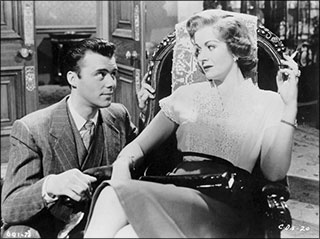 Dirk Bogarde and Margaret Lockwood in the Brit noir, Cast a Dark Shadow, on September 28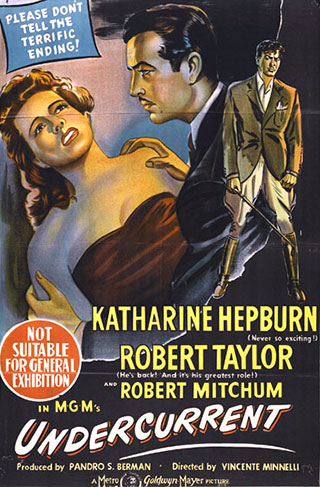 Katherine Hepburn and Robert Taylor in Undercurrent on September 28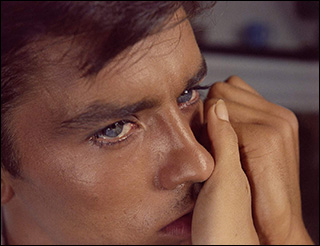 Alain Delon in Purple Noon on September 28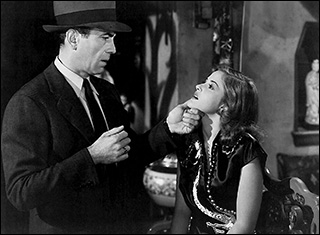 Humphrey Bogart confronts Martha Vickers under the influence in The Big Sleep on September 29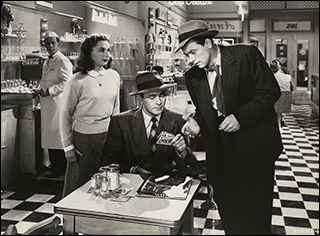 Eddie Muller presents The Gangster on NOIR ALLEY on September 29 and 30