Wednesday, May 1, 9:00 AM
THIS WOMAN IS DANGEROUS (1952): After pulling off a daring heist in New Orleans, a lady gangster (Joan Crawford) leaves her lover and partner in crime behind and checks into an Indianapolis hospital to undergo experimental surgery to save her failing eyesight. When she falls for her handsome doctor (Dennis Morgan), will she change her ways and will her lover let her go without a fight? Dir. Felix Feist
Wednesday, May 1, 12:30 PM
LADY GANGSTER (1942): An aspiring and failing at it actress (Faye Emerson) aids a criminal gang in a robbery and winds up taking the rap. Before she's sent to prison, her conspirators try to double cross her, but she's too smart from them and manages to steal and stash the loot. Her former partners want the dough and make to make life tough for in her the big house. A prison breakout follows…She eventually finds purpose and redemption in an unexpected romance. Look for early performances by a couple of actors who went on to bigger things on T.V.: Jackie Gleason and William Hopper. Dir.: Robert Florey (as Florian Roberts)
Thursday, May 2, 8:00 AM
CAUSE FOR ALARM! (1951): A mentally ill husband (Barry Sullivan) tries to prove his innocent wife (Loretta Young) guilty of plotting to murder him in a letter. After she mails it for him, he reveals the content to her and promptly dies, can she intercept the letter in time to clear herself? Dir. Tay Garnett
Thursday, May 2, 1:45 PM
RAGE IN HEAVEN (1941): A jealous man (Robert Montgomery in a rare bad guy role) plots to fake his own death and incriminate his wife's (Ingrid Bergman) and her suspected lover—the always dependable George Sanders in a rare good guy role. Dir. W.S. Van Dyke II
Friday, May 3, 1:30 PM
THE BLACK BOOK (1949): In this distinctively noirish tale set during the French Revolution, a pair of ex-lovers, Robert Cummings and Arlene Dahl, plot to bring down Robespierre, played brilliantly by the always great Richard Basehart. Charles McGraw plays Robespierre's menacing henchman. Norman Lloyd portrays Jean-Lambert Tallien. Shot by master of noir cinematography, John. Alton. Dir. Anthony Mann
NOIR ALLEY
Saturday, May 4, 9:00 PM &
Sunday, May 5, 7:00 AM
FNF Prez Eddie Muller presents
NIGHTMARE ALLEY (1947): Tyrone Power gives the performance of a lifetime in a change-of-pace role as a carnival con man that masters a mind-reading act, after killing the act's originator and seducing his wife (Joan Blondell). He then teams up with an unethical psychiatrist (Hellen Walker) to scam wealthy clients, an excellent adaptation of the highly disturbing novel by William Lindsay Gresham. Dir: Edmund Goulding
Sunday, May 5, 11:00 AM
GILDA (1946): A gambler (Glenn Ford) discovers an old flame (Rita Hayworth) in South America, but she's married to his new boss (George Macready), and… um… friend—homoerotic noir at its best. If that weren't enough, there's Hayworth's incredibly steamy rendition of "Put the Blame on Mame" Whoof! Dir. Charles Vidor
Sunday, May 5, 3:00 PM
IN THE HEAT OF THE NIGHT (1967): In a small Mississippi town, racist Police Chief Bill Gillespie (Rod Steiger) mistakenly accuses African American Virgil Tibbs (Sidney Poitier) of the recent murder of a prominent Northern industrialist. When Gillespie discovers that Tibbs is a Homicide detective from Philadelphia, he enlists his help to solve the murder. This groundbreaking neo-noir won five Oscars, including Best Picture. Dir. Norman Jewison
Monday, May 6, 10:00 AM
THE WRONG MAN (1956): In this gritty documentary style noir, victims of a robbery misidentify a musician (Henry Fonda) for the culprit, destroying the lives of him and his wife (Vera Miles). This film was based on the true story of Manny Ballestro and used extensive locations shooting in New York City. Dir. Alfred Hitchcock
Wednesday, May 8
Noir Goes South of the Border Marathon
Call in sick and turn off the phone…
5:00 AM
THE BIG STEAL (1950): Seduction and murder follow the theft of an Army payroll. An army lieutenant (Robert Mitchum) accused of robbery pursues the real thief on a frantic chase through Mexico aided by the thief's ex-girlfriend (Jane Greer). Dir. Don Siegel
6:15 AM
JEOPARDY (1953): A suburban house wife (Barbara Stanwyck) on holiday in rural Mexico with her son and husband, desperately seeks help. Her husband is trapped in pilings on the shore of the ocean and the tide is coming in. She encounters an escaped criminal (Ralph Meeker) and will do anything in exchange for his aid. "How long has it been since you talked to a woman?" Dir. John Sturges
7:30 AM
BORDER INCIDENT (1949): Mexican and American policemen (Ricardo Montalban and George Murphy) combine efforts to try to crack down on the illegal immigration racket. Simply stunning cinematography by the great John Alton and some truly brutal violence makes this a rare sample of agrarian noir. Watch for noir icon Charles McGraw in a supporting role playing the heavy's henchman. Dir. Anthony Mann
9:15 AM
BORDERLINE (1950): In this lighthearted thriller, two undercover agents (Claire Trevor and Fred MacMurrary) whom each believe the other to be part of a narcotic ring, try to find a way to bust the gang while fighting their growing feelings for each other. Raymond Burr brings both humor and menace to his "heavy" role. Dir. William A. Seiter
11:00 AM
SECOND CHANCE (1953): A crooked boxer (Robert Mitchum,) falls for a gangster's moll (Linda Darnell) on the lam in Mexico. Jack Palance menaces them. Dir. Rudy Maté
12:30 PM
HIS KIND OF WOMAN (1951): In this self-parodying noir, Robert Mitchum plays a drifter who accepts an offer for a job in Mexico that proves to be too good to be true. A beautiful singer posing as an heiress (Jane Russell) and the target of her con, a hammy Hollywood actor (Vincent Price), complicate matters for him. Dir. John Farrow
2:45 PM
OUT OF THE PAST (1947): In this quintessential film noir, small town gas station owner Jeff Bailey's (Robert Mitchum) past catches up with him when a stranger passing through town recognizes him. He tells his girlfriend Ann Miller (Virginia Huston) about his previous via flashback, of course. Jeff was a private eye falls for the gangster's moll (Jane Greer) that he's supposed to find for her lover Whit Sterling (Kirk Douglas). She's allegedly stolen $40,000 from Whit and he wants her and the dough back. As in all good noirs, nothing is really as it seems. Watch for future noir siren Rhonda Fleming as a duplicitous secretary. Based on Geoffrey Homes' excellent pulp novel Build My Gallows High and shot by legendary cinematographer Nicholas Musuraca. Dir. Jacques Tourneur
Friday, May 10, 8:30 AM
THE UNHOLY WIFE (1957): Wealthy vintner Paul Hochen (Rod Steiger) meets call girl Phyllis (Diana Dors) in a bar and seemingly impulsively marries her. Winds up Paul only wed her so he could adopt her son, a war wound left him incapable of having any of his own. Evidently this "wound" prevents him from loving her physically or mentally. She soon finds solace with rodeo rider San (Tom Tyron). Her thoughts soon turn to murder. A rare Hollywood outing for Britain's answer to Marilyn Monroe, Marie Windsor has a small role as her co-hooker and friend. Dir. John Farrow
Friday, May 10, 1:45 PM
ILLEGAL (1955): D.A. Victor Scott (Edward G. Robinson) resigns in shame after he successfully prosecutes an innocent man for a capital crime. He successfully embarks in private practice but gets mixed up with a mob boss Frank Garland (Albert Dekker). Meanwhile, his assistant Ellen (Nina Foch) tries to make him jealous by announcing she's marrying another man. Trivia: In the scene where Frank Garland shows off his art to Victor, the production employed actor Robinson's personal collection. When Dir. Lewis Allen
Friday, May 10, 5:00 PM – 11:30 PM
Triple Bill of Neo-Noirs Produced by Philip D'antoni
5:00 PM
THE SEVEN-UPS (1973): Roy Scheider stars as Buddy, one of a band of elite but ruthless cops called The Seven-Ups, in this 70s neo-noir. When his partner gets killed he discovers a criminal conspiracy to kidnap mobsters and a mole in their group. Dir: Philip D'Antoni
7:00 PM
THE FRENCH CONNECTION (1972): New York Detectives, Jimmy "Popeye" Doyle (Gene Hackman) and Buddy Russo (Roy Scheider) attempt to intercept a massive heroin shipment coming into the city and hunt down the criminal mastermind behind it, Alain Charnier (Fernando Rey). This gritty procedural also features one of the best car chases in cinematic history. In addition to earning Best Picture and Best Actor for Hackman at the Oscars, the film won Best Director for Friedkin, Best Adapted Screenplay and Best Editing. Dir. William Friedkin
9:00 PM
BULLITT (1968): When mobsters kill the witness Frank Bullitt (Steve McQueen) was assigned to protect, he uses unorthodox methods to investigate the case. Beautiful San Francisco location work and a breathtaking car chase sequence add additional pleasure to watching this fine neo-noir. Dir. Peter Yates
NOIR ALLEY
Saturday, May 11, 9:00 PM &
Sunday, May 12, 7:00 AM
FNF Prez Eddie Muller presents
WHITE HEAT (1949): "Top of the world, Ma!" a G-man (Edmond O'Brien) infiltrates a gang run by a mother-fixated psychotic, James Cagney in a stand out performance. This film marks the cinematic movement away from the traditional Warner Brothers' portrayal of the gangster to the more cynical and psychological film noir interpretation. Virginia Kellogg garnered an Oscar nomination for Best Writing, Motion Picture Story for the film. Pointless trivia: Naked Gun 33 1/3 borrowed the plot. Dir. Raoul Walsh
Sunday, May 12, 12:30 PM
MILDRED PIERCE (1945): Joan Crawford won an Oscar for her performance as a woman who builds herself up from grass widow to successful restaurateur in a desperate effort to win the love of the most ungrateful brat in the history of cinema, her daughter Veda, brilliantly played by Ann Blyth. A marriage of convenience, adultery and murder ensue. At least Mildred has the greatest best friend ever, a wisecracking Eve Arden. Based on the James M. Cain story. Dir. Michael Curtiz
Monday, May 13, 3:15 AM – 5:00 PM
Mad Killer Marathon
Call in sick, turn off the phone, lock the door and trust no one. Here are the noirs...
4:45 AM
NIGHT MUST FALL (1937): Young and charming Danny (Robert Montgomery) worms his way into elderly and wealthy Mrs. Bramosn's (Dame May Whitty) household. Her sexually repressed niece (Rosalind Russell) suspects him of larceny and possibly a local murder. Dir. Richard Thorpe
10:15 AM
THE BAD SEED (1956): "What will you give me for a basket of kisses?" Based on the stage play adapted from the brilliant novel by William March, Army wife Christine (Nancy Kelly) suspects that her seemingly perfect little girl Rhoda (Patty McCormack) is a ruthless killer. Eileen Heckart shines in her Oscar nominated supporting role as the alcoholic mother of one of Rhoda's victims. This truly terrifying film will make you look twice at all cute little blonde girls. Kelly and McCormack as well as cinematographer Harold Rosson were nominated for Oscars as well as Heckart. Dir. Mervyn LeRoy
1:45 PM
THE HITCH-HIKER (1953): In this gripping suspense piece, a murderous madman (William Talman) on the lam from the law kidnaps two businessmen (Edmond O'Brien and Frank Lovejoy) on a hunting trip. Noir siren Ida Lupino both directed and co-wrote the film which was produced by The Filmmakers, the independent production company she founded with her then husband Collier Young. Dir. Ida Lupino
3:15 PM
BADLANDS (1973): After a charismatic James Dean wannabe (Martin Sheen) kills her dad, a baton-twirling teen (Sissy Spaceck) decides to join him on a shooting spree through Montana's Badlands. It's loosely based on the Starkweather-Fugate killings of the 1950's which also inspired Bruce Springsteen's album Nebraska and the key back story in Peter Jackson's The Frighteners (1996). Dir. Terrence Malick
MONDAY, MAY 13, 5:00 PM – 5:15 AM
TCM Salutes Orson Welles
Here are the noirs...
HOUR
CONFIDENTIAL REPORT aka MR ARKADIN (1955): Mr. Arkadin (Orson Welles), one of the richest men in Europe, hires Guy Van Stratten (Robert Arden), an amoral young man, to help him uncover clues about his past. He claims that he suffers from amnesia and that he has no idea how he came by his wealth. Guy races against an unknown murderer bent on killing anyone who can reveal information about Arkadin. Things get even more complicated when he falls for Arkadin's daughter. Dir. Orson Welles
1:30 AM
THE LADY FROM SHANGHAI (1948): An Irish sailor (Orson Welles) gets caught between a corrupt tycoon (Everett Sloane) and his voluptuous wife (Welles' real-life wife Rita Hayworth) and their plans to eliminate one another in this wonderfully convoluted noir. Trivia: Columbia chief Harry Cohn sent future horror icon William Castle along on location to keep Welles in line, on time and under budget, to no avail. Dir. Orson Welles
Tuesday, May 14, 9:00 AM – 5:00 PM
Raymond Chandler Marathon
Maybe you should take a sabbatical this month.
9:00 AM
MURDER, MY SWEET (1944): The film that graduated Dick Powell from romantic musical lead to noir tough guy. Raymond Chandler's detective and knight errant, Philip Marlowe's (Powell) search for a singer name Velma, leads him through a tangled web of blackmail and murder. Along the way, he finds himself embroiled with a wealthy man's unscrupulous gold-digging wife (Claire Trevor) and the step-daughter that despises her (Anne Shirley). Mike Mazurki gives a standout performance as the mentally challenged and extremely physically powerful ex-con that hires Marlowe to find Velma. "Cute as pants." Dir. Edward Dmytryk
10:45 AM
THE BIG SLEEP (1946): In Howard Hawks' clever and sophisticated adaptation of Raymond Chandler's novel, private eye Philip Marlowe's (Humphrey Bogart) investigates the involvement of an opium addled (and nymphomaniacal) society girl (Martha Vickers) in the murder of a pornographer. He also must determine if her sister (Lauren Bacall) is helping or hindering him. Dir. Howard Hawks
3:00 PM
STRANGERS ON A TRAIN (1951): Childlike but charming psychopath Bruno (Robert Walker) suggests that he and Guy (Farley Granger), a tennis player with political ambitions, crisscross murders. Unfortunately, Guy realizes too late that Bruno wasn't joking. Guy's unwanted wife shows up murdered and he has no alibi. Screenplay by Raymond Chandler and Czenzi Ormonde, based on the novel by Patricia Highsmith. D.P. Robert Burks' outstanding work earned an Oscar nomination for Best Cinematography, Black-and-White. Dir. Alfred Hitchcock
Wednesday, May 15, 5:30 AM – 5:00 PM
Joseph Cotten Marathon
Seriously, TCM is trying to get us all fired. Here are the noirs...
9:15 AM
JOURNEY INTO FEAR (1942): This playful film features Joseph Cotten, who adapted the novel for the screen, as a munitions expert who gets tangled up in an espionage plot in Turkey. Watch for Orson Welles as an amorous army officer. Karl Struss served as director of photography. Dir. Norman Foster & Orson Welles (uncred.)
10:30 AM
GASLIGHT (1944): A newlywed (Ingrid Bergman) fears she's going mad when strange things start happening at the family mansion where her aunt was murdered ten years earlier. Joseph Cotten stars as the handsome stranger who aids her. Charles Boyer stars as the handsome husband who terrorizes her. Angela Lansbury plays the pretty maid who may be in league with Boyer. Based on Patrirck Hamilton's Angel Street. The film won two Oscars, Best Actress in a Leading Role for Ingrid Bergman and Best Art Direction-Interior Decoration, Black-and-White for Cedric Gibbons, William Ferrari, Edwin B. Willis, Paul Huldschinsky, and earned five more nominations. Dir. George Cukor
12:30 PM
THE MAN WITH A CLOAK (1951): In this historical noir, a mystery man (Joseph Cotton) tries to help a young innocent (Leslie Caron) escape a murderous housekeeper (Barbara Stanwyck). Based on a story by John Dickson Carr. Dir. Fletcher Markle
Friday, May 17, 5:00 PM
A BLUEPRINT FOR MURDER (1953): After the death of his brother and one of his brother's children, a man, Joseph Cotton, who has fallen in love with his sister-in-law, Jean Peters, begins to suspect that she may have murdered one of her step-children. Or is he just trying to throw suspicion on her to cover up his own crime? Dir: Andrew L. Stone
Saturday, May 18, 2:45 PM
THE MANCHURIAN CANDIDATE (1963): In this late era noir, an ex-G.I. (Frank Sinatra) slowly begins to realize that he was brainwashed by the Koreans while he was a P.O.W. He soon suspects that his former comrade in arms (Laurence Harvey), who is also the step-son of a presidential candidate, is being manipulated by the Communists. Dir. John Frankenheimer
NOIR ALLEY
Saturday, May 18, 9:00 PM &
Sunday, May 19, 7:00 AM
FNF Prez Eddie Muller presents
KEY LARGO (1948): A returning veteran (Humphrey Bogart) tangles with a ruthless gangster (Edward G. Robinson) during a hurricane while falling for his dead war buddy's widow (Lauren Bacall). Claire Trevor steals the film with her Oscar winning performance as the gangster's alcoholic and emotionally abused girlfriend. Dir. John Huston
Saturday, May 18,11:00 PM
MARLOWE (1969): Raymond Chandler's detective and knight errant, Philip Marlowe (James Garner) probes the seedy underbelly of Los Angeles in search of a woman's missing sister. Screen legend Bruce Lee has a memorable cameo. Dir. Paul Bogart
Monday, May 20, 6:30 PM
JOURNEY INTO FEAR (1942): This playful film features Joseph Cotten, who adapted the novel for the screen, as a munitions expert who gets tangled up in an espionage plot in Turkey. Watch for Orson Welles as an amorous army officer. Karl Struss served as director of photography. Dir. Norman Foster & Orson Welles (uncred.)
Tuesday, May 21, 7:30 AM
THE MAN WHO CHEATED HIMSELF (1950): A veteran San Francisco homicide cop (Lee J. Cobb) spirals into a moral morass when his married socialite lover (Jane Wyatt, in a rare fatale role) "accidentally" bumps off her husband. Instead of playing it by the book (would that be noir?), he covers up the crime, only to have his younger brother (John Dall)—a rookie homicide dick—start putting together the pieces. This James M. Cain-style thriller gets maximum impact from its San Francisco locations, including a memorable climax at Fort Point.35mm restoration funded by the Film Noir Foundation and performed by the UCLA Film & Television. Archive. You can order your own DVD/Blu-ray combo from Flicker Alley. Dir. Felix Feist
Tuesday, May 21, 12:00 PM – 5:00 PM
Film Noir Triple Feature
12:00 PM
SCARLET STREET (1945): A henpecked cashier and weekend painter, Christopher Cross (Edward G. Robinson), falls for heartless tramp Kitty (Joan Bennett) whom he meets by chance. She and her pimp/boyfriend Johnny (Dan Duryea) play the sucker for everything he has. Then Chris starts to embezzle to keep his lady love happy and things go from bad to worse. Dir. Fritz Lang
1:45 PM
THE PROWLER (1951): The lonely wife (Evelyn Keyes) of a nighttime DJ falls for the beat cop (Van Heflin) who responds to her report of a prowler. Unknown to her, he finds a murderous way to get rid of the husband. Dir. Joseph Losey
3:30 PM
PITFALL (1948): This independently produced gem is one of the most realistic explorations of adultery produced in 1940s. Bored suburbanite insurance salesman (Dick Powell) drifts into a dalliance with an anti-femme fatale, hard-luck model Mona (Lizabeth Scott), only to find his life and family threatened by an obsessive private eye (Raymond Burr) and a jealous ex-con. Director de Toth had the gifted Bill Bowers rewrite the script. The result is truly believable noir—a wrenching tale of repressed lust and suburban ennui. Dir Andre de Toth
Wednesday, May 22, 7:15 PM
HARPER (1966): In this neo-noir, soon to be divorced private eye (Paul Newman) sets out to find the missing millionaire husband for his crippled wife (Lauren Bacall). The trail leads to a religious cult and a kidnapping plot. His investigation also leads him to Shelley Winters as a faded starlet. Janet Leigh plays his estranged wife whom Harper still loves. Dir. Jack Smight
Thursday, May 23, 5:30 AM – 5:00 PM
TCM Salutes Robert Ryan
Turn off the phone, I assume that you have been fired at this point, Here are the noirs...
5:30 AM
BERLIN EXPRESS (1948): A multinational group of travelers find themselves thrown together to thwart the assassination of a prominent pacifist scientist by defiant Nazis bent on destabilizing post-war Germany. This improbable but intelligent thriller is a true rarity: a shot-on-location look at the resistance Allied powers faced reorganizing the vanquished German citizenry in the aftermath of WWII. Robert Ryan (the laconic American) and Merle Oberon (trying a sketchy French accent) head a cast comprising representatives of each Allied Zone: Britain, France, the Soviet Union and the United States. Although spiced with shadowy noir dramatics (lensed by Oberon's husband, Lucien Ballard), the film's most fascinating aspect is its time capsule view of global geopolitics in the rapidly closing window between the Marshall Plan and the building of the Berlin Wall. Dir. Jacques Tourneur
9:00 AM
BORN TO BE BAD (1950): An ambitious girl (Joan Fontaine) steals her cousin's (Joan Leslie) husband (Zachary Scott), but keeps her lover (Robert Ryan) on the side. No need to tell you that this won't end nicely. Dir. Nicholas Ray
12:30 PM
BAD DAY AT BLACK ROCK (1955): A one-armed veteran (Spencer Tracy) uncovers small-town secrets when he tries to visit an Asian-American war hero's family. Noir icon Robert Ryan shines as the bigoted boss of the town. This film earned 3 Oscar nominations: Spencer Tracy for Best Actor in a Leading Role; John Sturges for Best Director; and Best Writing, Screenplay for Millard Kaufman. Dir. John Sturges
2:00 PM
GOD'S LITTLE ACRE (1958): A dirt-farmer, Robert Ryan, lets his family fall apart while he hunts for his grandfather's buried gold. Dir. Anthony Mann
Friday, May 24, 3:00 AM – 5:00 PM
Children in Peril Marathon
Don't forget to file for unemployment. Here are the noirs...
7:30 AM
A CRY IN THE NIGHT (1956): A police captain's (Edmond O'Brien) emotions get in the way when his daughter (Natalie Wood) is kidnapped by a madman (Raymond Burr who else?). Brain Donlevy co-stars as the night shift Captain who tries to find her. Dir. Frank Tuttle
9:00 AM
RANSOM! (1956): The father of a kidnapped boy (Glenn Ford) contends with the police, the press and his family as he struggles to find the best strategy to recover his son safely which may or may not include paying the ransom. Remade in 1996 with Mel Gibson in the lead. Dir. Alex Segal
12:00 PM
SHADOW ON THE WALL (1950): Six year old Susan is left mute by the sight of her stepmother Celia's murder. The police arrest her father (Zachary Scott) who can't remember what happened on the fateful night. His sister-in-law Dell (Ann Sothern) knows the truth and although tormented by guilt, will not speak out. A kindly psychiatrist (Nancy Davis) may be able to both bring back Susan's voice and discover what really happened to Celia. Dir. Patrick Jackson
1:30 PM
THE NIGHT OF THE HUNTER (1955): Bogus preacher Harry Powell (Robert Mitchum) marries an outlaw's widow (Shelly Winters in a stunning performance) in search of the dead man's hidden loot. The widow's son (Billy Chapin) sees through him, and tries to keep the secret of the treasure location and protect his mother, sister and himself from Powell. Lillian Gish plays the force of good in opposition to Mitchum's evil. Dir. Charles Laughton
3:15 PM
THE NANNY (1965): Before the studio exploded on the world cinematic stage with its legendary cycle of horror films mostly starring Peter Cushing and Christopher Lee, Hammer Studios produced a series of excellent, low budget thrillers, often featuring American stars on the wane. This is one of the best. Bette Davis plays the title character, an aging nanny now taking care of the children of her old charge. To be more accurate, looking after the one remaining child, Bobby, recently released from a home for disturbed children, who claims Nanny was responsible for his sister's drowning two years ago. Too bad no one believes him. Dir. Seth Holt
NOIR ALLEY
Saturday, May 25, 9:00 PM &
Sunday, May 26, 7:00 AM
FNF Prez Eddie Muller presents
DEAD RECKONING (1947): A tough veteran (Humphrey Bogart) sets out to solve his war buddy's murder. During his investigation he encounters his friend's best girl, Lizabeth Scott in easily the best performance of her career. Dir. John Cromwell
Wednesday, May 29, 11:15 PM
THE DROWNING POOL (1975): In this neo-noir, private dick Lew Harper (Paul Newman) is in the Louisiana bayou working on a blackmail case involving the daughter (Melanie Griffith) of his old flame, Iris Devereau (Joanne Woodward). As he tries to solve the case, he becomes entangle in a power struggle between Iris and a local oil tycoon. Dir. Stuart Rosenberg
Thursday, May 30, 4:00 AM
THE BIG SLEEP (1946): In Howard Hawks' clever and sophisticated adaptation of Raymond Chandler's novel, private eye Philip Marlowe's (Humphrey Bogart) investigates the involvement of an opium addled (and nymphomaniacal) society girl (Martha Vickers) in the murder of a pornographer. He also must determine if her sister (Lauren Bacall) is helping or hindering him. Dir. Howard Hawks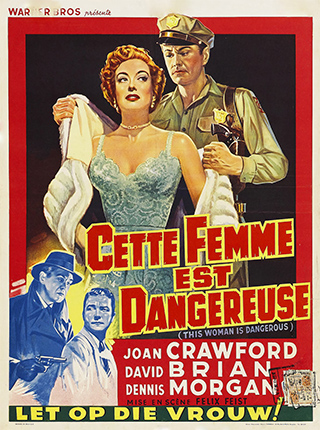 This Woman Is Dangerous starring Joan Crawford on May 1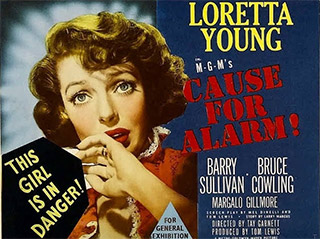 Loretta Young stars in Cause for Alarm! on May 2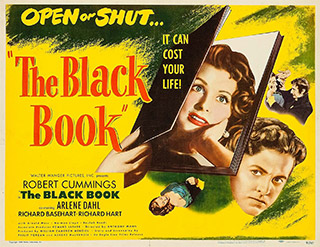 The Black Book screens May 3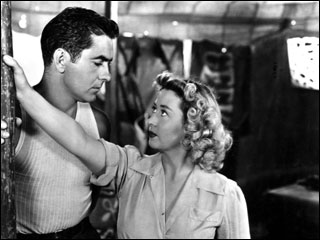 Eddie Muller presents Nightmare Alley on NOIR ALEY May 4 and 5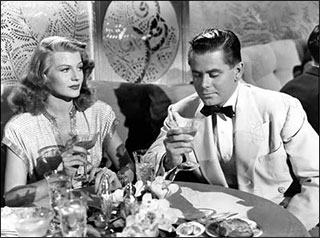 Rita Hayworth and Glenn Ford in Gilda on May 5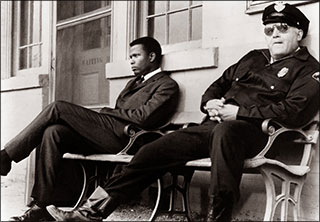 Oscar-winning In the Heat of the Night on May 5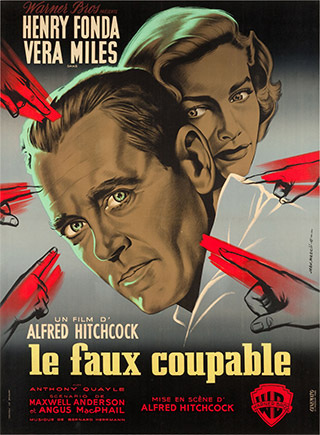 Hitchcock's The Wrong Man on May 6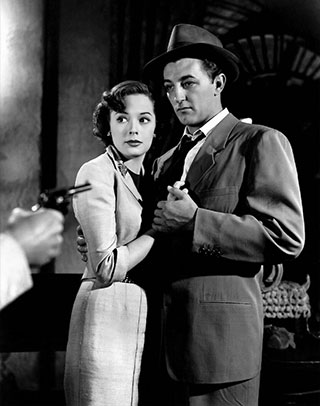 Jane Greer and Robert Mitchum in The Big Steal on May 8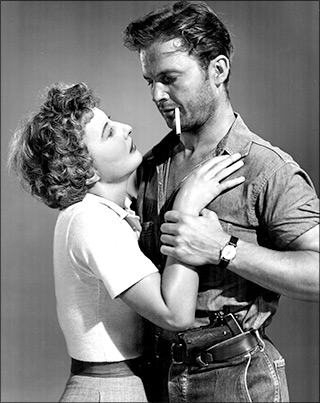 Barbara Stanwyck and Ralph Meeker in Jeopardy on May 8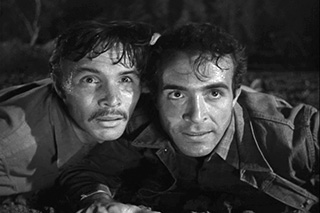 James Mitchell and Ricardo Montalban in Border Incident on May 8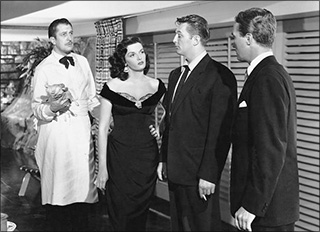 Jane Russel and Robert Mitchum in His Kind of Woman on May 8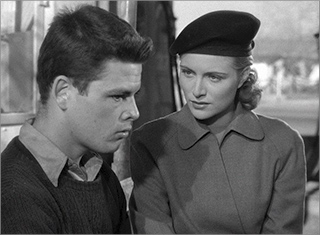 Dickie Moore and Virginia Huston in Out of the Past on May 6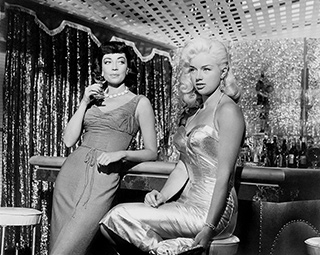 Marie Windsor and Diana Dors in The Unholy Wife on May 10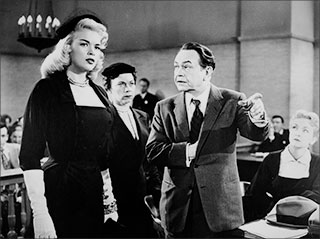 Jayne Mansfield and Edward G. Robinson in Illegal on May 10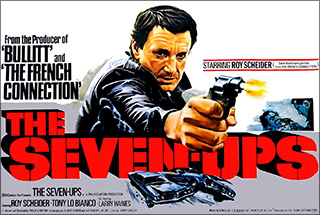 The Seven-Ups starring Roy Scheider and Tony Lo Bianco on May 10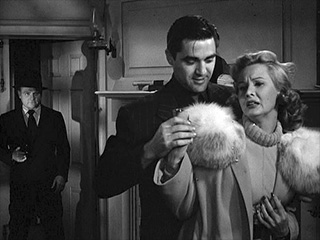 James Cagney, Steve Cochran and Virginia Mayo in White Heat on Eddie Muller's NOIR ALLEY on May 11 and 12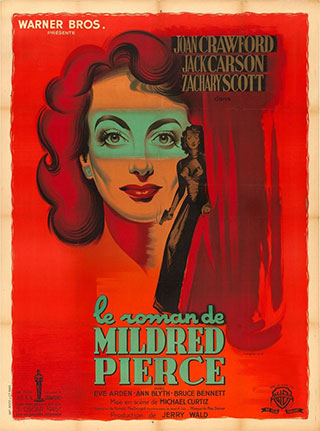 Joan Crawford stars in Mildred Pierce on May 12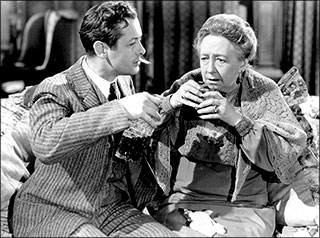 Robert Montgomery and Dame May Whitty in Night Must Fall on May 13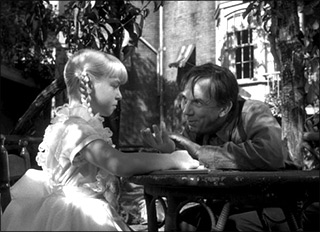 Temper, temper! —Patty McCormack in The Bad Seed on May 13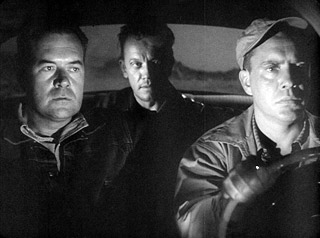 Ida Lupino-directed, The Hitch-Hiker, screens May 13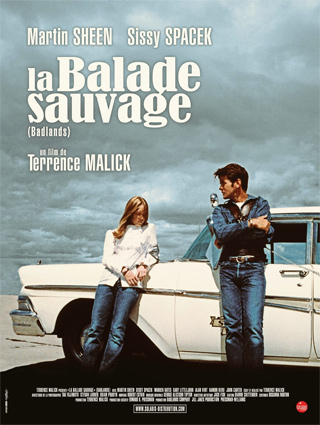 Terrence Malick's Badlands on May 13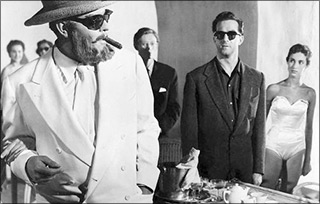 Orson Welles stars in Confidential Report on May 13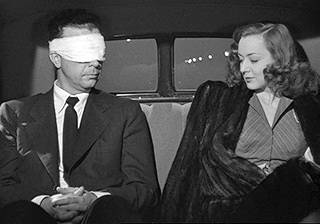 Blindfolded Dick Powell and Anne Shirley in Murder, My Sweet on May 14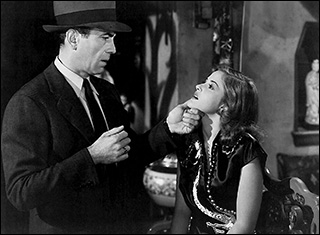 Martha Vickers fails Bogie's drug-test in The Big Sleep on May 14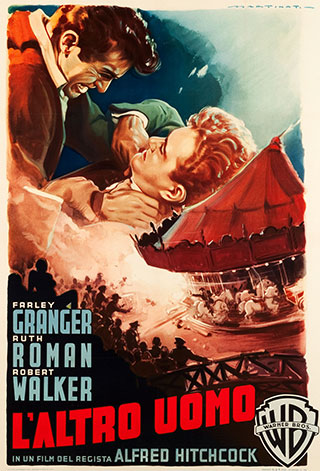 Hitchcock's Strangers on a Train on May 14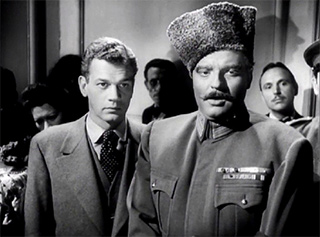 Joseph Cotten and Orson Welles in Journey into Fear on May 15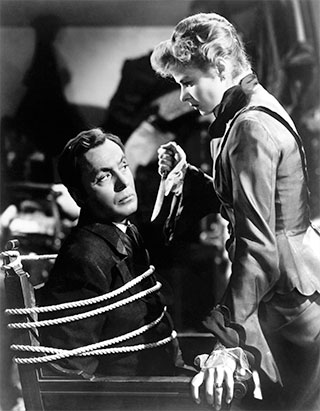 Charles Boyer and Ingrid Bergman in Gaslight on May 15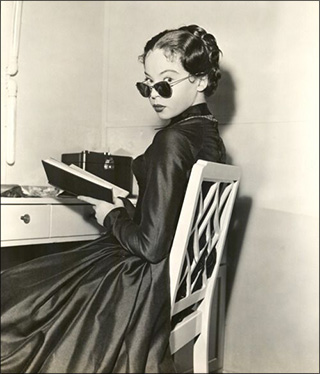 Leslie Caron in The Man with a Cloak on May 15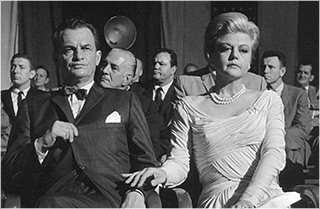 Angela Lansbury in The Manchurian Candidate on May 18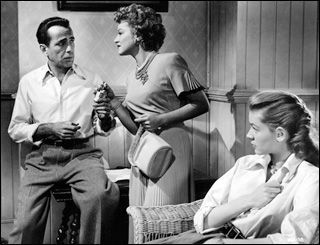 Eddie Muller presents Key Largo on NOIR ALLEY May 18 and 19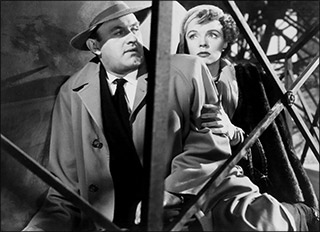 FNF-restored The Man Who Cheated Himself on May 21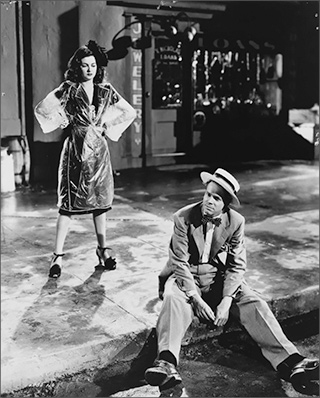 Joan Bennett and Dan Duryea in Scarlet Street on May 21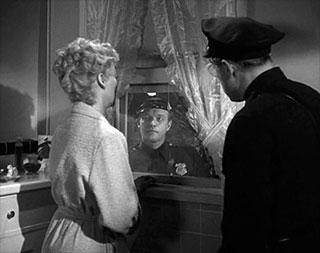 Joseph Losey's The Prowler on May 21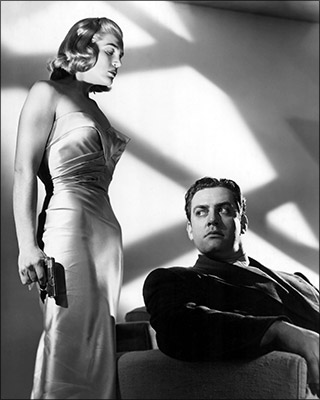 Lizabeth Scott and Raymond Burr in Pitfall on May 21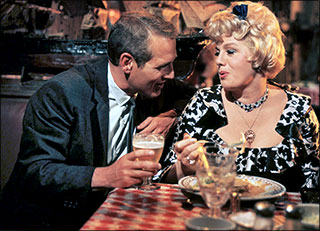 Paul Newman with Shelley Winters in Harper on May 22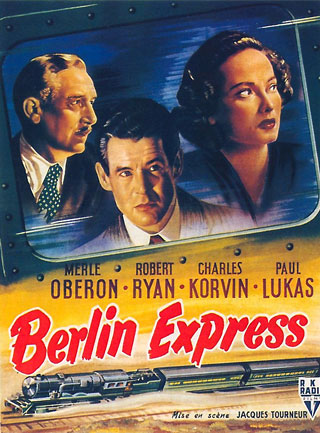 Robert Ryan stars in Berlin Express on May 23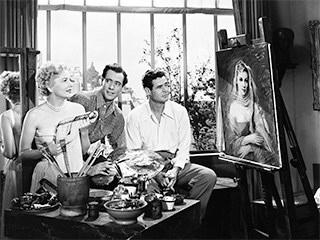 Joan Fontaine stars in Born To Be Bad on May 23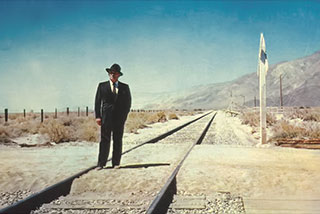 Spencer Tracy in Bad Day at Black Rock on May 24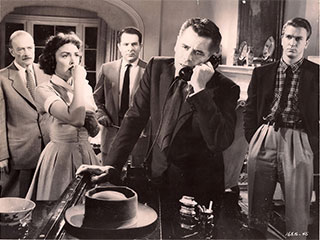 Donna Reed and Glenn Ford in Ransom on May 24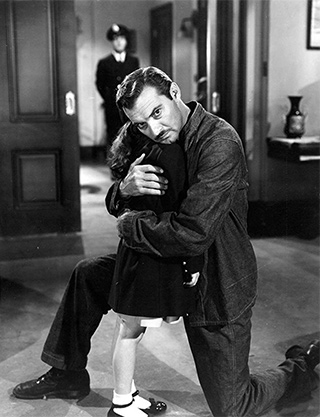 Zachary Scott in Shadow on the Wall on May 24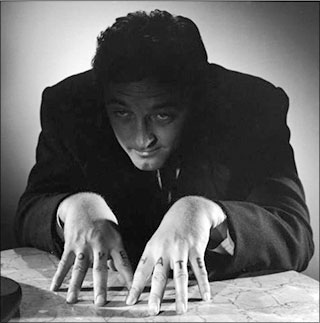 Robert Mitchum in The Night of the Hunter on May 24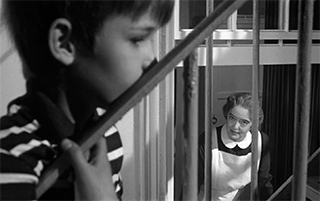 William Dix and Bette Davis in The Nanny on May 24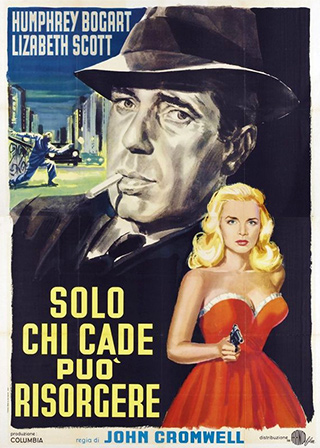 Eddie Muller presents Dead Reckoning on NOIR ALLEY May 25 and 26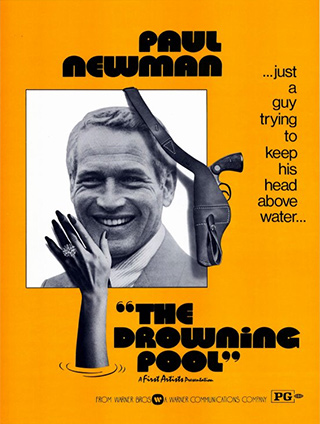 Paul Newman stars in The Drowning Pool on May 30