Snuggled with favorite film oldies— Wiley Hilburn Jr.
In the 1940s and 1950s, Ruston's Dixie and Tech Theaters illuminated all my childish dreams with movies that were like cool, dark caves in the long, hot summers of a young life. It was an innocent era, the '40s and '50s, and I come blinking out of whatever movie of that time into the Lincoln Parish sunshine, able to walk unaccompanied eight blocks to my grandparents' house on Alabama Street, as safe as when I was in the embrace of the theaters themselves. I have, decades later, rediscovered this movie paradise in the comfortably cool, dark living room of my house in Choudrant where I lock the TV dial on Turner Classic Movies.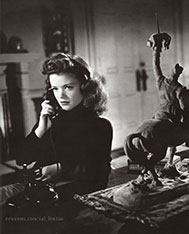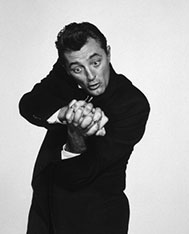 TCM, founded in 1994 by media mogul Ted Turner, dips into an almost bottomless pool of mostly 1930s, 1940s and 1950s movies obtained mainly from MGM and United Artists.
The best part of TCM is that its movies are presented commercial free in their uncut original versions, just as we saw them when we were 10 years old in our hometown cinemas.
My favorite thing on TCM is when urbane host Robert Osborne lets a celebrity or film fan pick out their favorite movies for screening. Osborne has not yet asked for my favorite top 10 movies of all time from this venue but - in case he calls - here is my list:
1. A FACE IN THE CROWD (1957). Andy Griffith (in a role starkly different from his Andy Taylor character in Mayberry) plays a corrupt politician who reminds me of a combination of Louisiana governors Earl Long and Jimmie Davis.
2. RED RIVER (1948). My dad took me to this movie at the old Tech Theater in Ruston, which was decorated in river greenery for the occasion. I lived in fear throughout the movie that Thomas Dunson (John Wayne) would kill his adopted adult son, played by Montgomery Cliff. Wayne reminded me of my dad and I was acting out Cliff's role.
3. TARZAN (1932). I read Edgar Rice Burroughs' Tarzan of the Apes books as a child but did not see "Tarzan" movies until the 1960s when I was at LSU and the graduate school gave a "Tarzan" marathon. I loved Olympic swimmer Johnny Weissmuller in the title role and the scantily clad Jane was played to perfection by Maureen O'Sullivan.
4. THE CAINE MUTINY (1951). The Caine Mutiny was the first novel I read. In the screen version, the incomparable Humphrey Bogart played the paranoid Captain Queeg to perfection. I've watched it a dozen times.
5. FRANKENSTEIN (1931). Boris Karloff as "The Monster," or "The Creature" headed my unholy trinity as a child, with Bela Lugosi as Dracula and Lon Chaney as Wolfman in secondary roles.
6. NIGHT OF THE HUNTER (1955). Robert Mitcham as the creepy revival preacher chasing two children down the Ohio River scared me more than the monster. This was my first film noir, and I never forgot it.
7. DAYS OF WIND AND ROSES (1962). Jack Lemon as Joe Clay and Lee Remick as Kirsten Arnesen Clay are the stars of this grim and telling drama of how alcohol destroys a family. Charles Bickford is great as Kirsten's stern, long-suffering father. A prelude to my own alcoholism.
8. THE POSTMAN ALWAYS RINGS TWICE (1946). My dad adored this movie with its familiar Greek family ambiance. The astonishingly beautiful Cara (Lana Turner) lures Frank (John Garfield) to commit murder. Very intense film.
9. CAT PEOPLE (1942). A woman turns into a black panther and stalks men. A shadowy swimming pool scene is haunting in this low-budget (less than $140,000) but classic film thriller.
10. DOUBLE INDEMNITY (1944). I will watch any movie with the under-rated Fred MacMurray. This is another film noir, with those troubling, sharp shadows, also starring Barbara Stanwyck and Edward G. Robinson in meaty roles.
If I left out your favorite movie of this period, let me know. Meanwhile, see you at the movies - the TCM movies, that is.
DECEMBER 16, 2008. Wiley Hilburn, Jr. writes for the Monroe, LA News-Star.