HANGOVER SQUARE
(1945) Kino Lorber Blu-ray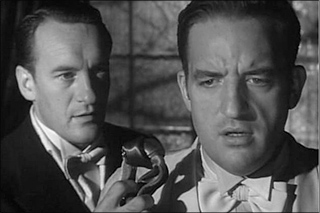 The sensitive, physically imposing actor Laird Cregar received his greatest showcase in 1945's Hangover Square, yet he never lived to see the film's release. Luckily for us, this archetypal gothic thriller survives, looking immaculate on Kino Lorber's Studio Classics Blu-ray. Cregar's mesmerizing presence dominates the film as George Bone, an early 20th-century London composer prone to mysterious blackouts. Lacking any awareness or memory of what happens during these spells, Bone starts to wonder if he may be the culprit behind the murder of a local antique dealer. Help and comfort from a doctor (George Sanders) and a young student (Faye Marlowe) do little to stem Bone's fear of another lethal blackout—and it intensifies when he crosses paths with a sultry, ambitious pub singer (Linda Darnell) who hopes that Bone's music will make her a star. Sure, it's over-the-top nonsense, yet Cregar's committed performance places it a notch above the rest, alongside some gorgeous cinematography by Joseph LaShelle (Laura) and an early, unusual-for-its-time score from the legendary Bernard Herrmann. Some of the genuinely eerie moments in this film include Cregar disposing of a corpse atop a bonfire set by revelers on Guy Fawkes Day, and the chilling climax with Cregar solving his problem the only way he knows how. Extras on this edition include two revealing audio commentaries, a vintage radio drama version (with Vincent Price taking over Cregar's role), and an absorbing short documentary on Cregar's career and untimely death.
TOO LATE FOR TEARS / WOMAN ON THE RUN
The Film Noir Foundation has partnered with Flicker Alley to bring two of its recent restorations to the home entertainment market. DVD/Blu-ray combo editions of Woman on the Run (1950) and Too Late for Tears (1949) will be released on May 10, complete with bonus extra s produced by the FNF. The release of more FNF titles will depend largely on the sales numbers of these first two discs. Repeat Performance (1947), High Tide (1947), and The Guilty (1947) are likely candidates for later releases, as are some of the Argentine noir films recently resurrected by the FNF.
TOO LATE FOR TEARS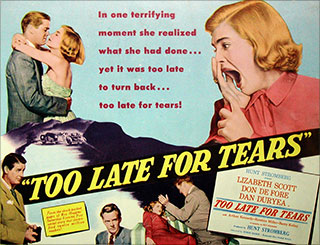 For many years, all 35mm prints of Byron Haskin's suspsenseful noir were believed lost, but through the determined efforts of the FNF, sufficient original material has been discovered to enable a restoration, performed under the auspices of the UCLA Film & Television Archive. Based on a novel by future television titan Roy Huggins, and featuring Huggins' own brilliant screenplay, the film is a neglected masterpiece of noir, awaiting rediscovery. A suburban housewife (Lizabeth Scott) decides to keep a satchel of money accidentally tossed into her convertible, against the wishes of her husband (Van Heflin). Dan Duryea plays the intended recipient of the cash and he's not into sharing. The result? Mayhem and murder.
BONUS MATERIALS: an audio commentary track by writer, historian, and film programmer Alan K. Rode; three featurettes, "Chance Of A Lifetime: The Making of Too Late For Tears", "Tiger Hunt: Restoring Too Late For Tears", "Noir City', and a 24-page souvenir booklet featuring rare photographs, poster art, original lobby cards, and an essay by writer and noir-expert Brian Light.
WOMAN ON THE RUN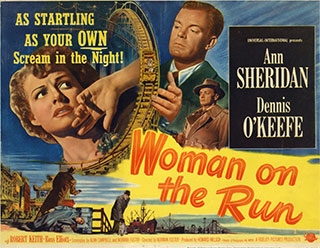 The FNF, with the help of a generous grant from the HFPA, funded the UCLA Film & Television Archive's restoration of this wittily sardonic noir after the only remaining 35mm print was destroyed during a fire at Universal Studios. Muller wrote an extensive piece on the restoration for NOIR CITY e-magazine. San Franciscan Frank Johnson (Ross Elliot) disappears after witnessing a gangland killing. Police think wife Eleanor (Ann Sheridan) will lead them to her husband, but she never wants to see him again. Enter newspaperman Danny Legget (Dennis O'Keefe), who charms Mrs. Johnson with stunning results. This shot-on-location thriller is perhaps the best cinematic depiction ever of mid-20th century San Francisco.
BONUS MATERIALS: an audio commentary track by author, historian, and FNF president Eddie Muller; three bonus featurettes, "Love is a Rollercoaster: Woman on the Run Revisited, "A Wild Ride: Restoring Woman on the Run", "Noir City"; and a 24-page souvenir booklet featuring rare photographs, poster art, original lobby cards, and an essay by Muller.
CRY DANGER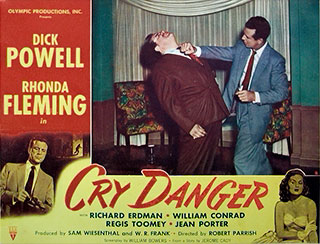 We're delighted that Olive Films has released the FNF funded restoration of Robert Parrish's Cry Danger (1951) on Blu-ray and DVD. In this unjustly little known noir, Rocky (Dick Powell), recently sprung from the big house, wants to find the rat who framed him for the robbery that landed him there. Priceless dialog and an outstanding supporting performance by Richard Erdman as Powell's alcoholic sidekick elevate this noir well above the ordinary. Sadly, no extras on either format.
KANSAS CITY CONFIDENTIAL
(1952) The Film Detective - Blu-ray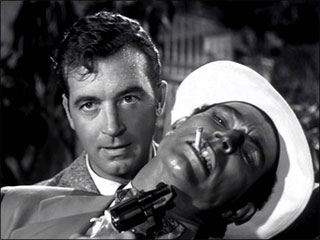 Filmmaker Phil Karlson was an optimist, through and through. Whether true stories (The Phenix City Story), frame jobs (99 River Street), high-stakes heists (5 Against the House) or treasure hunts (Hell's Island), his crime films always bore an upbeat resolution, often aided by the charm of onscreen muse (and silent co-producer) John Payne. That being said, these flicks—along with 1952 caper classic Kansas City Confidential—established a gritty world of repercussions and rotten luck as stark as anything offered in 1950s Hollywood. + READ MORE
THE RED HOUSE
(1952) The Film Detective - Blu-ray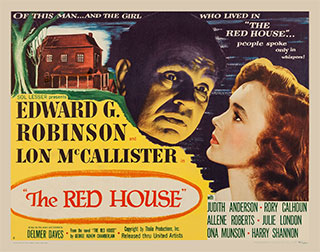 Devoid of urban architecture and with nary a fedora in sight, The Red House (1947) finds its danger and deceit in the cornfields of the Midwest. The kind of place where "boys graduate a little older than they do in the city," and "raising good apples" is the finest compliment anyone can give a guy. Fortunately, the introduction of Pete Morgan (Edward G. Robinson), hermit farmer extraordinaire, soon puts to rest any possibility of small-town serenity. + READ MORE
THE CAPTIVE CITY
(1952) Kino Lorber Blu-ray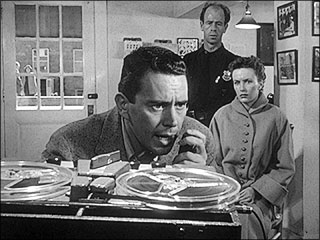 Based on a self-adapted story by reporter Alvin M. Josephy Jr., The Captive City (1952) follows editor Jim Austin (John Forsythe) as he attempts to break up a corrupt gambling network. All the while, the lives of those around him hang in the balance, subject to the long arm of the mob and the warm pistol that goes with it. Aided by Forsythe's stoic turn, the film explores how crime seeps into, and infects, an urban landscape where most people are simply minding their own business. Austin, his suffering spouse Marge (Joan Camden), and poor PI Clyde Nelson (Hal K. Dawson), who suffers the film's most chilling moment, pay a heavy price for daring to campaign for the truth. Josephy's script is a sly indictment of a system that would gladly let a few citizens fall on their swords to maintain the status quo. Despite the palpable paranoia that was at the time buzzing around the Kefauver Committee's investigation of organized crime (and Sen. Kefauver himself gets screen time here), The Captive City sidesteps the pedantic moralizing so often associated with documentary-style noir, as director Robert Wise deftly slips poignancy into the brew of grandstanding propaganda. "This isn't a pretty story, or even a new one," says Austin, as he recedes into the raucous D.C. crowd with his wife. Given the political mistrust that remains to this day, The Captive City still feels surprisingly fresh and significant.
Originally published in the Spring 2016 edition of NOIR CITY E-magazine
DARK CRIMES - FILM NOIR THRILLERS: VOL 2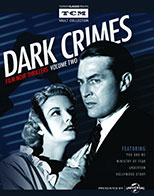 The classic film packagers over at TCM have once again found an interesting hook to organize their new DVD release TCM Vault Collection: Dark Crimes: Volume 2. Their first Dark Crimes set from 2012 combined three top-flight noir attractions, The Glass Key, Phantom Lady and The Blue Dahlia. The creative mix of this new sophomore outing offers two films each from directors Fritz Lang and William Castle. The amazingly talented Fritz Lang earned no popularity prizes in Hollywood but made consistently brilliant pictures. Sampled here is a slick wartime thriller written by Grahame Green, and a rare, strange genre hybrid. It may have been Lang's attempt to create a new kind of stylized musical-melodrama crime thriller. Castle is of course the brain behind everyone's favorite horror matinee gimmicks. A hotshot who made his mark emulating Alfred Hitchcock and consorting with Orson Welles on Mexican locations for The Lady from Shanghai, Castle worked hard at Columbia and Universal trying to distinguish himself as a director.
TCM's new "Noir Czar" Eddie Muller is a known and respected figure in disc extras. He provides introductions for all four films, going strong on human interest and relevant history plus a little academic nugget or two on the side. Each disc also carries the TCM Vault Collection's expected battery of stills and ad artwork galleries, plus a text essay overview of the collection's aims.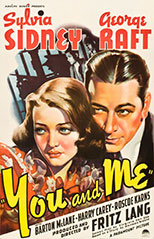 You and Me (1938). This Paramount release surely confused audiences. After his two successful social outrage films (Fury and You Only Live Once), this tale is not a life and death struggle with fate. Sylvia Sidney and George Raft play employees at the department store of Jerome Morris (Harry Carey), a do-gooder who hires ex-cons to give them a chance at going straight. Raft's former jailbird friends get itchy ideas about committing more crimes, but he vetoes their plans, as he's secretly engaged to Sidney, who encourages him to stay on the straight and narrow. Raft's morale sinks when he discovers that Sidney is also an ex-thief, and that she wants to keep their marriage a secret because it violates her parole. Raft gets the gang together to knock off the very store where they work. + READ MORE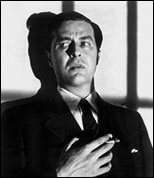 Ministry of Fear (1944). This was released just last year in a pricey Criterion special edition. TCM hasn't the depth of extras to offer but the movie itself is just as satisfying. We're told that Lang was enthusiastic to adapt Graham Greene's bizarre tale of espionage and guilt, about a convicted mercy-killer that must take on an enemy conspiracy. Only after Lang signed did he find out that the contract didn't allow him to change the script. He instead embellished every scene with his personal viewpoint. As the farfetched story involves crucial secrets hidden in a cake, a séance and a master spy killer whose day job is tailoring men's suits. + READ MORE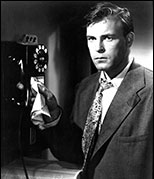 Undertow (1949). This is the one title in this collection without a special gimmick. It's an inexpensive picture for Universal despite the use of considerable location filming in Chicago. The non-star cast features the likeable Scott Brady as the leading man, and Castle or his producer augment the two leading ladies with several walk-on lookers that definitely turn heads. Add to that, the story and its unfolding are reasonably intelligent for this level of genre fare. Undertow generates its share of excitement and has nothing to be ashamed of. + READ MORE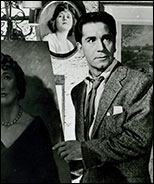 Hollywood Story (1951). Castle's intense interest in Tinseltown history is evident in this murder mystery, which references the murder (not by name) of director William Desmond Taylor in the early 1920s. The historical crime took place in a bungalow apartment on Alvarado Street and involved booze, drugs, compromised starlets and an outrageous studio/LAPD cover-up. The fallout from the ensuing scandal contributed to the storm of outrage that brought the censors down hard on the licentious excesses of the new "company town." + READ MORE
HOLLOW TRIUMPH
(1948) Film Detective - DVD and Blu-ray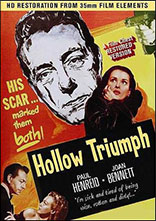 From the opening scene, it's clear that John Muller (Paul Henreid) is unredeemable. After getting released from prison and given the chance to do honest work, he instead opts to go straight back to a life of crime, leading a group of thieves into a casino robbery. But when his plan goes wrong and he gets on the wrong side of a rival mobster, he's forced to relocate to a new city. Once there, he accidentally discovers his doppelganger, Dr. Bartok (also Henreid), and decides to murder him and assume his identity—including his distinctive facial scar.
Like Beat the Devil, The Film Detective's Blu-ray release of Hollow Triumph brings another public domain noir into the high definition era with decidedly strong results. Unlike last year's DVD release of the film, this edition is completely free from any digital noise reduction, leaving the grain structure intact and highlighting the legendary John Alton's beautiful cinematography. The print used is also in better shape than Beat the Devil, with far fewer instances of print damage marring the image. The lossless audio comes through clearly, and this release also includes English SDH subtitles.
Working from a smart script by frequent noir contributor Daniel Fuchs, actor-producer Henreid pours everything into his dual roles, and his efforts resulted in a truly chilling, top-tier noir. The Film Detective has done fine work with this release, and fans should not hesitate to pick it up, especially at its affordable price point.
Originally published in the Winter 2016 edition of NOIR CITY E-magazine
THE BIGAMIST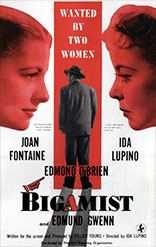 The Bigamist (1954) In many films such as the recently released Caught, the breadwinning but emotionally distant husband drives the affection-starved wife into the arms of another man. But director Ida Lupino reverses these gender roles in The Bigamist. The film opens with Harry (Edmond O'Brien) and Eve (Joan Fontaine) Graham's interview with Mr. Jordan (Edmund Glenn), an adoption agency agent. Harry and Eve want a child, but first, Mr. Jordan must determine their fitness as parents. It doesn't take long for him to discover that Harry is also Harrison, a man with a second wife and child in another city. + READ MORE
RIDE THE PINK HORSE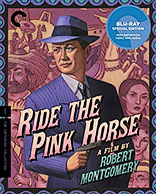 Ride the Pink Horse (1947). On the surface, the plot seems like nothing more than typical noir. A hardened WWII vet named Gagin (Robert Montgomery) blackmails criminal Frank Hugo (Fred Clark) with evidence that Hugo murdered Gagin's friend. Once Hugo's unhappy girl Marjorie (Andrea King) gets wind of Gagin's plan, she tries to team up with Gagin to take him down. But Montgomery's directorial follow-up to the experimental Lady in the Lake (1947) is much more layered and complex than its setup implies, due in no small part to Montgomery's deliberately paced direction, with its long tracking shots and prioritization of character development over action. + READ MORE
THE BIG SLEEP
(1946) Warner Archive - Blu-ray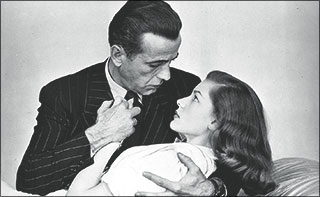 It's no exaggeration to state that Raymond Chandler's 1939 debut novel has had, outside of Dashiell Hammett's The Maltese Falcon, the most lasting and significant impact on American detective fiction. The novel's popularity all but guaranteed a film adaptation, which began production in 1945. Fresh off their work on To Have and Have Not (1944), director Howard Hawks reteamed newlyweds Humphrey Bogart and Lauren Bacall in an adaptation written by—among others—William Faulkner (genre novelist Leigh Brackett—whom Hawks didn't know was a woman when he hired her—did most of the work, abetted by Hawks mainstay Jules Furthman). + READ MORE
THE BIG HEAT
(1953) Twilight Time - Blu-ray
Currently available.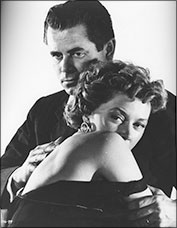 "On the surface, Officer Dave Bannion (Glenn Ford) seems the typical son-of-a-gun good guy, a lawman of unwavering integrity, using his badge to battle injustice. But director Fritz Lang was never one to follow film conventions, and The Big Heat takes this clichéd character into the shadows where something far more sinister is lurking. Bannion trudges relentlessly after his quarry, even when domestic tragedy and murdered informants litter his righteous path. Screenwriter Sydney Boehm deepens the character study by questioning the cost of such an ethical stand; especially after gangster's moll Debby Marsh (Gloria Grahame) takes a pot of scalding coffee to the face for her cooperation with Bannion. The scarred dove has to fly with broken wings, and Grahame's heartbreaking performance provides Heat with an emotional core—and the audience gets to savor her bittersweet revenge in the final act. While brilliant in his burning rage, Ford barely registers regret, leaving Lang to express the film's bitterness through film noir nuance.
The German auteur cooks up a stunning fusion of crime and western mythos. Long gone are the European flavors of Scarlet Street (1945), replaced by a ferocious style that discovers despair in the safest of American archetypes: the lawman. Fortunately, Twilight Time's new release enhances the film's density, as it's replete with commentaries, trailers, and interviews on the picture's looming influence. A quintessential addition to any film noir collection, this gorgeous reissue proves more arresting than a pair of police handcuffs.
Originally published in the Spring 2016 edition of NOIR CITY E-magazine
KEY LARGO
(1948) Warner Archive - Blu-ray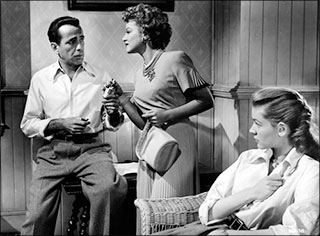 "After three successful onscreen pairings, Humphrey Bogart and Lauren Bacall teamed up for the fourth and final time in director John Huston's Key Largo, a film that mixes elements of film noir, gangster movies, postwar drama, and the ever-shifting relationship between "mainstream" America, indigenous peoples, and immigrants. The story follows Frank McCloud (Bogart) over the course of a single day and night as he visits a deceased war buddy's widow (Bacall) and father at their hotel in Key Largo and ends up tangling with Johnny Rocco (Edward G. Robinson), a formerly powerful immigrant mob boss secretly returning from a government-mandated exile. + READ MORE
GILDA
(1946) Criterion Collection - Blu-ray, DVD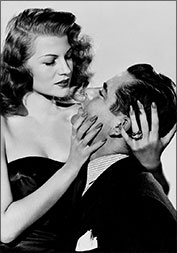 "Let's hate her," Gilda says, toasting the "mystery woman" who ruined Johnny Farrell, her rich new husband's right-hand-man. "Her" could be any woman, of course, or all women. They have little place in Johnny's world, or that of Ballin Mundson, Gilda's casino owner husband, an icy, menacing man. Of course, the locus of that hatred is sitting right there, embracing her combustibility in an act both honest and defiant. Hate me, love me, hurt me, she seems to be saying, with an additional fuck-you thrown in because the "Her" is Gilda herself, and (as it's pointed out twice in the movie) "hate can be a very exciting emotion."
It can also be kinky, and within the world of director Charles Vidor's Gilda that thin line between love and hate provides such ample kink the plot details often feel dressed up for a fetish ball: stiletto switchblade canes, whips, masks, and troublesome zippers. Are these props intended to be so blatantly sadomasochistic? It seems so. As the movie's costume designer, Jean Louis, said of Gilda's iconic strapless black satin gown: "Extreme sexuality in women, hot or cold, is a recipe for catastrophe." READ MORE
MURDER, MY SWEET
(1944) Warner Archive, Blu-ray, DVD and Digital

Well documented as the seminal year in film noir history, 1944's releases also included Phantom Lady, Double Indemnity, and Laura. But despite this staggering roll call, the year's most influential film was the work of Canadian director Edward Dmytryk, who brought Raymond Chandler's iconic private eye to the screen for the very first time. Though it'd be far from the last, this legendary adaptation remains the definitive Philip Marlowe film.
Murder, My Sweet, adapted from the author's 1940 novel Farewell, My Lovely, finds Marlowe (Dick Powell) juggling the case of hulking thug Moose Malloy (Mike Mazurki) with a high profile theft of jewels that belonged to beguiling gold digger Helen Grayle (Claire Trevor). In the process, Dmytryk and writer John Paxton slum through a Los Angeles underworld of flamboyant blackmailers, persistent cops, and earnest good girls. As for Marlowe, well, not even he's sure who's playing today.
In terms of style, Murder is one of a select few that define the film noir template. Odd camera angles, lacerating voiceover from ex-crooner Dick Powell, and a world up to its earlobes in rich shadows make for an atmosphere unrivaled by many of its genre peers. Warner Archive's Blu-ray release brings this visually rich masterpiece to viewers like never before, paired with a terrific commentary courtesy of noir specialist Alain Silver. It's the kind of remastered print worth shelling out for. Unless, of course, your bank account tries to crawl under a duck.
Originally published in the Winter 2016 edition of NOIR CITY E-magazine
CRY OF THE HUNTED
(1953) Warner Archive - DVD-R MOD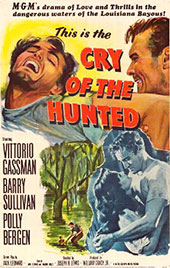 Back alley bayous and quicksand-seeped quarrels aren't the typical fodder for classical film noir, but renowned B-director Joseph H. Lewis thoroughly exploits this bizarre setting in Cry of the Hunted. A routine transfer for creole convict Jory (Vittorio Gassman) quickly spirals into a cross-country manhunt that leads Lieutenant Tunner (Barry Sullivan) and deputy Goodwin (William Conrad) deep into the unchartered Louisiana swamps.
Sandwiched between Lewis' other noir classics Gun Crazy (1950) and The Big Combo (1955), Hunted is an exercise in the outer limits of the film noir aesthetic. With the exception of the opener (which racks up bonus points for showing off Los Angeles' Bunker Hill), the picture bypasses the asphalt jungle in favor of a real one, going as far as to shoot much of the second act on Lousiana locations. The relationship between Jory and Tunner is another distinguishing trait, building up a mutual respect that effortlessly escapes most cop/con dichotomies. Gassman and Sullivan are surprisingly upright in their respective archetypes, as is a doting Polly Bergen as Tunner's lunch happy spouse.
But while these flavors stray from the typical NOIR CITY palate, Lewis and screenwriter Jack Leonard supply a feast of underlying homosexual subtext, punctuated by Tunner's swamp water dream and Jory's patriarchal uncertainty. It loses steam in the final act, yet even as a minor addition to the list of idiosyncratic noir, it deserves a revisit. Especially with a crisp DVD remaster and a top notch William Conrad spewing ambivalent threats.
Originally published in the Winter 2016 edition of NOIR CITY E-magazine
SHADOW ON THE WALL
(1950) Warner Archive - DVD-R MOD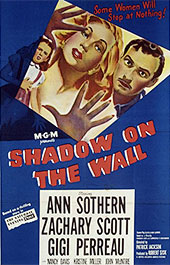 Observing a murder can be quite the shock, especially when the witness in question is eight-year-old Susan (Gigi Perreau), and the victim is her adulterous stepmother Celia Starrling (Kristine Miller). All evidence points to Susan's father David (Zachary Scott), but dedicated psychologist Caroline (Nancy Davis) suspects foul play when a traumatized Susan begins piecing her memory back together.
Shadow on the Wall bears all the hallmarks of an MGM mystery: glamour, refined cinematography (courtesy of studio staple Ray June), and a topical spin that puts murder in the highbrow column. In this particular case, the topic is child psychology, and the praise heaped on Caroline and her staff is not uncharacteristic of an era that cranked out brain bending noir like The Woman on the Beach (1947) and Whirlpool (1949). Freudianism and film noir always made for cozy bedfellows, and the Native American doll motif is chalk full of underlying symbolism and hifalutin theorizing.
Though Shadow frequently slips into silly melodrama, the film's saving grace is its rich cast. Miller and Davis (the future Mrs. Ronald Reagan) are rock solid in supporting roles, while Ann Sothern convincingly turns sympathy into sinister intent as the murderess Dell Faring. Fortunately, the strongest turns come from Perreau's adorable repressive and Scott's uncharacteristically sincere father, tapping into a chemistry that grounds an otherwise outlandish premise. Arriving on DVD courtesy of Warner Archive, this lightweight thriller is an enjoyable dosage of psychological noir. No prescription needed.
Originally published in the Winter 2016 edition of NOIR CITY E-magazine
NO MAN'S WOMAN (1955)
(1955) Olive Films - Blu-Ray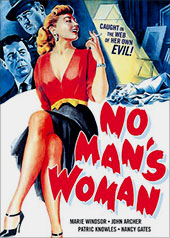 Few actresses had as much fun playing bad women as Marie Windsor. Whether icing it up in The City That Never Sleeps (1953) or foiling a heist in The Killing (1956), the former Miss Utah indulged in activity that typically left her six feet underground. Carolyn Ellenson Grant, the antagonist and titular character of No Man's Woman, is one such fatale. Keeping in line with the actresses' other iconic roles, Windsor's portrayal is one of vicious delight.
Carolyn is the spoiled wife of Harlow Grant (John Archer), a wealthy sap who foolishly fell into her money hungry mittens. He wants a divorce, she wants his bank account. She also finds time to manipulate British hubby Wayne Vincent (Patrick Knowles), roommate Betty Allen (Jil Jarmyn) and Betty's fiancé Dick Sawyer (Richard Crane) into hating her well-manicured guts. But when the unpopular hussy winds up dead, it's anyone's guess as to who had the pleasure.
Woman is a dynamite slice of Poverty Row noir; functioning best when weaving strands of suspicion for everyone involved. Director Franklin Adreon, veteran of a dozen forgotten genre flicks, excels at slathering noir over what's essentially an Agatha Christie script with American grittiness hammered in. The supporting cast is adequate, but carrying it all is Windsor, the velvet voiced she-demon whose performance alone warrants a mandatory viewing. And thanks to a beautiful Blu-ray release from Olive Films, its viewing just became more vivid than ever.
Originally published in the Winter 2016 edition of NOIR CITY E-magazine
BEAT THE DEVIL
Film Detective - DVD and Blu-ray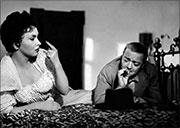 John Huston and Humphrey Bogart's sixth and final collaboration doesn't waste any time throwing the viewer headlong into its comedic send-up of noir tropes as it follows the exploits of Billy Dannreuther (Bogart) and his band of ruffians as they try to outrace the competition to purchase mineral-rich land in Africa. Shot almost entirely in Italy (with some interiors filmed in London), and featuring a mostly international cast (including Peter Lorre), the film is a scattershot effort, with jokes that miss as often as they land. The visibly aging Bogie and Lorre still have their charms which help to carry the proceedings through to their suitably absurd conclusion.
Like Hollow Triumph and Pitfall, Beat the Devil entered the public domain years ago, which resulted in the inevitable glut of subpar DVD releases. The Film Detective, a new company that specializes in remastering public domain films for blu-ray release, chose this film as one of its first titles, leaving many fans wondering if this would finally be a release worth owning. Fortunately, there is more good news than bad to report. This Blu-ray definitely sits head and shoulders above all previous releases, with satisfyingly consistent contrast and grain levels. The source print contains some significant damage in spots, but it's never a major distraction. The lossless soundtrack also comes through clearly, with only minimum hiss. English SDH subtitles are included. It's not a top-level transfer, but it's perfectly serviceable. For the entry-level price, it's definitely the best avialable option.
Originally published in the Winter 2016 edition of NOIR CITY E-magazine
THE WEAPON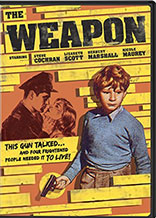 The Weapon (1956). It's rare for a noir to prominently feature a child. Even more rare: a child-centric noir that opens with a boy plugging another kid with a bullet. But this surprising inciting incident is how The Weapon puts its own spin on the "innocent man on the run from the law" trope. Erik Jenner (John Whiteley), the boy in question, finds a gun in some bombed-out London rubble, accidentally fires it into another boy's chest, then panics and runs, leaving his widowed mother Elsa (Lizabeth Scott), gruff US Army officer Mark (Steve Cochran), and curiously helpful stranger Joshua (George Cole) to find Erik and the gun, which Mark wants in connection with a ten-year-old murder case. + READ MORE
WORLD FOR RANSOM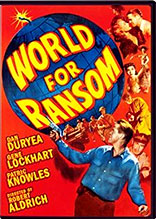 World for Ransom (1954). In 1952, Dan Duryea starred in the short-lived, Singapore-set private eye TV series China Smith, and in the process, he met rookie director Robert Aldrich, who cut his teeth helming two of the show's twenty-six episodes. Following the show's cancellation, Duryea and Aldrich unashamedly ripped themselves off, using the show's leftover sets to tell the story of another Singapore private eye, Mike Callahan, who gets entangled in a mobster's scheme to kidnap a nuclear scientist and sell him to the highest government bidder. Complicating matters is Julian March (Patric Knowles), Callahan's friend/rival who works for villainous mastermind Pederas (Gene Lockhart) and who married his old flame Frennessey (Marian Carr). + READ MORE