Encounter with Alfred Hitchcock - Malvin Wald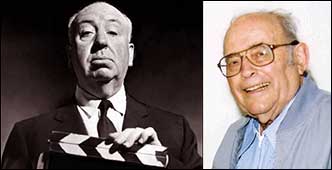 In 1950 I was working with short story writer Czenzi Ormonde on an Ida Lupino film, ON THE LOOSE, which starred Melvyn Douglas. Czenzi told me an idea for a suspense thriller and I insisted she develop it as a screenplay.
She protested that it was a lot of work but I bullied her into doing it anyway. When it didn't sell, she complained that I had wasted her time.
I begged her to be patient. She gave it to agent Ray Stark who submitted it to Hitchcock. Hitchcock didn't buy the script but was so impressed by her writing that he assigned her to do a re-write of Raymond Chandler's screenplay of STRANGERS ON A TRAIN. She ended up sharing screen credit with Chandler.
Later the film was a big hit. Czenzi thanked me for being her mentor — rather than her tormentor.
In 1966 I was teaching cinema at USC. My fellow professor critic Arthur Knight and I rented Warner Brothers Beverly Hills theater for one afternoon and invited Hitchcock to address all the film students in the area.
The house was packed. Hitchcock stated "I never said that actors were cattle, I merely said they should be treated like cattle."
One of the questions was "Is it true that Hitchcock improvised the scripts as he shot?"
Hitchcock gave the student a withering glare and told him the question was idiotic. Hitchcock worked closely with the writer and once the script was locked in, he followed it closely on the sound stage.
To do a film without a finalized script he said was like Toscanini conducting a symphony without a written score. "Oh, Mr. Oboe, please give me an E flat?. You, bass viol, how about a note from you?" .The rumor about the Hitchcock touches on the set were utter rubbish and Hitchcock hoped the student would acquire some brains before he embarked on his film career.
My friend Jimmy Allardice wrote the intros for the Alfred Hitchcock Presents tv shows. He said that Hitch was a perfect performer. He never questioned the lines and read them as instructed.
Malvin Wald passed away March 6, 2008. This memoir was forwarded to us by Mr. Wald's friend, Eric Chavkin.