FOUR FILM NOIR CLASSICS
FORCE OF EVIL (1948) / THE DARK MIRROR (1946) / SECRET BEYOND THE DOOR (1947) / THE BIG COMBO (1955) • Arrow Films UK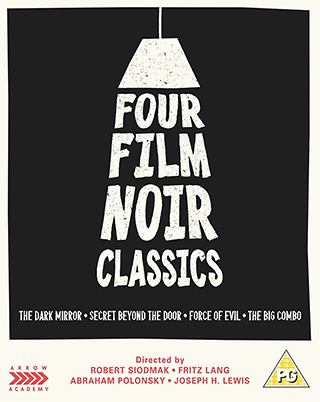 UK distributor Arrow Films has released a handsome, limited-edition box set (complete with Saul Bass-inspired artwork) that includes Blu-ray/DVD combo packs of four noirs originally released in the U.S. by Olive Films.
If we're being honest, the "classic" label only applies to two of the selections: The Big Combo (1955) and Force of Evil (1948). The former follows a trio of characters—single-minded cop Leonard (Cornel Wilde), quietly psychotic gangster Mr. Brown (Richard Conte), and Susan (Jean Wallace), the tortured woman stuck between their two competing agendas—as they circle each other, their flaws and weaknesses pushing them into some of noir's darkest corners. The film boasts some genuinely nasty content for a 1955 release, as well as some of legendary cinematographer John Alton's finest work. The latter, a searing indictment of conscience-free capitalism from Body and Soul (1947) scribe Abraham Polonsky, stars the typically excellent John Garfield as Joe, a corrupt lawyer caught between Tucker, his numbers-running client, and one of Tucker's targets: Joe's younger brother, Leo (Thomas Gomez). Martin Scorsese's citation of its influence on several of his movies provides a sufficient indicator of its quality.
The Dark Mirror (1946), directed by noir mainstay Robert Siodmak, is a moderately enjoyable, "noir lite" whodunit with a clichéd twist: the chief murder suspect is both Terry and Ruth Collins, identical twins played with gusto by Olivia de Havilland. The film features two main draws: de Havilland's more-than-capable dueling performances as the good and evil twins, and stellar special effects work that allows de Havilland to play both sisters in the same frame. Less successful is the film's painfully dated psychoanalysis employed by Dr. Elliott (Lew Ayres) as he deploys the powers of Freud to ferret out which twin committed the murder.
If the Freudianism of The Dark Mirror seems clunky, it's nothing compared to the muddled psychobabble that permeates Secret Beyond the Door (1947). Fritz Lang directed many classic noirs, but this psychoanalytic take on Bluebeard falls squarely on the wrong side of the ledger, its plot contrivances and nonsensical character weighing down what could have made for a moodily compelling take of marital mystery.
It appears that while these releases are struck from the same source material as Olive's releases, Arrow has performed additional restoration work, as all four films have received audio and video upgrades. Also, unlike Olive's releases, Arrow has included subtitles and a generous assortment of special features, including commentaries for all four films from experts like Alan K. Rode (Secret Beyond the Door) and Eddie Muller (The Big Combo), visual essays, and a hardcover book filled with new writing on the films. Perhaps the most welcome news is that the set is region-free, meaning the discs will play in any Blu-ray player worldwide. For buyers outside of the U.S., this purchase is a no-brainer; for U.S. consumers who already own the Olive releases, this set is a worthwhile purchase, thanks to the A/V upgrades and the extras.