The Film Noir Foundation is a registered 501(c)(3) non-profit public benefit corporation created as an educational resource regarding the cultural, historical, and artistic significance of film noir as an international cinematic movement.
It is our mission to find and preserve films in danger of being lost or irreparably damaged, and to ensure that high quality prints of these classic films remain in circulation for theatrical exhibition to future generations.
That's the high-toned legalese. Here are the facts: Even as the high-tech revolution lets us own vast film libraries on DVD, the risk grows greater all the time that 35mm prints of some films will fall into disuse and eventually disintegrate—especially lesser-known titles that have slipped through the cultural cracks, but are worthy of rediscovery.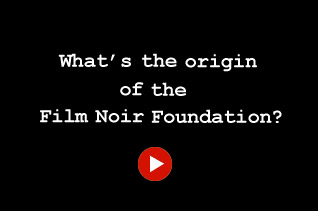 As a focal point of the classic film noir revival, the Foundation serves as a conduit between film companies and repertory cinemas still eager to screen these films in 35mm. Revenues generated by ticket sales encourage studios film archives to strike new prints of films that are at risk of disappearing from public view, either through neglect or scarcity. Once these films are unearthed and returned to circulation, the chances exponentially increase that they will be reissued on DVD, available in pristine, affordable form for future generations of film-lovers.
Since 2005, the Film Noir Foundation has saved the following films:
Restorations
Cry Danger (1951)
The Prowler (1951) – Funded by the FNF in conjunction with the Stanford Theatre Foundation
Try and Get Me! (1951)
Repeat Performance (1947) - Funded by the FNF in conjunction with the Packard Humanities Institute
High Tide (1947) - Funded by the FNF in conjunction with the Packard Humanities Institute
Too Late for Tears (1949)
The Guilty (1947)
Woman on the Run (1950)
Los tallos amargos (1956)
The Man Who Cheated Himself (1950)
Trapped (1949)
La bestia debe morir (1952)
El vampiro negro (1953)
The Argyle Secrets (1948)
New 35mm Prints
Funded by the FNF
No abras nunca esa puerta (Don't Open That Door) (1952)
Si muero antes de despertar (If I Die Before I Wake) (1952)
Apenas un delincuente (Hardly a Criminal) (1949)
El vampiro negro (The Black Vampire) (1953)
The Underworld Story (1950)
The Window (1949)
Nobody Lives Forever (1946)
High Wall (1947)
Loophole (1954)
The Hunted (1948)
Down Three Dark Streets (1954)
Cry Tough (1959)
Three Strangers (1946)
Southside 1-1000 (1950)
Roadblock (1951)
New 35mm Prints
Fostered and screened by the FNF, funded by film studios
I Love Trouble (1948)
Night Has 1000 Eyes (1948)
Alias Nick Beal (1949)
Strangers In the Night (1944)
Naked Alibi (1954)
Slaughter on 10th Avenue (1957)
The Great Gatsby (1949)
Rescues
Woman on the Run (1950) (digital copy from 35mm before only print was destroyed)

Video Archives
Our Video Archives feature an expanding catalog of noir-related video, ranging from exclusive interviews, to festival guest appearances, to short films inspired by film noir.
FEATURED VIDEO
Film Noir Foundation director Alan K. Rode moderated a lively introduction to Cry of the City (1948) at the Aero Theater in Santa Monica with special guests Victoria Mature (daughter of Victor Mature) and 92 year old actor Tommy Cook who appeared in the film. The screening was part of the ten day NOIR CITY HOLLYWOOD film festival that celebrated its 24th year in 2023. WATCH

ASK EDDIE
Did you know that The Film Noir Foundation has livestreams every two weeks on our Facebook page in which Eddie Muller answers questions submitted by our e­mail subscribers? The next ASK EDDIE broadcast will release on Facebook November 31 and YouTube the following day. Join our mailing list to submit your questions and get updates on upcoming ASK EDDIE broadcasts.
DONOR EMAILS
I'm just glad there is an organization doing this. Back in 1988 when I first became obsessed, it seemed like few knew what film noir was here in the UK. So it would usually be just me and a small bunch of moody loners (male and female) who'd go to a regular evening at a flea pit in North London. Three films for a couple of bucks (or pounds here). Such fun... A pity NOIR CITY only happens in the U.S. Oh well, maybe one day I'll get over... — Henry Jaremko
Just wanted to start by telling you that I am extremely happy to have found your Foundation. I am 38 years of age, and for the last few years I have become a fan of 40s and 50s movies. My parents are Greek. They moved to Australia before I was born, and the fact that I am a Greekimg Australian who loves old movies is rare.... I have my parents to thank—especially my father, because he always had great enthusiasm whenever Bogart or Cagney was on the television. I have your NOIR CITY e-magazines, and they are nothing short of amazing... Thank you for your time and thank you for saving the greatest years of film. — Daniel Sarantidis
I just sent you $100 via Paypal. But I missed the "send message" link. I have contributed before, and I wish I could do so more often. The content of your site continually amazes me! — Patrick Shields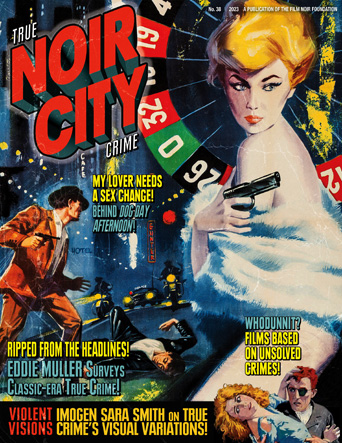 Subscribe to NOIR CITY Magazine Digital Version
For access to the best writing on noir available today, and to enjoy one of the most cutting-edge interactive multimedia cinema publications in the world, subscribe to NOIR CITY. Start by adding your name to our mailing list and then making a donation of $20 or more to the FNF.
→ FIND OUT MORE ABOUT THE CURRENT ISSUE AND VIEW NOIR CITY MAGAZINE EXCERPTS HERE.
NOIR CITY Adds Hard Copy
The Film Noir Foundation's acclaimed publication, previously available exclusively to patrons in digital form, is now available as a separate, stand-alone printed magazine. Every issue filled with articles by the finest film writers in the world, exploring the world of noir in both classic and contemporary cinema—and its influence on other media. Get every new issue delivered to your actual mailbox—on-demand! Donors to the Film Noir Foundation will continue to receive the magazine in downloadable PDF form. Physical editions available only as separate purchases via Amazon.com for $14.99 (issues 31-36) and $15.99 (issues 37-38). All FNF proceeds from the sale of the magazine aid the FNF's mission of rescuing and restoring films!
→ ORDER PRINT VERSION #38 FROM AMAZON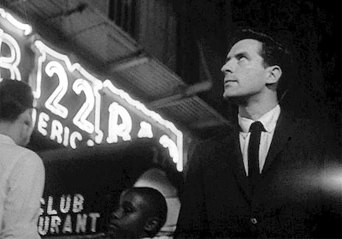 Noir News
For the latest in noir news from small screen to big screen and beyond, visit our news area. We'll keep you updated on Film Noir Foundation projects and events, film festivals and noir-related happenings in other mediums on our news page, as well as noir and neo-noir titles released on DVD and Blu-ray. Our Noir Now Streaming section will keep you up-to-date on noir-tinged entertainment. Check our monthly tv listings for noir and neo-noir films coming up on Turner Classic Movies.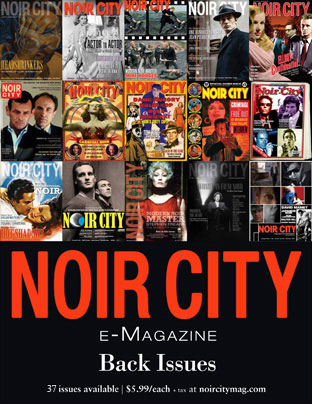 NOIR CITY Magazine Digital Version Back Issues Available!
The Film Noir Foundation has its NOIR CITY Magazine digital version back issues for sale — all issues, $5.99 each, plus tax. Please note: these NOIR CITY Magazines are electronic issues, not printed magazines, delivered to your inbox via WeTransfer with a link to download the issue as a PDF. Collect your favorites or own 36 interactive back iss ues of the best cinema publication available today. You'll be helping the Film Noir Foundation in its restoration efforts with your purchases at NoirCityMag.com.
ORDERING: Go to NoirCityMag.com. Click a cover to see the issue's Table of Contents and to place your order. Within 24-48 hours, you will receive an email link from WeTransfer (a file transfer service) from which you can download a PDF of your issue to your desktop or laptop. The subject line in the WeTransfer email will begin: noircitymagazinedigital@gmail.com sent you (your issue number will follow). Orders are not automated. Fulfillment of each e-mag is handled personally by an FNF staffer.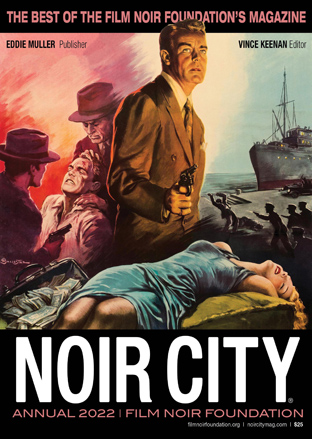 NOIR CITY Annual #15
2023's NOIR CITY Annual 15, the best of the best from the Film Noir Foundation's 2022 NOIR CITY Magazines, is here—essays, profiles, interviews, and appreciations of classic and modern noir films from today's top writers. This year's contributors are Imogen Sara Smith, Jake Hinkson, Ray Banks, Nora Fiore, Brent Calderwood, Lynsey Ford, Bob Sassone,Vince Keenan, Sharon Knolle, Farran Smith Nehme, Steve Kronenberg, Jim Thomsen, John Wranovics, Chris D., Sam Moore, Brian Light, Danilo Castro, Rachel Walther, and Eddie Muller. Book layout and design by Michael Kronenberg. And, as with any purchase from the FNF, when you buy the NOIR CITY Annual 15, you'll be helping fund the non-profit foundation's film restoration efforts. BUY NOW ON AMAZON